September 6th, 2010 by
david brothers
| Tags:
hellboy
,
mike mignola
,
richard corben
Hellboy: The Storm (Mike Mignola/Duncan Fegredo) wrapped up this past week. It was a lead-in to the upcoming The Fury (get it?) and pretty fantastic. Elves, armies, kings of England, you know how Hellboy stories go.
Anyway, in the letters page was a pretty interesting question.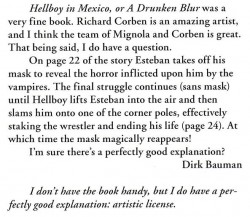 The scene in question from Mignola and Corben's Hellboy in Mexico: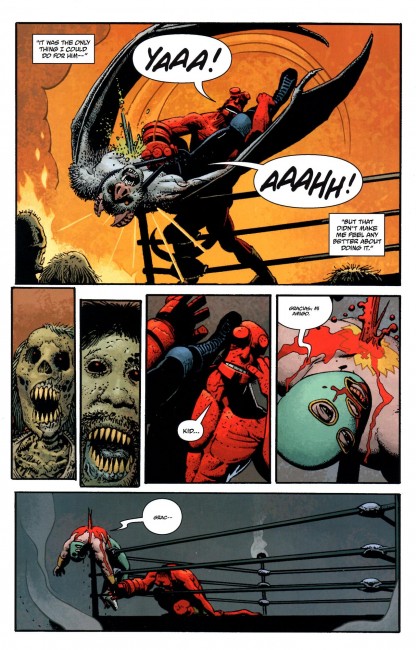 It's not artistic license! Just like Clark Kent is Superman, and Bruce Wayne is Batman, the wrestler is his mask. The mask is sacred, and represents his true nature. When the mask is removed, or lost in a fight, the wrestler loses more than just the match.
So, after being infected by evil, the luchador up there turns into a heinous vampire bat-thing. He's been corrupted. After Hellboy kills him, his identity, his true nature, is returned to him, and he finds peace.
Where's my No-Prize?!
(If you haven't read Hellboy In Mexico, or A Drunken Blur yet, you absolutely should pick up one of my favorite stories of this year.)
Similar Posts: