May 17th, 2011 by
david brothers
| Tags:
dave stewart
,
mike mignola
,
richard corben
this was going to run elsewhere, but didn't, so now it's here instead. i'd have done it different if i wanted it up here, almost definitely (this reads stilted to me), but hey, i wrote it, so it's probably worth reading.
---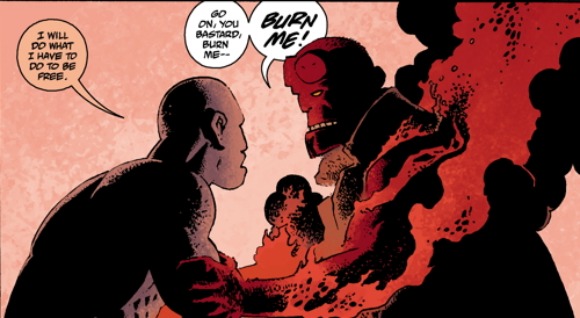 The assembly line nature of mainstream comics has allowed for a few alchemical relationships between members of a comic's creative team. Stan Lee and Jack Kirby turned Fantastic Four into one of the best loved franchises in comics, Frank Miller and Lynn Varley revolutionized how comics were printed in Ronin, and Grant Morrison, Frank Quitely, and Jamie Grant made All-Star Superman and We3 among the most beautiful comics out. I'd like to add another team to that list: Mike Mignola, Richard Corben, and Dave Stewart, creators of today's Hellboy: Being Human.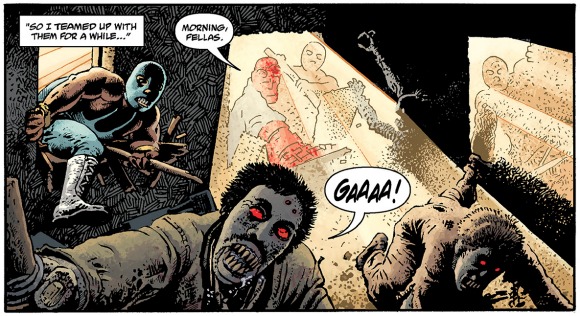 Pick your poison: Mignola, Corben, or Stewart. Stewart is one of the best colorists in the business, an Eisner winner, and a guy you can count on to make any comic book better just by showing up. Mike Mignola is one of the best success stories in comics, having spun off a silly idea he had once into two of the best series in comics and a couple of solid movies. And Richard Corben… he's been in the game for over forty years, knocking out classic comic after classic comic. Together, you've got a powerhouse team that can do anything. "Anything," in this case, is "some of the best Hellboy stories ever."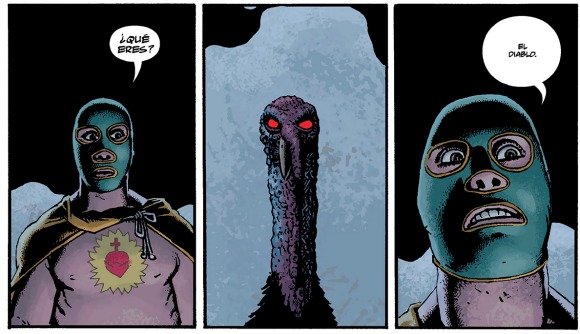 The team has collaborated on Hellboy on five, six with the release of Being Human, separate occasions. The first time was 2006's Hellboy: Makoma, or, A Tale Told by a Mummy in the New York City Explorers' Club on August 16, 1993. This story took Hellboy to Africa and, in the cultural tourism that has made Hellboy such a fascinating series, through African folklore. In The Crooked Man, Hellboy takes a trip to West Virginia for a taste of good old fashioned Appalachian horror. The Bride of Hell sent Hellboy to France, and the flawless Hellboy In Mexico (Or, a Drunken Blur) sent Hellboy to (wait for it) Mexico (read our previous coverage of that classic here). Finally, Double Feature of Evil sent Hellboy to haunted houses and murky museums.

The easiest way to show why Mignola, Corben, and Stewart are so special is to spotlight their best work: Hellboy in Mexico. As far as I'm concerned, this was the best single issue of any comic released in 2010. It is, in essence, every Hellboy story. Hellboy's casual sense of humor, big action, folkloric inspiration, intense attention paid to atmosphere, and heartbreaking sadness are all in effect here. Mignola structured the tale as something Hellboy was telling his partner Abe Sapien, giving it a very personal and conversational feel. This isn't someone recounting a happy time in their life. This is a bad memory and a source of emotional trauma for Hellboy.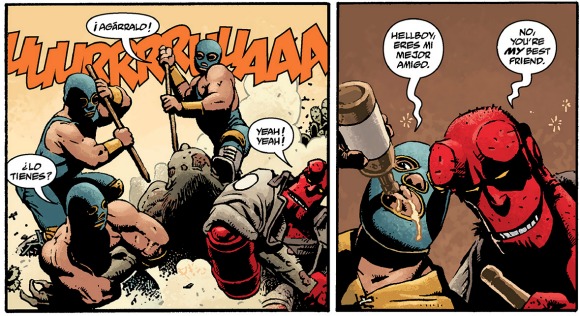 Corben and Stewart (and letterer Clem Robins) handle the art chores, and the results are predictably fantastic. Corben's Hellboy is straight out of Jim Henson's Creature Shop, with a bobbly, goofy looking head and jaw and a brawny physique. His monsters are even creepier, with their desiccated skin, disgusting claws, and missing chunks. The thick, doughy figures have real weight, and are pleasingly exaggerated.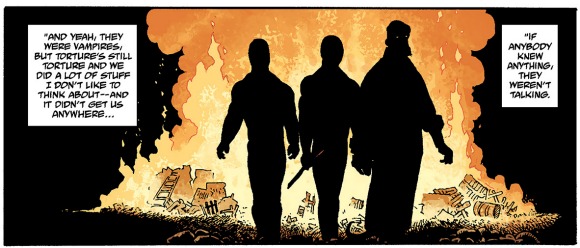 Dave Stewart gets a chance to do some interesting rendering, thanks to Corben's detailed pencils. Hellboy gains definition that he doesn't have under Mignola or Duncan Fegredo's pen, making for an entirely different reading experience. Mignola and Fegredo created a world littered with shadows and gloom for Hellboy to stride through. Stewart and Corben pull Hellboy into the realm of pop comics, thanks to Hellboy's bright red skin tone contrasting with the muted, dusty palette of Hellboy in Mexico.
In short, Hellboy in Mexico is what comics are supposed to look like: a peek into another incredible world. It's incredible, and this week, the team is back together for another shot.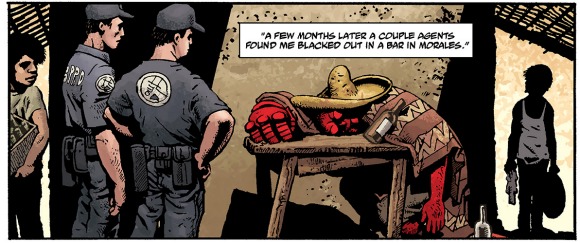 Hellboy: Being Human features Roger, the homunculus Hellboy met fairly early in the run of Hellboy stories, on his first field mission. Here's the solicit text, courtesy of Dark Horse:
A horrible witch and her zombie servant host a dinner party for a family of corpses, and Hellboy and Roger turn up to blast them all back to hell in this team-up story from Roger's early days at the B.P.R.D.
This one's a simple, personal tale of horror, showing us an early glimpse at how Roger and Hellboy grew to become friends and how hate can twist a life into an ugly mess. Being Human refers to Hellboy, Roger, and the witch who menaces them. What's it mean to be human? Do you have to be homo sapiens, or is it something more?
Check out the preview below.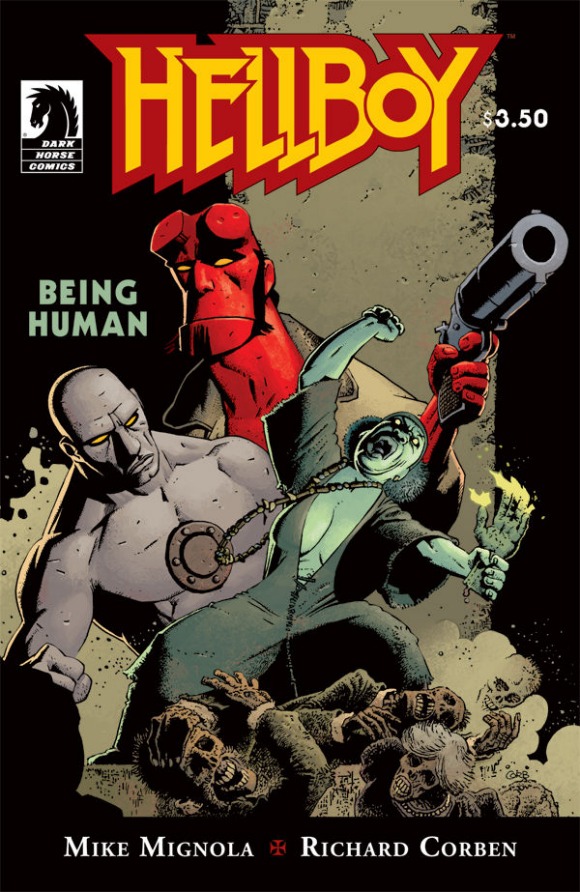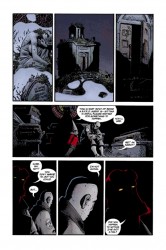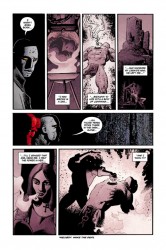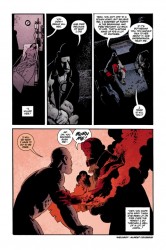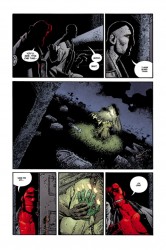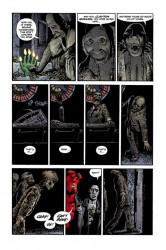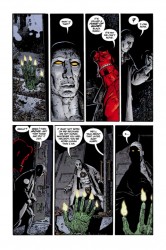 Similar Posts: