September 22nd, 2009 by
david brothers
| Tags:
contest
,
continuity
,
Marvel comics

Superhero comics encourage obsessiveness. I know you know it. Don't pretend that it doesn't. Paying attention to continuity, untangling the quagmire of a character's past, and following all of the news and trivia of a company is something we've gotten pretty good mileage of here on 4l!, even.
And I mean, I make fun of it all the time, but it's also pretty interesting. It's kind of like solving a puzzle. A puzzle with several dozen pieces that all have the same shape, so putting it together is an event. The companies even encourage this with their crossovers and events.
Rizzoli USA, the folks who published Louise Simonson's DC Comics Covergirls (a book I've wanted to read forever but haven't gotten my hands on) sent over something pretty interesting last week. Marvel: The Expanding Universe Wall Chart is pretty much the perfect thing for a new reader or an old reader looking to pick up some new tricks. First, check out the size of the thing: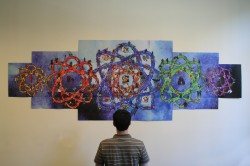 That's twelve feet long by three feet tall. It's enormous. Essentially, the Marvel Wall Chart is an expanding poster book, accordian style. As you pull it open, and it keeps opening and opening, it reveals more and more Marvel characters, all of which are sorted into "families." The design emulates an atom, the thing that is at the heart of so many Marvel origins, and each atom features one major character as its nucleus. The Torch anchors the Golden Age and pre-Marvel characters, Spider-Man is at the center of his family, the FF take care of many other heroes and cosmic Marvel, the X-Men revolve around Professor X, and Dr Strange takes care of the magical characters.
Now, that's all well and good, but images only go so far, right? On the flipside of the chart is a continuity wonk's dream: pages and pages of info on your favorite characters. They're sorted by theme, rather than character, so you can see things about teams, kid heroes, origins, names, and so on. There's even a bit on marriages. I uploaded a flickr set with a few G1 shots of them so that you can see what I mean.
It's all pretty neat, to be honest. It's a little tongue in cheek (Hellcat and Hellstorm's marriage contains the blurb "presumably this ceremony was not held in a church"), and Patsy Walker gets a lot of love, surprisingly. I like it.
Now, here's the thing that should interest you. I've got an extra one of these, new in box/mint condition/still in the wrapper, which means that it's contest slash giveaway time. Here's the details:
1. Share your favorite bit of Marvel or DC trivia or continuity porn down in the comments
2. Leave a valid email address in the email box
3. In the name box, put your real name. First name, last name, both names, whichever you prefer. Just no pseudonyms.
4. You have until midnight, this Friday, to enter. I'll put a reminder post up on Thursday in case you forget to enter.
5. Also, this is open only to US residents. If you want to share trivia, and you're from Uzbekistan or somewhere, you can, but please mark that down in your comment.
5. Wait until Monday, when I announce the winner and ship them a big fat chunk of Marvel history.
Sound good? Let's get it in. Show me what you got.
Similar Posts: