May 6th, 2010 by
Esther Inglis-Arkell
| Tags:
Batman
,
DC comics
I almost don't want The Return of Bruce Wayne to come out.  I almost want them just to release snippets of it forever.  As anyone on this site knows, comics are incredibly frustrating.  There are many more ways to disagree with someone's take on a book, situation, or character than there are ways to agree.
And yet there are times when being neck-deep in comics trivia, continuity and drama pays off because it gives you the right background you need to fully experience moments of pure joy.
That's pretty much how I feel whenever bits of The Return of Bruce Wayne are released.  This psychotic little series makes me happy whenever I see it.  I don't usually care, even a little bit, about variant covers, but look at that one.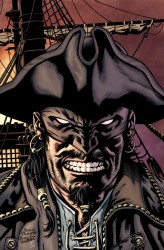 I just want to pinch his cheeks and say, "Arrrrr," like some demented motorcycle revving up.  Having the actual series come up seems like it could just spoil everything.
But before we begin?  Anyone know how Batman got from charred corpse to flying in a metal spaceship?
Similar Posts: