May 4th, 2009 by
david brothers
| Tags:
bendis
,
Gail Simone
,
geoff johns
,
hood
,
jsa
,
justice society
,
marvel boy
I know that I'm Mister Push Comics Forward Break Them Characters Give Us The New-new, but I do have one continuity-based pet peeve. I really dislike it when creators take established characters and regress them, or just change them entirely, in order to fit them into the story they want to tell.
There are plenty of examples out there. The most egregious are probably Bobby Drake, Iceman, and Johnny Storm, the Human Torch, with Sam Guthrie, Cannonball, bringing up the rear. Bobby and Johnny were the hot-headed youngsters of the X-Men and Fantastic Four, respectively, and Sam is pretty much the poster-child for the second generation of X-Men. All three have gone from immature, mistake-making, and newbie heroes into grown-up, mature, and seasoned adults.
Bobby is an Omega-level mutant with an insane amount of control over ice, and therefore water, and has come to terms with that. Johnny has wielded the Power Cosmic a couple of times, saved the world several dozen times, and seen planets, dimensions, and time periods other people don't even dream about. Sam was trained by the son of the X-Men's best strategist, who was himself a child of war. He also had the benefit of being trained by two generations of X-Men, and when he struck out on his own, he found success.
The problem is that when a writer has a story that needs an impetuous kind of fella, or a newbie to make a dumb decision, or someone to show just how mature or smart another character is… guess which dudes are the fall guys.
Reed Richards has gone through the "ignoring his family for the benefit of science by the way he is a jerk" cycle a fistful of times now, most recently in Mark Millar's Civil War. You'd think that Cyclops's turn as the depressed and distant loner would be over after New X-Men, a story designed to push him past that, would never happen again. Or that Beast Boy, who is like thirty years old and should get a new name, would be written as something other than a horny teenager. Nah.
This is something that's been bugging me more than usual lately, since the three biggest guys in comics have all been doing it. Mark Millar, Brian Bendis, and Geoff Johns have all taken characters who had established personalities or gimmicks, tossed it out, and slotted something new in because they needed X so that they could write Y. Rather than creating X, they just took Z and turned it into X. And that's lame.
I brought visual aids.
It wasn't a big hit when it first came out, judging by the fact that it was out of print for a number of years, but Brian K Vaughan and Kyle Hotz's The Hood
was a fun little series. It was about a small-time crook (bad-)lucking his way into a magic cape, and the terrible events that followed. Parker Robins was not a good guy by any means, but he wasn't exactly Snidely Whiplash, either. At least until New Avengers.
In New Avengers, The Hood has turned himself from a strictly small-time hoodlum into a new kingpin of crime, with a brand new ruthless outlook on life. Bendis revealed that the cloak was the property of, or connected to, Dormammu, and is influencing his actions, but compare these scenes. The first two pages are from the original miniseries, while the third is from Rick Remender and Jerome Opena's Punisher.




Are these the same character?
Another example is over on the DC side of things. Judomaster was introduced in Gail Simone and Nicola Scott's run on Birds of Prey. She was basically the Generic Ninja Girl With Stilted Speech. She was quippy in that very Gail Simone sort of way, until she appeared in Geoff Johns's Justice Society of America. There, she could speak Japanese, though she didn't, and did not speak any English at all. First page from Bop, next two from JSA.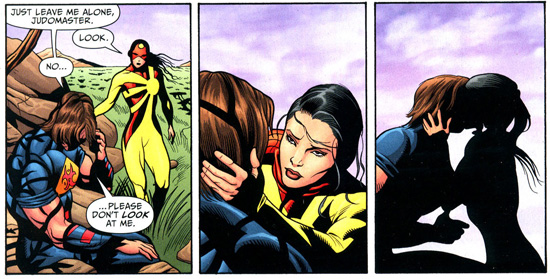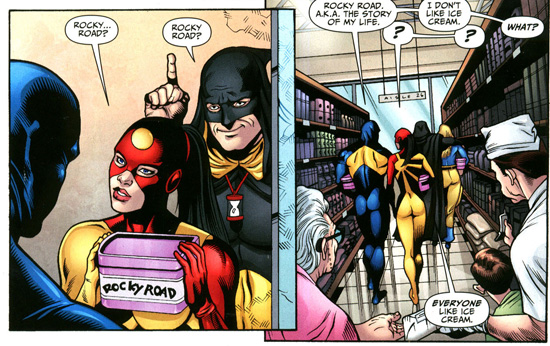 This is one of the more baffling changes, because the only thing she did throughout JSA was look quizzical, dodge punches, and fall in love with Damage. I don't know if Johns was going for some kind of Silent Beauty & Loud Beast thing, but even if he was, that's dumb. Judomaster could've kept her English and still dated dude. I mean, really, it only comes up with that dumb "Everyone like ice cream" bit. Because, you see, she doesn't speak the English very well.
This last one is the one that bugs me the most, because Noh-varr is the main character of one of my favorite Grant Morrison books. Marvel Boy
is the story of an alien whose spacecraft is shot down by an obscure Iron Man villain. He survived the crash, his crew didn't, and he was left stranded on Earth. Since he can't leave, he decides to bring paradise to Earth, whether Earth wants it or not. His first act in that move is to scrawl an expletive across New York City in letters entire city blocks high. In Dark Avengers, though, he's something else. First two from Marvel Boy, last one from DA.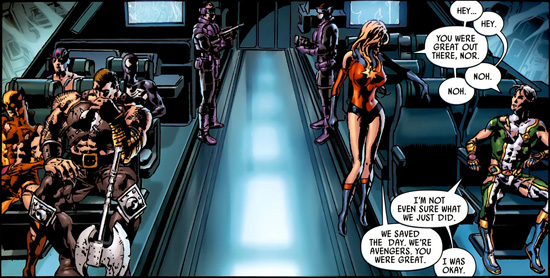 In Dark Avengers, he might as well be an entirely different character.
Really, that's my problem with all of these changes. There's no reason to use the characters that already exist. If you want a silent kung-fu chick to fall in love with your ugly explosive hero, hey, create Silencia, the Woman Who Cannot Be Heard Nor Touched. If you need a cackling villain with a magic cape, create Snidley Whiplashicus, a man who subsists entirely on the pain of others and likes to tie young girls to railroad tracks and beat up Canadians. Maybe he has a dog who laughs sometimes.
If you need an unsure alien to be the newbie on the team, don't pick the guy who spent every single issue of his book being amazing at everything and throwing up his middle finger at anyone who tried to stop him while simultaneously shooting them with lasers.
The characters should come before the story. If you're pounding a round character into a square story, people are gonna look at your story and roll their eyes. Why use a character if he isn't going to resemble who he was before? I can understand character growth and so on, but character growth isn't going from good guy to murderer, or insanely advanced tactician to newbie dork, instantaneously. This is just cheap.
Similar Posts: