March 18th, 2014 by
david brothers
| Tags:
kazuhiro urata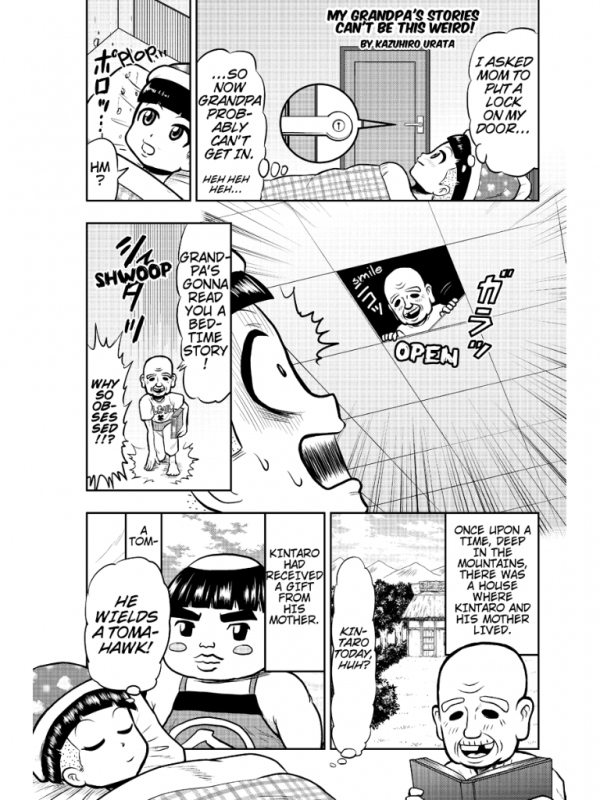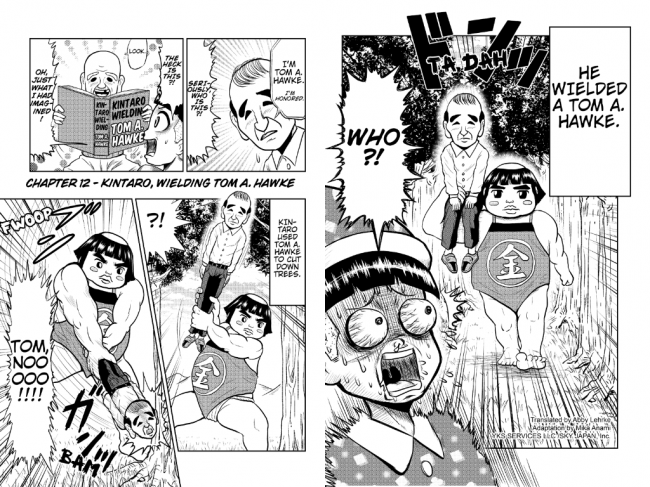 Written and drawn by Kazuhiro Urata, adapted by Tania Fukuda, translated by Abby Lehrke. My Grandpa's Stories Can't Be This Weird, 2014.
Kazuhiro Urata's My Grandpa's Stories Can't Be This Weird, which runs in the free Manga Box app, is dumb. It's the same kind of dumb that made Akira Toriyama's Dr Slump one of my favorite comics. It's aggressively-but-knowingly dumb, a shaggy dog joke with digressions that are actual jokes instead of distractions.
The hook is almost always the same. There's a boy who just wants to go to sleep, a grandfather hellbent on reading a story to his grandson, and a storybook that is a wacky version of an established story. The kid reacts to each absurd new element with disbelief until the end, when the story kinda-sorta comes together.
There's just one main joke here, and the fun is seeing how the joke is twisted into a new form with each new strip. Everything about this excerpt makes me laugh, and it's just the first three pages. There was one a while back where he replaced all the characters in a fairy tale with murderers, good and bad, that has me ready to cry laughing by the end of page one, and the Red Riding Hood story is a new twist on an old joke with several utterly incredible bits.
There are a few other comics that have that one-joke framework that I like. I was an avid reader of Ryan North's Dinosaur Comics for years, and ONE & Yusuke Murata's One-Punch Man has a surprising number of gags based around one punch. (My favorite is a background gag, a bear that got knocked out in the woods.) My Grandpa's Stories is more steeped in anti-humor than any of those series, but I'm really into it. Reading it is kind of like waiting for the point where a balloon tips over from inflated to burst.
Similar Posts: