August 18th, 2007 by
Hoatzin
| Tags:
countdown
,
DC comics
,
final crisis
,
ign
DC comics has just released the third teaser for their epic universe-spanning Countdown event to the men at 4thletter. This one appears to be a mishmash of villains and heroes, and has some surprise apperances by characters not many of us were expecting. What does it all mean for Countdown, Final Crisis and the future of the DC universe? Who knows, but it's bound to be exciting! Just click the thumbnail for the full image: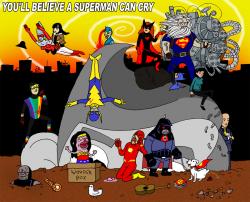 Now, like with the previous two teasers, this image should not be interpreted literally. There's obviously a lot of hidden meanings and metaphores going on here, so if you have any theories on what it could all mean, share them!
 And remember, you saw it here first.
Similar Posts: