March 5th, 2007 by
david brothers
| Tags:
supergirl
,
superman
Slight interruption of service, here. My laptop blew up yesterday and I spent hours getting it back in working order.
The quickest way to learn to hate computers is to learn how to fix them.
Anyway, I dip out to work in about ten minutes, and I don't want to leave you lovelies hanging out there, so have one of those out of context panels that the internet seems to love so much. I don't know the context at all, either. I got this off a funny panels thread on a forum.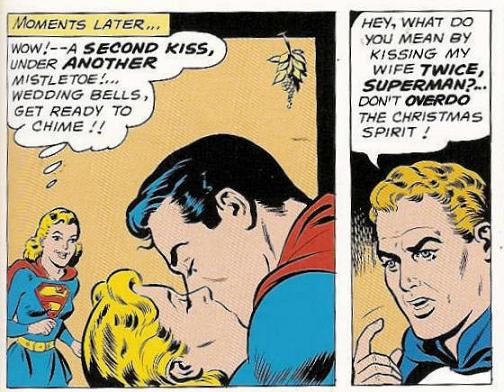 Now, ask yourself a few questions.
1) Why is Superman kissing that dude's wife?
2) Why is Supergirl so happy about it?
3) Kissing her twice? Superman is a jerk!
4) Is that guy pointing to his mouth to say, "Hey, my turn! Plant one right here, Big Blue! She got two, I get two! Rowr!"? I like to think so.
Superman: Wrecking marriages for nearly 70 years!
Look for Blokhedz: Keeping It (Magical) Real(ism) late tonight/early tomorrow morning!
Similar Posts: