July 5th, 2011 Posted by guest article
Gavok note: For the past year or so in my This Week in Panels series, panels for Ultimate Spider-Man have been supplied every month by regular reader Michael Stangeland, otherwise known as Space Jawa. With Ultimate Peter Parker's corpse still a bit fresh, Jawa wanted to touch on his perspective of the mini-event. Since we're always open to reader guest articles, I was more than happy to oblige.
I'll admit right off the bat that when I first heard about Bendis' The Death of Spider-Man story arc, I was concerned. Initially, it was worry about the titular character actually biting it, in spite of how he's been around since the launch of Marvel's Ultimate line-up. So it's entirely possible that my reaction to how the story actually went there and did what's previously only been done in a few dozen different issues of What-If?.
However, I'd also like to be able to think that I'm not that close-minded. After all, I was willing to see the entirety of the story arc through before passing final judgment, and I recognize that sometimes, character death is for the best, and a lot of great things can come out of it. After all, look at what Brubaker did with killing off Steve Rogers (before he brought him back, of course).
And for a world to truly move forwards, sometimes the characters we know and love have to move on so the next generation of great characters can take their turn in the spotlight and provide new story opportunities. When I first read Lord of the Rings back when I was in grade school, my gut reaction was to be disappointed that Bilbo wouldn't be the main character again. Fortunately, I moved past that quickly enough and was able to get through the entirety of JRR Tolkien's masterpiece.
So I'm hoping that I'm being honest with myself that the real reason for my distaste for the whole Death of Spider-Man arc is truly in reaction to how it was carried out rather than the end result. If it looks otherwise after I've said my piece, I encourage you to call me out on it.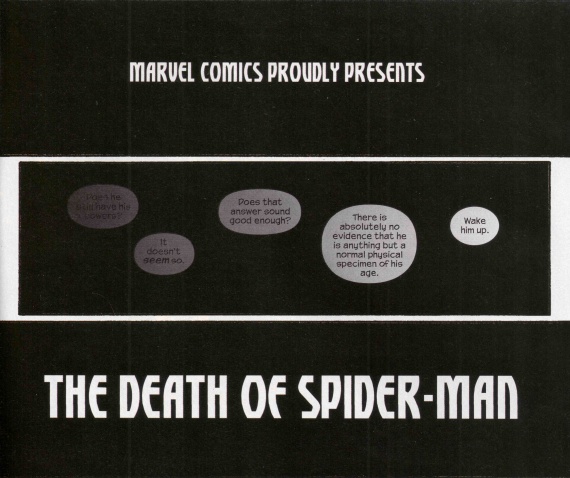 I wish I could say that the use of "proudly" wasn't meant to be serious.
The first major problem with Death of Spider-Man shows up in the very first three pages of the story. The major driving force behind Ultimate Pete's death is that Norman Osborn is back from the dead. Of course, characters coming back from the dead isn't anything that comics are unfamiliar with.
Problem is, this is Marvel's Ultimate Comics universe. And if I'm not mistaken, one of the major points that has been made about the UC is that when characters die, they stay dead. Something that brings it even closer to being set in the "real world" than the classic 616 universe.