May 16th, 2013 Posted by Gavok
For the past twenty-plus years, my favorite genre of video game has always been the one-on-one fighter. Ever since seeing Street Fighter II: The World Warrior in an arcade, I was hooked. Throughout the years, I always paid attention to its many spinoffs and sequels, as well as the countless games that jumped onto its success. The Mortal Kombats and Tekkens and Fatal Furies and, hell, even the Clay Fighters.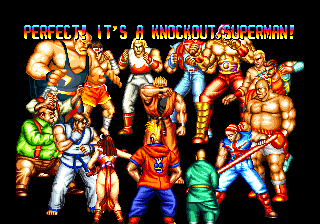 Naturally, the emphasis on these games is the multiplayer, especially now with the increasing popularity of online play and the tournament scene. While I enjoy checking out the competitive stuff from time to time, I've never been good enough to be part of that, nor have I felt the drive to reach that level. Really, for me, I've always had a strange obsession with the single-player experience.
Growing up, that was always the ritual with these games. When there was nobody to play against, you had to complete the game with every single character, which was like the programmer's way of making sure you took advantage of every piece of effort they put in every character. It was a rewards system that gave you an excuse to play as the characters you weren't even much of a fan of. Getting that thirty seconds of text and 16-bit cutscene made spending an hour on that super cheap final boss worth it.
Not to mention, it's fun for the character study aspects, silly as it sounds. Fighting games universally have a B-movie landscape to them that are extremely fun, filled with characters who are half-realized. Since the days of Street Fighter II, someone like Blanka was represented by some animated gestures, attacks, a handful of quotes and maybe a paragraph of backstory. But despite not being the hero of the game, he was just as viable a winner of the game's tournament as Ryu and Chun-Li. By beating Bison, you get to see his existence sketched out more by seeing him reconnect with his long-lost mother.
Even when there's a clear-cut main character, all the supporting characters still get to be important enough that we're able to see them come out on top, whether they're on the hunt for justice, power, money, fame, revenge, a challenge, adventure, answers or love. With so many competitors in each game, there are so many alternate paths on where things can go. Sometimes they're funny. Sometimes they're badass. Sometimes they're genuinely compelling. Sometimes they simply act as a strong ending to a character arc.
I decided to do a lot of research, going through hundreds of games to look at thousands of endings. Everything from Soul Calibur to Brutal: Paws of Fury to Marvel Superheroes to Avengers in Galactic Storm. What was meant to be a list of the best 100 has turned into a list of the best 150, expanding even more into this list of 200 because as much as the typing is going to kill me, I can't stop myself from shutting up about a lot of these and you'll have to pay the price. You and my carpel tunnel.
Thanks to the long-dormant VG Museum for making the research process much easier.
So here we go. Heaven or Hell? Duel one. Let's rock.
200) Street Fighter X Tekken – HEIHACHI MISHIMA AND KUMA
2012
The story of Street Fighter X Tekken is that a magical box from space labeled Pandora has crashed into Antarctica. With so many interested in what kind of power is inside it, various Street Fighter and Tekken characters pair up and it becomes a martial arts version of It's a Mad, Mad, Mad, Mad World. As for what's really in the box? That maguffin changes from ending to ending.
Elderly, ousted crime lord Heihachi Mishima makes a go for Pandora with his somewhat loyal, karate-fighting bear Kuma. After defeating Akuma, Heihachi nears the box. Afraid for him, Kuma frantically claws at Heihachi's back, growling in his understandable bear language that it might be dangerous. Heihachi is cool about it and explains that Kuma will get 10% of what's in there. Kuma's smacks become angrier due to Heihachi's cheapness and he says that if there's poison gas in there, Heihachi can have his 10%.
The box opens up and a white light shoots out. Heihachi ducks out of the way and Kuma accidentally looks right down into the light. Once it dies out, Heihachi laughs off what a close call that was. He turns to Kuma only to find this adorable bear cub.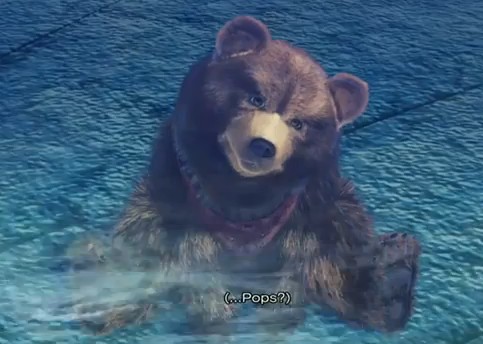 Heihachi suddenly notices that one side of his head of hair – the one part of him hit by the light – is black. Realizing that he missed out on regaining his precious youth, Heihachi screams to the heavens, "IT'S NOT FAIR!"