November 20th, 2011 Posted by Gavok
Okay, going a little early on this one. In just a little bit, I'm off to Madison Square Garden to check out Survivor Series. If the entire arena is to be killed due to a cataclysm caused by Mark Henry's immense rage, know that I wanted to go out this way.
I'm joined by Space Jawa and Was Taters. Taters supplied a panel for Nightwing that, according to her, best describes her feeling on the book as a major Dick Grayson fan.
While I don't usually want to give out context, the panel right before the one I chose for Avengers Academy features Finesse breaking through a window while screaming, "LEAVE HIM ALONE!" and hitting Magneto in the face with a projectile escrima stick. Balls the size of Celestials.
Wait… does Red Hulk's voice sound like Deadpool?

Avengers #19
Brian Michael Bendis and Daniel Acuna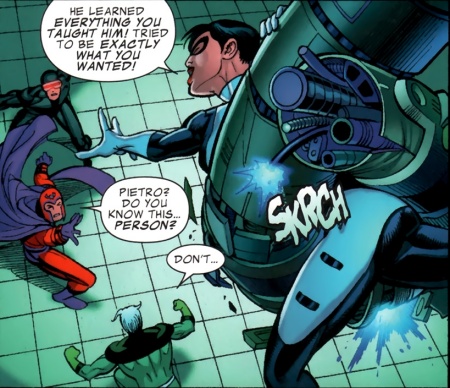 Avengers Academy #22
Christos Gage and Sean Chen