October 11th, 2012 Posted by Gavok
The big urban legend says that a long-lasting fight between Muhammad Ali and virtual unknown Chuck Wepner inspired Sylvester Stallone to write the screenplay to Rocky. Some say that that isn't true and that he was inspired by Rocky Graziano's autobiography Somebody Up There Likes Me. Whichever is true is a pretty heavy incident as like a prime event in a butterfly effect, it had major ramifications on pop culture. I'm not even joking. The creation of Rocky led to the sequels. The third movie springboarded the career of a former bouncer trying to make his way into acting, as well as a lesser-known professional wrestler who would become a household name after a fairly small role in the opening minutes.
As much as I love Mr. T, I'll concede that his budding career isn't exactly the most important thing in the world. The rise of Hulk Hogan, on the other hand, is a pretty big deal that may not have happened had he not been given that role opposite Stallone. Mr. T's fame would increase as part of the ever-so-popular A-Team and he'd have a major role in the World Wrestling Federation's increasing prominence, including the first two Wrestlemanias. Such a major output was created, possibly because a man refused to go down so easily against the greatest boxer in the world. It's crazy to think about.
In the mid-80's there was a time when Hogan and Mr. T seemed inseparable. Mr. T joined Hogan in his war against "Rowdy" Roddy Piper and "Mr. Wonderful" Paul Orndorff, but that was as his stage self. When Hogan would return the favor, he wouldn't be teaming up with, "First name: Mr. Middle name: Period. Last name: T." No, he and the world of the WWF would step into the reality of the A-Team.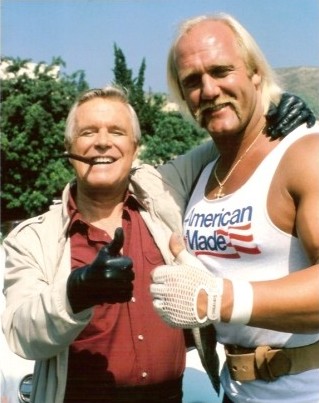 The A-Team shouldn't need an introduction, as the opening credits explains things so perfectly. It was probably the manliest of all shows, giving dudes four characters we wish we could be. The calculating genius, the suave ladies man, the lovable lunatic and the take-no-guff badass. All of them helping people while sticking it to a corrupt government. What's not to love? Well, other than some of the first season and most of the fifth season? Luckily, when Hulk Hogan shows up, it's during the fourth season when things are still going strong.