January 21st, 2013 by
Gavok
| Tags:
batista
,
battle royal
,
great khali
,
kane
,
wrestling
,
wwe
Date: July 17, 2007 (aired on July 20, 2007)
Company: WWE
Show: Smackdown
Rules: Normal
Stipulation: Winner becomes World Heavyweight Champion
Roster (20): Batista, Deuce, Domino, Kenny Dykstra, Eugene, Fit Finlay, Sho Funaki, the Great Khali, Chavo Guerrero, Matt Hardy, Mark Henry, Kane, Jamie Knoble, Brett Major, Brian Major, Chris Masters, Shannon Moore, Montel Vontavious Porter, Dave Taylor, Jimmy Wang Yang
I wouldn't wish injury on an active wrestler, but it's hard not to admit that injuries make things interesting in the long run. By-the-numbers storylines are suddenly shaken up and the writers scramble to make sense of things and make a show worth watching. As intriguing as it can be, it doesn't always work out for the better. Today's entry, for example.
Recently, World Heavyweight Champion Edge had defeated eternal #1 contender Batista in a match where if Batista lost, he wouldn't be allowed to challenge Edge for the title again. Edge moved on to starting a feud with Kane while Batista answered an open challenge from heavily-pushed and still fresh monster the Great Khali. Two matches set up for the upcoming Great American Bash. Unfortunately, Edge got injured about a week before the PPV. Teddy Long had no choice but to strip him of the title and being that this is Teddy Long, he decided to put the vacated title on the line with a battle royal, playa.
The battle royal has only a few viable names in it, which explains the winner. All in all, it's a pretty entertaining set of segments.
Once the bell rings, Batista goes right for Khali, then gets distracted by fighting Mark Henry. Everyone just kind of wanders around getting into fights and our first elimination comes a minute in when Henry does away with both Major Brothers.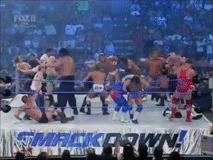 Goodbye, pre-Ryder.
Henry and Khali both go to town on their opponents, laying waste to the entire ring. Soon there are only two left standing.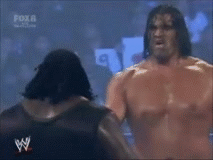 So much for that showdown. Most of the wrestlers team up to hoist Henry out of the ring. They even celebrate, which JBL points out is a stupid idea because they still have Batista, Kane and Khali to contend with.
Batista shows off his own impressive strength when being attacked by Deuce and Domino. They have him choked into the second rope, but he grabs them by the heads and is able to throw them both over the top rope from his unfortunate position. Not bad.
Batista and Kane have a showdown, not unlike Henry vs. Khali in the sense that it doesn't go down. Instead of having everyone rush them, it's just Jamie Knoble, whose angry strikes are rewarded with a swift elimination. Eugene thinks this is awesome, but his enthusiasm doesn't help him.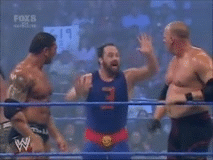 At the time of the match, Chavo and Jimmy Wang Yang are feuding over the Cruiserweight Championship. They have a cool moment where they save each other from the wrath of Chris Masters and eliminate him together. Chavo turns on Yang, but gets eliminated by the Asian cowboy in response. Yang ends up lasting quite a while until being pulled out of the ring by Hornswoggle. Yet again, Hornswoggle ruins everything.
Batista and Kane briefly team up to get Khali out of there, but they're out of luck and he powers through, shoving both across the ring. He takes apart both mega-faces, but then the only other competitor left in the match, Finlay, shows up with his shillelagh. 2007/2008 was an awesome time when it came to this. Back during the Finlay/McMahon angle about Hornswoggle being Vince's son, Smackdown was filled with matches that ended with Finlay beating the everloving shit out of Khali with that shillelagh. It ruled every single time.
Kane puts an end to this by choking him. As he lifts him up for the slam, Batista rushes out of nowhere and Spears Kane down. Batista flings Finlay out of there and continues his duel with Kane. The two grapple while leaning against the ropes, Khali comes by and takes them both out in one go. The Great Khali, the immobile man given a push because he's really tall, is the World Heavyweight Champion.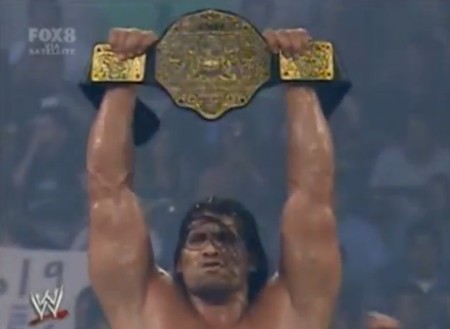 Um… You're… You're holding it upside-down. Khali? You're—eh, forget it.
I suppose it makes sense. They couldn't give it to Batista after spending all that effort on that "no more title shots against Edge" stipulation. They couldn't give it to Kane because injuring the champ and suddenly becoming champ in his place is really not face behavior. Mark Henry wasn't as over as a top heel, Finlay was never going to reach that plateau and Matt Hardy was feuding for a lesser title. Khali at least gave Batista something to chase after.
And chase he did. Batista and Kane had a #1 contender's match later that night. There was a draw, so they had a Triple Threat against Khali at the Great American Bash (two days after this battle royal aired, remember). Khali retained and had a celebration on Smackdown. It was a strange segment, as Khali danced around with some Indian women and Batista showed up to angrily annihilate everything and attack Khali. If you showed it to someone who didn't follow WWE and didn't listen to the crowd reaction, you'd swear that Khali was the good guy with Batista out to destroy fun.
A couple months later, Batista defeated Khali in another Triple Threat Match, this time with Rey Mysterio as the third man. They had a rematch in the infamously silly Punjabi Prison Match, where Batista finally won the feud.
Khali is a unique one. While I don't like that he became champ, I don't hate him as much as everyone else. I consider him to be a challenge for people to put on decent matches. Khali can only do so much in terms of mobility and variety, but it is possible to carry him into something watchable. Hell, Sheamus got a good match out of him once, if you believe that. He's not so much a wrestler as he is a human obstacle course.
Plus whenever I hear that one song by Blondie, I always like to pretend she's singing about the Punjabi Playboy.
Khali! (Khali!) On the line
Khali, Khali, any, anytime
Khali! (Khali!) My love
When you're ready we can share the wine
Khali!
Anyone else do this? Can you start so I can feel less awkward about it?
Tomorrow is keeping it in 2007. In fact, we're just going to hang out in 2007 for a while if you don't mind.
Similar Posts: