January 22nd, 2013 by
Gavok
| Tags:
battle royal
,
eric young
,
robert roode
,
tna
,
vince russo
,
wrestling
Date: October 14, 2007
Company: TNA
Show: Bound for Glory
Rules: 16 men race to climb into the ring (over the top rope) until 8 make it in. Then it becomes a battle royal until there are two left. From there, it becomes a singles match.
Stipulation: The 8 that enter qualify for the Fight for the Right tournament. The order of eliminations creates the seeding system for the brackets.
Roster (16): Sonjay Dutt, "Wildcat" Chris Harris, Havok, Lance Hoyt, BG James, Kip James, Jimmy Rave, Junior Fatu, Kaz, Robert Roode, Chris Sabin, Shark Boy, Alex Shelley, "Cowboy" James Storm, Petey Williams and Eric Young
It was the best of times. It was the worst of times. It was the time of Jim Cornette in TNA. It was the time of Vince Russo in TNA. Boy, is that apparent in this match.
To build up a new #1 contender, TNA decided to put together an eight-man tournament with sixteen guys to start. To cut the list in half, they'd have to earn their shots by… entering a wrestling ring. What the hell?
Yes, the Reverse Battle Royal. The same concept that millions of wrestling-loving kids came up with on their own, only to decide that, no, it's too stupid and would never work. Our competitors surround the ring and then go at it, each trying to climb onto the apron, over the top rope and reach the inside of the ring with all the refs. Once they're in, they're in. After it's down to eight men, the tournament roster is written and they fight in a battle royal over the seedings. In other words, the reverse part in the beginning is the only thing that truly matters.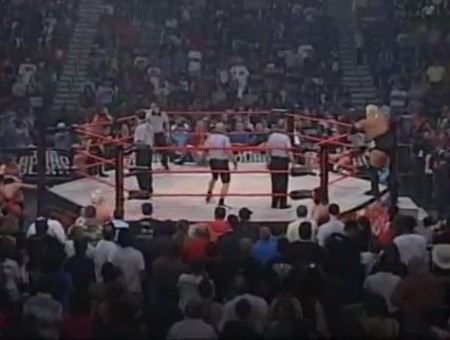 Exciting stuff right there.
Junior Fatu (Rikishi) smacks aside fellow over-the-hill, ass-based wrestler Kip James and steps over the top, nearly unopposed. That's one. Kaz and his rival Robert Roode go at it on top of one of the turnbuckles. Kaz wins out via hitting the Flux Capacitor.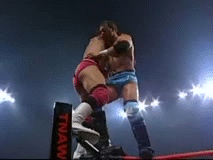 Advertent or not, Kaz just introduced Roode into the tournament as well. Alex Shelley hops in. Eric Young makes a go for it and Lance Hoyt stops him. Standing on the apron, Hoyt presses Young over his head and prepares to throw him onto the other wrestlers below, but Young rolls out of his grip and falls into the ring. That's five.
Chris Sabin jumps in just as easily as his Motor City Machine Guns partner Shelley a minute earlier. Hoyt prevents Havok from entering and steps in himself. That leaves one spot open. Kip James and Chris Harris fight over the last spot, but we see that James Storm has been camped out alone during the entire proceedings, picking his spot. With everyone beaten down and Harris and James busy with each other, Storm enters unopposed and gets in there a second before Harris. Harris is told by the refs that he doesn't qualify for the Fight for the Right tournament and has to get out of there. That he got tricked by his former partner only proceeds to make him more irate.
Storm's victory is short lived. At the start of the bell, Young steals his beer, ducks a haymaker and throws Storm right out of the ring. Junior Fatu lays waste to everyone else until he and Young accidentally back into each other. Young is filled with fear and tries his hardest to befriend Fatu, even going so far as to offer him Storm's beer. Young's attempt at creating new friends goes a little too far.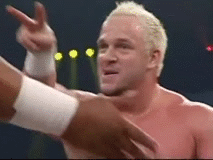 Fatu is cool with Young until Young makes the mistake of trying to lift the big man. Fatu continues taking everyone apart, including a spot where Young, Hoyt, Shelley and Sabin are propped into the corner and get crushed by his gigantic posterior. This is followed by a Stinkface on Young and Hoyt at the same time. Angry, Hoyt springs into action and drops Fatu with a running boot. Everyone gangs up on Fatu and it seems like they might have him. The Motor City Machine Guns hedge that bet.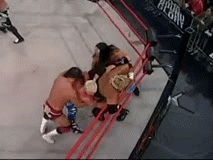 Hoyt becomes the dominant one until the Machine Guns silence him. They maneuver Young into putting Roode in a submission hold, then add their own, creating a neat human knot.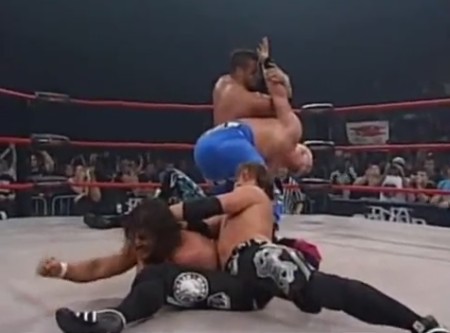 As they go back to double-teaming Hoyt, Kaz puts an end to their reign by eliminating Shelley and knocking Sabin out with a plancha DDT into the ring. Kaz and Roode end up fighting on the apron and Roode wins out with a Rock Bottom out of nowhere. We're down to the final four with Roode, Hoyt, Young and Sabin. Hoyt climbs the top rope for a moonsault, Roode runs over and shoves him to the floor. Although both faces try to team up on Roode, he's able to use them against each other, quite literally, by hiptossing Young into Sabin as a way to knock Sabin off the apron.
Now that it's Young vs. Roode, we have a singles contest. The mini-match is less than two minutes long and comes to an end when Young misses a moonsault, gets picked up for a suplex and rolls it into a pinning combination. Young wins the #1 seed and the crowd goes nuts for him. Though throughout this, the commentators are mostly paying attention to how the seeding system via the match has made it so that Sabin vs. Shelley is an opening round match.
The match is actually extremely fun and well-booked, so I'm glad I watched it. I have to blame that on Cornette, insisting that he took a crappy Russo concept and turned it into something enjoyable.
The tournament that followed was a gigantic mess, sad to say. Wrestlers kept getting removed and replaced mid-tournament and things were incredibly overbooked to say the least. Despite his #1 seed, Young was gone in the first match. The finals came in the form of a ladder match between Kaz and Christian Cage (who wasn't even in the original 16). Kaz won and challenged Angle on the main event of a random episode of Impact. Angle retained and then a million run-ins happened. Naturally.
When you get to tomorrow's update, tell them Boris sent you.
Similar Posts: