January 25th, 2013 by
Gavok
| Tags:
battle royal
,
jesse ventura
,
kofi kingston
,
randy orton
,
sheamus
,
vince mcmahon
,
wrestling
,
wwe
Date: November 23, 2009
Company: WWE
Show: Monday Night Raw
Rules: Normal
Stipulation: #1 contender for WWE Championship at TLC
Roster (8): Ted Dibiase, Mark Henry, Kofi Kingston, Randy Orton, Montel Vontavious Porter, R-Truth, Cody Rhodes and Sheamus
2009 to 2010 was a dark time for Monday Night Raw thanks to the guest host gimmick. Every week, there'd be a different guest host, originally in the form of a GM with power over the roster. Sometimes it would be a wrestler who wasn't active at the time like the injured Batista or long-retired Dusty Rhodes. Sometimes it would be a B or C-list celebrity. Any given week, you'd be in store for a crapshoot that usually depended on how into it the guest was. Sometimes you'd get Bob Barker spinning straw into gold with the Price is Raw. Then you'd get Dennis Miller hosting the Slammys, which was just head-shakingly bad. I recall him making a "joke" that was just him going, "Hey, global warming isn't real, am I right?" And when people didn't react, that led to some insisting that the wrestling audience wasn't smart enough to get that comedic genius. Ugh.
One guest host was former Governor and current nutjob Jesse Ventura. He started up a little controversy about John Cena as WWE Champion, pointing out how sick a lot of guys backstage were of him. Ventura decided on a series of qualifying matches between those who haven't been champion before, meaning we'd get a much needed break from the never-ending Cena/Orton series of matches. The winners would advance to what he called the Breakthrough Battle Royal.
Throughout the night we had Kofi Kingston defeat Dolph Ziggler, Sheamus defeat Finlay, the team of R-Truth, Mark Henry and MVP defeating the team of Jack Swagger, Chavo Guerrero and Chris Masters, Cody Rhodes and Ted Dibiase defeat Cryme Tyme and a match between Primo and Evan Bourne took a strange turn. Orton was so angry about not being allowed into this match that he attacked Primo and took his place, having little trouble in beating Bourne. Since Ventura loves cheating, he let it slide. Meanwhile, smarks had someone to outright root against for this match because if WWE was stupid enough to let Orton win… Jesus Christ.
A backstage segment had Ventura rant at Vince McMahon in a way that almost seems off-script due to bringing up Vince Sr., something that's usually a big no-no. Ventura wanted to make a little trip to the past and insisted that the commentary for the Breakthrough Battle Royal be done by he and Vince. Whoa. Now that's something.
Now for the match. Ventura comes out to nearly zero reaction and Vince not only has his old 80's theme song "You're My Obsession" by Human League playing, but he has this swank bowtie picked out by Ventura.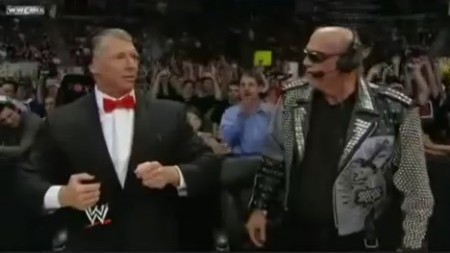 The commentary is very weird. Familiar, but different. It is a trip to hear Vince talk at length in that tone that sounds like he's thinking to himself aloud, plus Ventura telling him, "Shut up, McMahon!" It's just that age and development has changed them. Ventura is an asshole face and Vince is a doofy heel when the face/heel alignment should be switched. Plus Vince is just plain grumpy at times, calling this a rotten idea.
There's some interesting faction stuff going on in the lineup. This is the night after Survivor Series, which included a team that had Kofi, Henry, R-Truth and MVP against a team with Orton, Rhodes and Dibiase. So Sheamus is the odd man out here. At first, it's the four guys from Team Kofi ganging up on Legacy while Sheamus hangs back and does nothing. Eventually, Orton slinks out of the ring and walks around, surveying the action. Henry and R-Truth start fighting each other to make things fair.
Nothing happens for quite a while, but at least the commentary is entertaining and there's some nice tension with Sheamus and Orton each staying to themselves. Eventually, Sheamus snaps out of it, grabs R-Truth, clotheslines him down and then flings him easily out of the ring. Shortly later, Sheamus waits for the perfect opportunity to catch MVP off-guard.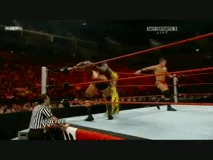 Easy pickings, bringing us down to six.
Henry goes for Sheamus and almost has him out of the ring until Rhodes and Dibiase attack. Henry ducks a double clothesline from them and sends them both out over the top with a pair of clotheslines of his own. Sheamus clobbers him from behind and throws him out, giving us Sheamus vs. Orton vs. Kofi. By this point, Orton's finally returned to the ring.
Sheamus hangs back for the most part, but when he does get involved, Orton makes short work of him. Orton sends Kofi over the top rope, but Kofi hangs on and takes out Orton via skinning the cat.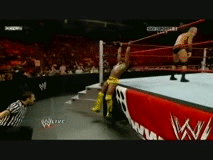 When Kofi gets back up, Sheamus is ready for him with a running axe-handle, sending Kofi to the outside. Sheamus wins and gets his title shot against John Cena at TLC. Not only are we saved from another Cena/Orton fiasco, but we also got that sweet Orton facial reaction above.
In the following segment, Sheamus and Cena have a contract signing where Sheamus annihilates Cena and puts him through a table. Ventura announces that their PPV match will be a Tables Match. Sheamus would go on to win that match and have a rather interesting feud with Cena. While Sheamus never got to outright defeat Cena decisively, the same can be said about Cena beating Sheamus. All in all, Sheamus looked plenty strong around this time until the Nexus showed up to make him run away in fear, thereby hurting his monster persona.
Kofi and Orton continued their feud. Kofi was looking like he was ready to ascend into the main event at times, but then he fucked up a spot, Orton RKO'd him, had an in-ring tantrum and the feud practically died right after. Since then, Kofi's been stuck in the position/gimmick of "generic good guy who gets cheers".
I haven't heard much from Ventura after he was on Opie and Anthony and Jim Norton verbally destroyed him to the point that Ventura stormed out of the interview. Norton rules.
Tomorrow's the last day and we're going to be ending it strong.
Similar Posts: