August 31st, 2012 Posted by Gavok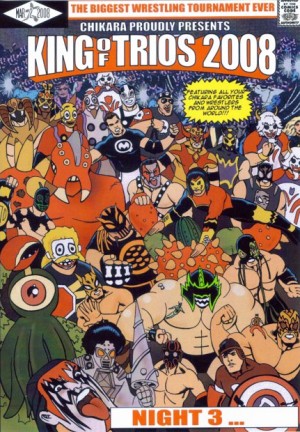 King of Trios 2008: Night 3
Thing I should note here is that this is a long one and probably the longest of all the King of Trios shows, nearing the 4 hour mark. It's 11 matches with one of them being a tag gauntlet. That's more exhausting when you add in a 20 minute intermission and however long I had to wait before the show started. I'd be watching myself in the crowd and wonder why I wasn't as into it as I should be, but then I remember how taxing the weekend was.
Luckily, the shows from here on out are mercifully shorter and easier to handle in one go.
The third night's DVD is introduced by Steve "The Turtle" Weiner, a weird but enthusiastic member of the CHIKARA staff and occasional wrestler. He has some brackets drawn up and goes over who will face who, though appears to completely forget to mention Team Japan at all. But with eight teams left, that means seven trios matches, so we begin with…
Match 1
King of Trios Quarterfinals
FIST (Icarus, Gran Akuma and Chuck Taylor) vs. the Colony (Fire Ant, Soldier Ant and Worker Ant)



An interview shows all three members of FIST going over their match. Akuma notes that FIST and the Colony are the only trios to be in both King of Trios 2007 and 2008 (ignoring the Order of the Neo-Solar Temple, but whatever). Chuck proceeds to go cliché by saying that he's going to squash the ants. As the Colony make their entrance, Soldier is decked out with military gear, including a helmet. It's decided that Chuck will start for his team so when Icarus steps out onto the apron and out of the ring, the fans cheer. He has second thoughts and steps back into the ring, causing boos. Then he steps back out to cheers. Back in to boos. Cheers, boos, cheers, boos, etc. Chuck leaves the ring for a second to grab Worker Ant's fanny pack, throws it to the mat and elbow drops it.
Chuck puts Worker into a headlock and gets WAAAY too excited about the move until being shoved off. Worker crossbodies him and Chuck rolls out. Fire vs. Icarus is extremely one-sided with Fire showing off his lucha skills. Then it's Akuma vs. Soldier, where after locking up, Soldier succeeds in manipulating Akuma's arms so that he's saluting. An annoyed Akuma suckerkicks him and Soldier ends up in peril. Chuck hits him with a cool Flapjack, but he kicks out. Soldier briefly save himself with a Sunset Flip, but Chuck gets back up and silences him with one of his picture-perfect dropkicks. Akuma powerbombs Icarus' body onto Soldier and then they do their triple-team dropkick in the corner spot. Soldier kicks out. Soldier rolls up Icarus for a sit-down pin, Icarus shoves him off and Soldier ends up being shoved right into his team's corner, where he tags Worker in.