May 6th, 2012 by
Gavok
| Tags:
animal man
,
panels
,
swamp thing
,
venom
Howdy. Strong week with many thanks to Jody, Gaijin Dan and Was Taters for helping out. While Space Jawa has nothing for me in terms of this week, he did stock me up on some Free Comic Book Day panels for next week's update. I've been busy the past couple days, so I haven't been able to read too much, but I did have to chuckle at the free Avengers comic Marvel gave out.
It's a rerelease of the .1 issue they did a year ago, which has yet to have any bearing on Marvel. Some jumping-on point. Anyway, the book featured a subplot of Spider-Woman being kidnapped by some mad scientist types and finding herself in a cell with her wrists cuffed together and her clothes missing. I mean, I guess Bendis has done that before with the full team, but having just a woman tossed into this role is asking for trouble. I don't go around looking for fan outrage, but considering so many considered it way over-the-line when Bendis had Dr. Doom — the evil mass murderer and dictator — refer to Ms. Marvel as a cow during a rant, I can only imagine the Spider-Woman thing didn't go over so well. In the Free Comic Book Day release, they alter all the panels from these scenes. Not only is she recolored so that she's wearing her outfit, but they changed her dialogue so that she's no longer yelling at the Wizard to give her back her clothes.
I imagine this is either because A) the misogyny outcry backlash, B) more kids are going to be getting these comics, so they should calm down on the cheesecake and/or C) if you want to see Jessica Drew's skin, you're going to pay for it, mister!
Like I said, I find the whole thing rather funny. Especially when you look closer at the panels. The Mad Thinker must have decided that Spider-Woman's costume wings were a major danger and had them removed before putting her in her prison. And also, while her costume was always tight enough to be painted on, that doesn't stop her feet from looking very non-bootlike. Seeing her curled, yellow toes just looks weird.
Enough about Spider-Woman's obscured lady bits. Here are some panels.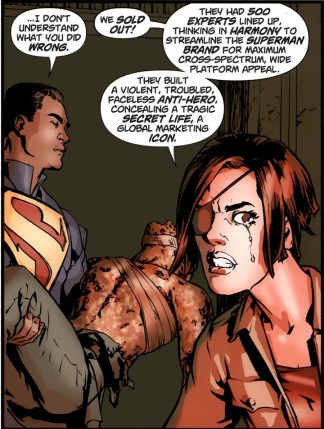 Action Comics #9
Grant Morrison, Gene Ha, Sholly Fisch and Cully Hamner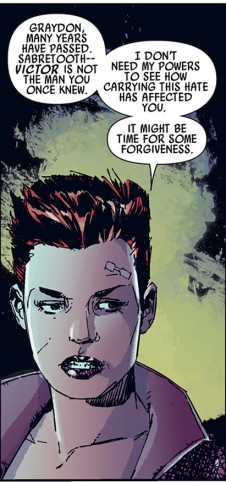 Age of Apocalypse #3
David Lapham and Roberto de la Torre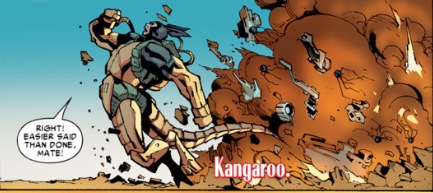 Amazing Spider-Man #685
Dan Slott and Humberto Ramos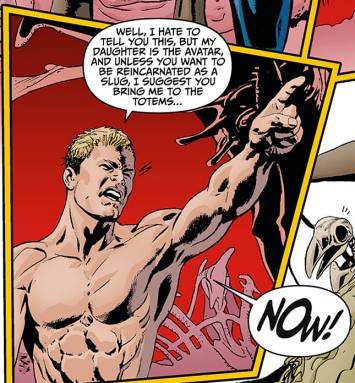 Animal Man #9 (Gavin's pick)
Jeff Lemire and Steve Pugh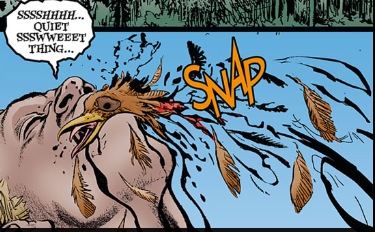 Animal Man #9 (Jody's pick)
Jeff Lemire and Steve Pugh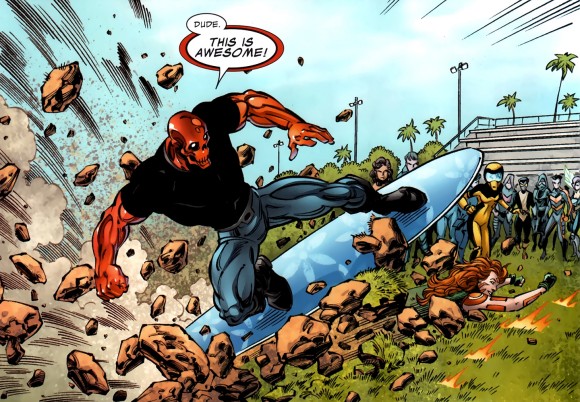 Avengers Academy #29
Christos Gage and Tom Grummett

Avengers vs. X-Men #3
Jason Aaron, Brian Michael Bendis, Ed Brubaker, Matt Fraction, Jonathan Hickman and John Romita Jr.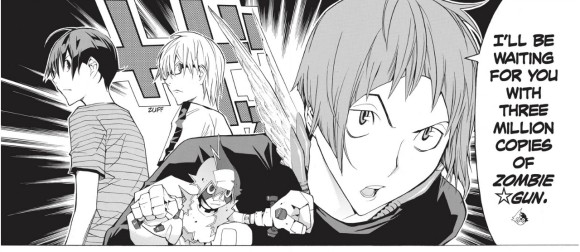 Bakuman #175
Tsugumi Ohba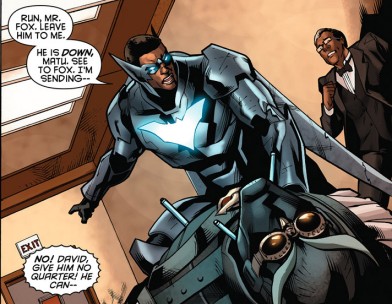 Batwing #9
Judd Winick and Marcus To

Bleach #488
Tite Kubo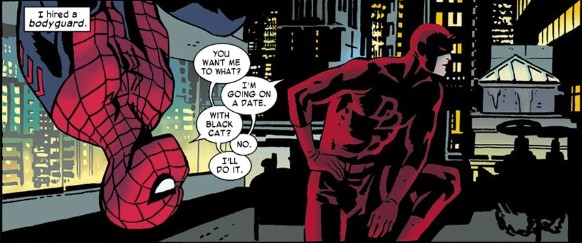 Daredevil #12
Mark Waid and Chris Samnee

Defenders #6
Matt Fraction and Victor Ibanez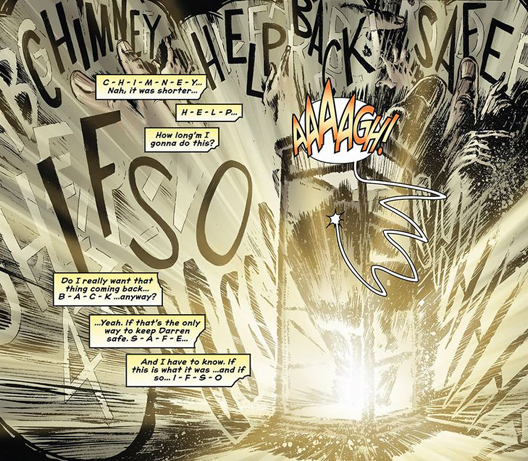 Dial H #1
China Mieville and Mateus Santolouco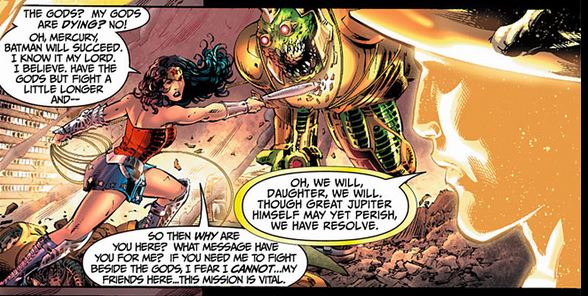 Earth 2 #1
James Robinson and Nicola Scott
Justice League International #9
Dan Jurgens and Aaron Lopresti
Naruto #488
Masashi Kishimoto
Nura #198
Hiroshi Shiibashi
One Piece #663
Eiichiro Oda
Skeleton Key Color Special
Andi Watson
Stormwatch #9
Peter Milligan and Miguel Sepulveda
Swamp Thing #9 (Jody's pick)
Scott Snyder, Yanick Paquette and Marco Rudy
Swamp Thing #9 (Gavin's pick)
Scott Snyder, Yanick Paquette and Marco Rudy
Ultimate Spider-Man #10
Brian Michael Bendis and David Marquez
Venom #17 (Jody's pick)
Rick Remender, Cullen Bunn and Kev Walker
Venom #17 (Gavin's pick)
Rick Remender, Cullen Bunn and Kev Walker
Wolverine and the X-Men: Alpha & Omega #5
Brian Wood, Roland Boschi and Mark Brooks
Worlds' Finest #1
Paul Levitz, George Perez and Kevin Maguire
On a more serious note, I'm a bit down from hearing about Adam Yauch/MCA dying over the weekend. I don't have the scope of knowledge on rap that David does, but Beastie Boys is something I grew up with and tended to check in with whenever they had a new album. My brothers were huge into them and a lot of that rubbed off onto me. I think one of the things I remember most fondly of the group is a Criterion DVD they released when DVDs were still a new thing. The two-disc set featured a crapload of their videos where you got to customize it. You can watch different versions of each video while listening to various remixes. Like, for instance, the regular video for Body Movin' featured a remix of the song and not the version on the album. You can listen to the album track while watching either the regular video or the PG version where the machine guns were replaced with lasers and the like.
But the coolest shit was their video for "Shadrach".
And no, I don't mean this exact video. See, as you can tell from watching it, this is a concert performance of theirs with a bunch of live frames painted over to make a surreal, animated piece of brilliance. The DVD allows you to watch this version. It allows you to watch the original, filmed version. More importantly, it allows you to watch both versions at the same time. The paintings overlaid over the live-action. It's absolutely mind-blowing. I must have watched it dozens of times.
Man, I need to fish out those discs.
Similar Posts: