March 10th, 2013 Posted by Gavok
Good news, everybody! Rotworld is over! Open up the champagne! Knock over the giant statue of Arcane! We can finally move on!
Welcome to this week's edition of This Week in Panels, the segment that takes a bunch of comics me and some others have read and cuts them down to size into single panel chunks that best describe what kind of comic you're going to get. With me are Gaijin Dan, Was Taters, Jody and Space Jawa. Oh, and Matlock, the guy who convinced me to start reading Injustice: Gods Among Us contributed too. Good for him.
The one for Avengers was a hard choice because it's a really clever issue and I didn't want to give away the ending. My pick comes off a little ho-hum. It's still worth checking out.
Also, I had my first Improv 401 performance today. I've done better and I'm sure I'll do worse, but I have two more shows left in the next month and I'm confident I can improve. It seems like I'll have a video to post in a day or so.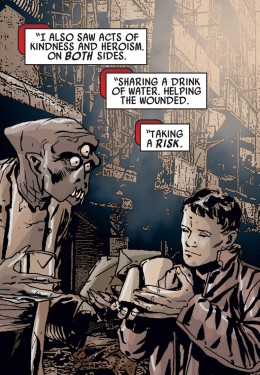 Age of Apocalypse #13
David Lapham, Renato Arlem and Valentine De Landro

All-New X-Men #8 (Gavin's pick)
Brian Michael Bendis and David Marquez

All-New X-Men #8 (Jody's pick)
Brian Michael Bendis and David Marquez