April 16th, 2012 by
Gavok
| Tags:
fantastic four
,
panels
Late update and I'm honestly kind of slumping over as I write this up. Today I took a trip to NYC and watched the Upright Citizens Brigade show ASSSSCAT, which had special appearances by Amy Poehler, Seth Meyers and Bobby Moynihan. Awesome time.
This week I'm helped out by Space Jawa, Jody and my old friend Gaijin Dan Mastriani. Nothing from David, but on the subject of my boss who hates it when I call him boss, he has a really fantastic Comics Alliance post that should be up any day now. I got to read it ahead of time and I suggest you check it out once it's published. It takes his JMS post from the other day and turns it into the tip of the iceberg.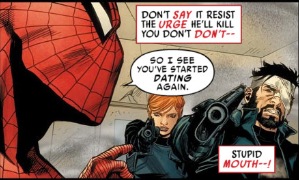 Avenging Spider-Man #6
Greg Rucka, Mark Waid and Marco Checchetto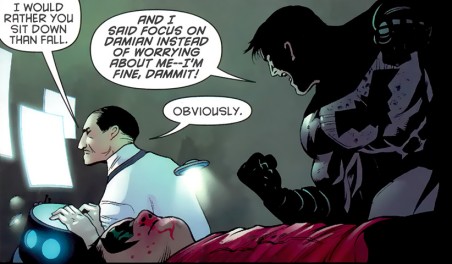 Batman and Robin #8
Peter J. Tomasi and Patrick Gleason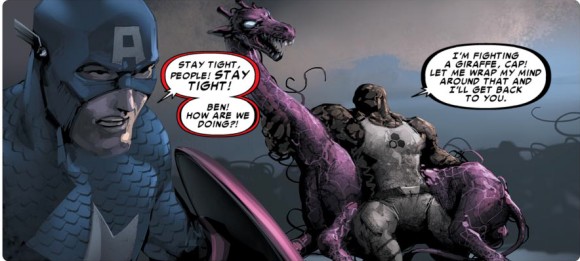 Carnage USA #5
Zeb Wells and Clayton Crain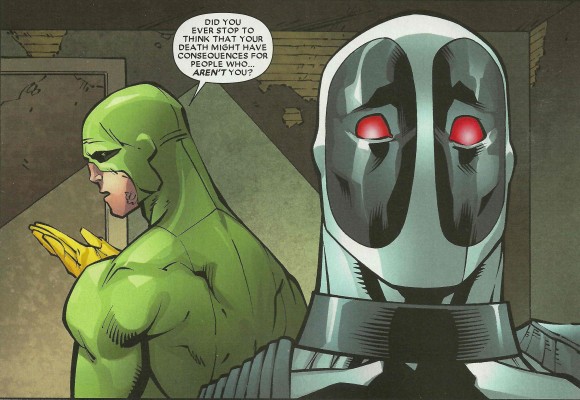 Deadpool #53
Daniel Way and Ale Garza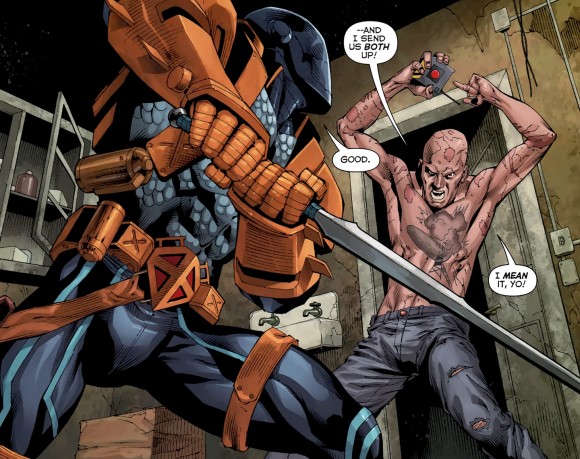 Deathstroke #8
Kyle Higgins and Eduardo Pansica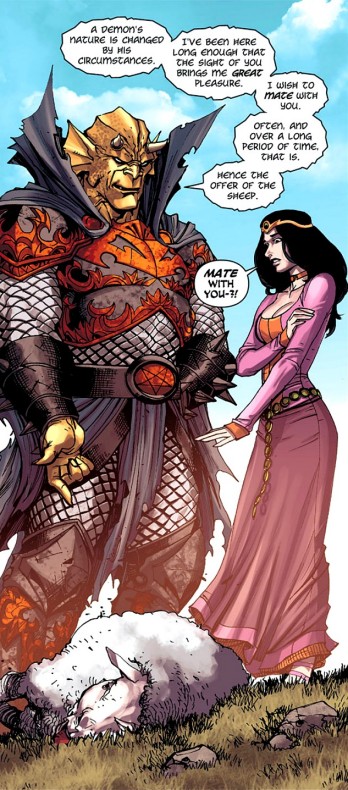 Demon Knights #8
Paul Cornell, Bernard Chang and Diogenes Neves
Fantastic Four #605 (Jody's pick)
Jonathan Hickman and Ron Garney
Fantastic Four #605 (Gavin's pick)
Jonathan Hickman and Ron Garney
Frankenstein, Agent of SHADE #8
Jeff Lemire and Alberto Ponticelli
Green Lantern #8
Geoff Johns and Doug Mahnke
Journey Into Mystery #636
Kieron Gillen and Richard Elson
One Piece #661
Eiichiro Oda
Resurrection Man #8
Dan Abnett, Andy Lanning and Fernando Dagnino
Scarlet Spider #4
Chris Yost and Ryan Stegman
Secret Avengers #25
Rick Remender and Gabriel Hardman
Shade #7
James Robinson and Javier Pulido
Star Wars: Agent of the Empire: Iron Eclipse #5
John Ostrander and Stephane Roux
Suicide Squad #8
Adam Glass and Federico Dallocchio
Ultimate X-Men #10
Nick Spencer and Paco Medina
Uncanny X-Men #10
Kieron Gillen, Carlos Pacheco and Paco Diaz
Winter Soldier #4
Ed Brubaker and Butch Guice
Too exhausted to talk up comic stuff, but check this out. It's an ad, but it's an amazing ad.
Some suggested years to use: -1000000, 0, 1900, 1960, 1980, 2000, 2013.
Similar Posts: