March 2nd, 2011 by
Gavok
| Tags:
frank cho
,
jeph loeb
,
new ultimates
,
ultimate edit
It started over three years ago. Venom attacked the Ultimates for a reason that's still ill-explained and it led to a story about Ultron murdering the Scarlet Witch and Tarzan knockoffs being taken apart by Magneto. Then, many delays later, we got a story about Magneto killing billions, including a bunch of mainstream characters. As bad as Ultimates 3 was, Ultimatum brought crap to a whole new level. But with every Empire Strikes Back, there needs to be a Return of the Jedi, for better or worse. New Ultimates has come and gone and now it's time to lay it all to rest.
Yesterday showed the fates of Loki, the return of Captain America's shield and Arcana's posterior. Let's finish it.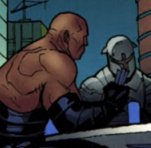 And there it is. Thank you so much for those of you who read this regularly enough and even stuck around for the end. Thank you for every, "This makes more sense than the actual story," comment. Thanks to my partner in crime ManiacClown, who will no doubt go through the worst episode of withdrawal since the baby nightmare scene from Trainspotting. Thanks to Frank Cho, whose art has made this a more pleasurable experience. Hell, thanks to Jeph Loeb for keeping me off the streets.
Similar Posts: