November 1st, 2010 by
david brothers
| Tags:
antony johnston
,
declan shalvey
,
jeff parker
,
wellinton alves
Verisimilitude is what makes stories go. Blah blah blah, you know this already. I talked about it a while back, pay attention. In short, getting close to the truth makes your story feel real. One way you can get close to the truth is by including little details and touches that hint at real life. They're shortcuts, things meant to make you imagine a world beyond what you're reading or buy into the world of the book in your hands.
Two examples.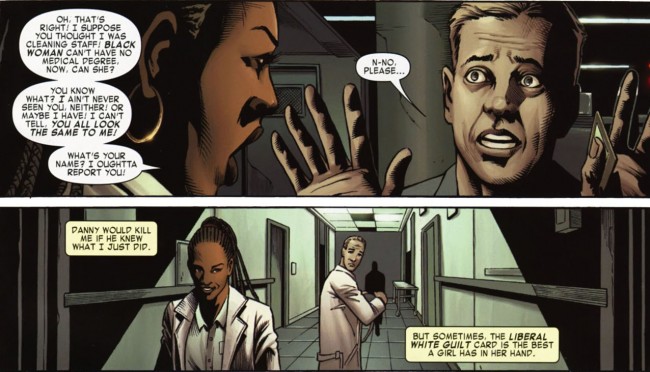 Antony Johnston, Wellinton Alves, Shadowland: Blood on the Streets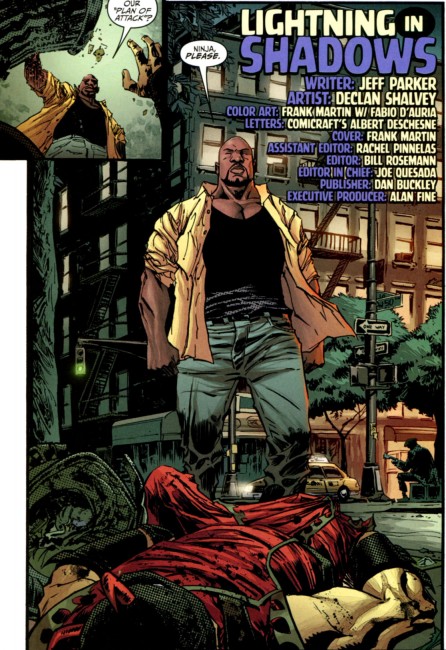 Jeff Parker, Declan Shalvey, Thunderbolts 148
These two scenes have a lot in common. More than I realized when I picked them as examples, honestly. (I was just going for two that stuck out in my head as being fairly recent.) They're both written by white dudes, though I think Johnston is British. Both scenes are set during Marvel's Shadowland event, which features a Daredevil who has been possessed by the Beast from Frank Miller and Bill Sienkiewicz's Elektra Assassin. They both feature black characters who rose to fame, or at least not-obscurity, by hanging out in the same general area. Misty and Luke are probably also the foremost street level black characters in the Marvel Universe, too, come to think of it. I mean, I like Nightshade and Shades & Comanche, but they couldn't heat up the sales charts with a lighter and a can of gasoline. I'm not 100%, but both scenes came out in the same calendar month, too. September, yeah?
(The artists are Brazilian and Irish, respectively. I don't think that's the same at all, unless I massively misunderstood World History.)
One of these scenes is crap. One of them is pretty straight. I'll get there, though. (It's the Misty Knight one, spoilers.)
Another thing that the scenes share is that they're trading on race for the purposes of a punchline. The Blood on the Streets punchline is about how effective the (nonexistent) race card is. Misty knows it, and consciously uses it. She flips on her Loud Black Woman switch, her dialogue drops out of the Queen's English and into some flavor of black vernacular ("black woman can't have no degree now, can she?") and the awkward white guy has the stereotypical response, which is to give whoever is yelling about how racist you are whatever they want so that they shut up and go away. She doesn't mean it, though, it's just that it's an effective tool. Ha ha ha!
The Cage scene plays around with racial politics for a bit of (honestly facile) wordplay. A ninja is impersonating his friend in an attempt to gain some intelligence. Cage's response? "Ninja, please." It's a play on "nigga, please," a bit of classic black slang (one, two, three, pause) that's got a number of uses. Scorn, disbelief, whatever whatever. It's flexible, and the joke here is the substitution of ninja for nigga. They look kind of similar, same number of syllables, and as used here, they are functionally the same. That's the joke. Cage is always cool and collected, and this is just him showing that he saw right through the ninja. Two words that say a lot. Not funny ha ha, but funny heh.
Okay, so why is the Misty scene crap? I don't have any science to explain why. I flipped through it in the store and put it back on the shelf. I saw the Cage scene in one of the online previews, went "heh" and continued purchasing the series. Both hit me in more or less the same spot. It's fair to call that spot whatever part of me that likes racial jokes, I figure.
It goes back to verisimilitude, I think. Both of these scenes are hinting at some sort of truth. Misty Knight is using racial history to get her way. Cage is using a reclaimed racial slur to show how cool he is under fire. Both of these scenes depict theoretically black things. A kind of ownership of a very specific facet of American culture, or a freedom to express yourself about race in a certain way. Step back a level and Johnston and Parker are both depicting a culture that isn't necessarily their own, which definitely requires at least a little bit of research and hoping for the best.
The truth they depict is the difference, though. Luke's truth is simple and short. Two words and out. Rather than reminding you of a specific thing ("Boy, I sure do love listening to music on my Apple™ iPod MP3 Player!"), it reminds you of a general thing ("black guy you know that says nigga sometimes."). Misty's scene is much more specific, and therefore much more likely to be not-truth. Honestly, the race card as depicted always felt like a myth to me. Like, sure, ask somebody if something is because you're black, and maybe, just maybe, in very specific situations you'll get the results you want and be sent on your way. Any other situation, including basically anything between professionals, will get you scorned, mocked, and dismissed. In this situation, you'll get noticed, which is a pretty crap thing to do when you're illegally infiltrating a building.
And if I know this… Misty should know this. She's ex-NYPD, currently a private eye, and most of all, a black woman in her late '20s. I mean… c'mon. It works in movies, not in real life. Everybody knows that.
So the truth that the Misty scene is portraying felt false to me, and false in a way that actively conflicted with my ability to enjoy the story, or even take it on its own terms. It popped my suspension of disbelief like a balloon. The Cage scene felt right. It felt natural. I read it, kinda laughed at how corny it is, and kept it moving.
There's no science, no hard and fast rules, no nothing. You have to swing for the fences and hope your details make the grade. It's just like anything else to do with writing, I guess.
Similar Posts: