October 22nd, 2009 by
Gavok
| Tags:
ant-man
,
ghost
,
iron fist
,
luke cage
,
Marvel comics
,
mr x
,
thunderbolts
Thunderbolts #137 came out this week, written by Rick Remender and drawn by Mahmud A. Asrar. It's a decent issue, though it really reads more as Luke Cage and Iron Fist Featuring the Thunderbolts. I'm one of those who doesn't have a problem with that idea, so bring it on.
I bring this scene to your attention. Under the leadership of Ghost (who I like to think of as Earth-3 Rorschach), the team has successfully captured and brainwashed Iron Fist. Now they discuss matters over lunch.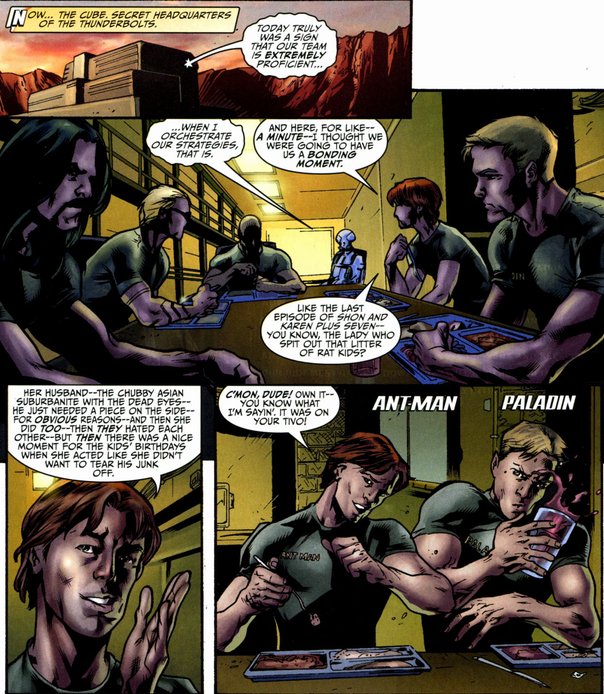 The lack of tray in front of Ghost is some good continuity.
Anyway, the Irredeemable Ant-Man is thinly referencing the TV show Jon and Kate Plus Eight, starring Jon and Kate Gosselin. I've never seen the show for myself outside of the clips shown on The Soup, so I at least get the gist. Ant-Man's description, while random to the situation, is still on point. Before the two announced their divorce, the show was about Kate being a total ice bitch 24/7 while Jon seems a step away from suicide. Apparently, people really like this.
I bring this up because while I don't partake in the show, I have a loose connection to Kate Gosselin. About nine months ago, she did a book signing at the Barnes & Noble I work at. It was a really big deal and had a huge turnout. Thankfully, I was on vacation so I didn't have to deal with it.
My co-workers, on the other hand, had many problems. From every single account, Kate Gosselin was a complete nightmare to deal with. She had them change the signing to a day later at the last minute, which caused us headaches and screwed with the customers who couldn't be in the loop. She didn't greet a single customer or employee throughout the night. She had no reaction towards the flowers we got for her. She refused any and all photos and would only sign either copies of her book or the first season of her show. She refused to make eye-contact with any of her fans, including a sick, little girl who was at the front of the line. She wanted to leave an hour early, even though she obviously wasn't done. Like I said, a total nightmare to deal with.
The general consensus at the store was that Kate Gosselin is a bitch, but others would go far enough to straight-up refer to her as a cunt. Now, in the workplace, it's hard to throw that word around safely, so we came up with a way to make it easier. From then on, we would retire the C-word and replace it with "Kate".
"Then she got kicked right in the Kate."
"That one customer who demanded to do a return without a receipt was acting like such a Kate."
"Jeff Goldblum's first line in any movie is Deathwish, where he says, 'Goddamn rich Kates! I KILL RICH KATES!'"
You'd… You'd be surprised how much that last one comes up…
Now, then. Let's go back to Thunderbolts as Mr. X gets in Ant-Man's face. Makes sense for Mr. X to be angry, considering Remender nearly ruins him completely in one issue.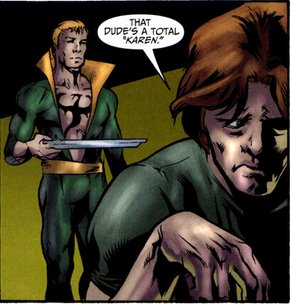 Haha! See? Art is imitating life. I love it.
Similar Posts: