February 10th, 2010 by
Gavok
| Tags:
crossbones
,
ghost
,
juggernaut
,
luke cage
,
moonstone
,
thunderbolts
CBR posted a little announcement and interview today dealing with the next chapter in Thunderbolts. With Osborn on the outs, what's going to happen to the team? Who's going to be the leader and who will he be commanding?
Get a load of this: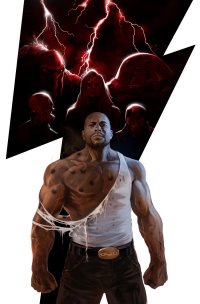 I'm starting to believe that Jeff Parker is God's gift to me. I'm especially pumped. As an aside, looking at that cover, whoever unloaded on Cage should be thankful that he didn't hit a nipple. That'll set him off.
In addition to Luke Cage, the initial line up of Thunderbolts has been revealed to include Juggernaut, Crossbones, Ghost, Moonstone, and Man-Thing. Is there anything you can say about these characters motivations for being on the Thunderbolts?

I think everyone's prime motivation is: I do not want to rot in this cell. I would rather have Luke Cage screaming at me as I run into the probability of certain death than rot in this cell. Except for the Man-Thing, of course – no one can ever tell what he's thinking. And no one asked him anyway.

How would you describe the initial dynamic between these characters? Is there anybody Luke can trust on this team?

That's what Luke would like to know! Moonstone is in and out of the program. She shows promise and then, bam – she lets you down. Ghost also seems promising, but then there's quirks, like him trying to kill Iron Man. Juggernaut, some people think he's a hero too.
This shows a ton of promise. Let's look at the line-up, one by one.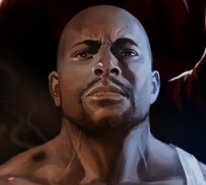 Luke Cage is a great idea for leader here. For one, he too used to be a criminal. It's been a long while since he's needed to redeem himself for that, but what he does need to redeem himself for is his poor leadership. The dude practically ran the New Avengers into the ground and helped bring forth the Secret Invasion, only Tony Stark's high profile steals all the blame. Now the man who led heroes while being called outlaws can lead outlaws under the guise of heroes.
Maybe this time he'll do a better job picking out any betrayers in the group.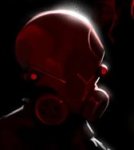 I'm going to admit that my experiences with Ghost have only come from his post-Secret Invasion appearances. I never read any of his old Iron Man stories. As it is right now, he's the best part of the team. He's what Rorschach would be like on Earth-3 and that in itself is a great character concept. Wow, was that last sentence nerdy enough for you?
If it's anyone from the current roster to stick around, I'm glad it's him. Ant-Man's presence has felt like a letdown, mostly. Paladin has never done anything for me. Nuke is interesting, but I feel that the second best crazy Frank from Vietnam would be better used elsewhere. Mr. X doesn't work as a protagonist, since the writers have to come up with more and more loopholes against his powers, hindering him as a badass. Then there's Headsman, who's dead. He'd make a terrible inclusion to the team.
Ghost keeps things interesting, especially now that he's gone from being a threat to Osborn (Yay!) to being a threat to Cage (Boo!).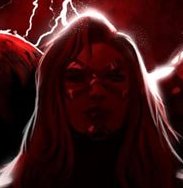 If anyone in the Dark Avengers is in any way redeemable, it would be Moonstone due to process of elimination. She may be a master manipulator and something of a succubus, but at least she isn't a demonic cannibal monster, a highly-paid mass murderer or an unrepentant date-rapist with a bad haircut. If Moonstone gives anything to this team, it's someone to play off of Ghost. He plays angles; she plays angles. He can phase and become untouchable; she might have the ability to hit him in a fight by doing the same.
I think I may have just made a Love Connection.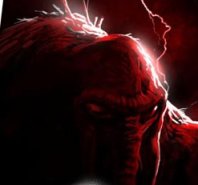 Man-Thing seems to be all over the place these days. He's kicking undead ass in Marvel Zombies 4, getting chopped apart in Dark Avengers and takes part in some Fastball Special action with Frankencastle in Punisher. I've never really cared about Man-Thing either way, but I'll hold my interest in this because Jeff Parker's writing. Writing an enigmatic mute powerhouse? He's been doing a delightful job on that in Agents of Atlas.
I was going to comment on how strange it is to have him on the team, but then I realize that he's a monster that doesn't talk and everyone he touches gets burned alive if they know fear. That shit will get you arrested.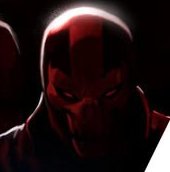 What an odd choice. Crossbones is just as evil as Bullseye, but at least when Bullseye was a member of the team, he was kept out of the public eye and stayed in the shadows so nobody could criticize. Maybe it will be the same with him? I figure he's just there until he finds the means to attack the rest of the team, but we'll see. Definitely someone to keep an eye on.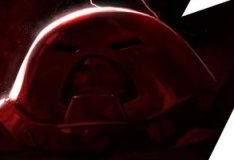 Now THIS is what I'm talking about! Everyone knows I'm a big fan of Juggernaut as a good guy and hate how they turned him. After about ten years of slow burn, they toss it away during World War Hulk. And for what? Since then he's been beaten up by Hulk's son and mentally fucked by Xavier when he isn't wearing his helmet. Remember Grant Morrison's lesson about repetition and "same old shit" in New X-Men that led to him attempting to kill off Magneto for longer than a weekend? Marvel is falling into that trap here too.
Juggernaut's struggle to do better is what made him interesting, even during what is widely considered one of the worst X-Men comic runs in the past 40-something years. Now we get to see SOMETHING done with it. You just know he's going to run through Man-Thing so hard that Man-Thing will explode and then reform. Or maybe he'll run right through a phased Ghost and/or Moonstone.
It also asks the question of how Luke Cage can keep Juggernaut in line. Juggernaut out-Cages Cage. He's bulletproof too, but he doesn't gets welts from it. He's super-strong, but far surpasses Cage's power level.
At the very least, maybe this will lead to their double shockwave team-up attack from Ultimate Alliance 2.
Jeff Parker has a top-notch track record for me, so I have faith in these turn of events. In the end, I'm just glad Ed Brubaker isn't doing Thunderbolts, based on this interview about his upcoming Baron Zemo arc in Captain America:
But Zemo is a full-fledged villain in this, right?

Definitely. One of the things that I think is nice about the Heroic Age is that we have this idea of hero and villain. Because over the years we've taken a lot of the cooler villains and, because people like them so much, they sort of make them into good guys. Like, for a while, it looked like Sabretooth was maybe going to be a good guy. And I was like, "No! Not Sabretooth!" But Juggernaut was one of the coolest villains of all time, and for a while he was a good guy! I mean, seriously? Juggernaut's going to be a good guy?
"I mean, seriously? Steve Rogers isn't going to be Captain America?" Or maybe, "I mean, seriously? Catwoman is going to be a good guy?" Come on, Brubaker. I thought you were cool.
And that line about Sabretooth maybe being a good guy only works if he's talking about that brief period in the 90's that I've only heard about third-hand. His recent X-Men stint was never suggested to be anything of the sort.
If Marvel wants a big, red dude to play the role of invincible villain of the month, why don't you go use that Red Hulk that your company has such a boner for instead?
Similar Posts: