July 18th, 2009 by
Gavok
| Tags:
black widow
,
iron man
,
Marvel comics
,
movies
,
robert downey jr
As many of you are aware, the latest Entertainment Weekly features shots and info of Iron Man 2. A lot of the stuff is already known, though it did give us some very nice Black Widow pics. The one thing I find interesting about this whole deal is Mickey Rourke's role.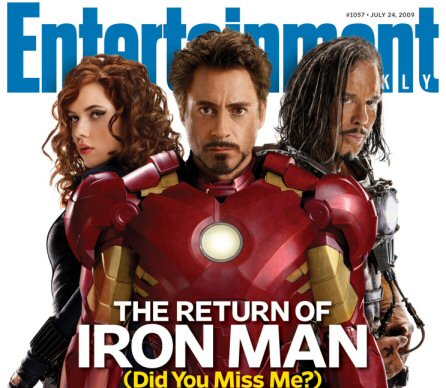 Rourke is set to play Whiplash. In actuality, the information we know about him shifts him closer to being the Crimson Dynamo. They even use the name of Ivan Vanko – the first Crimson Dynamo – rather than Mark Scarlotti. So why name him "Whiplash"? For one, there's the whip-based gimmick in his arsenal they've been hyping. Second, I think it's more of a realism thing.
I'm telling you right now that "Crimson Dynamo" is one of the finest names to ever come out of comics. It's such a cool collaboration between two cool words. Thing is, someone who looks like Mickey Rourke would never call themselves that on purpose. It doesn't fit him. It's too… theatrical, I guess is the word I'm thinking of. It brings too much color and hype for a Russian criminal who fashions his own costume to escape prison and then acts like a terrorist. "Crimson Dynamo" goes well with the propaganda aspect of the character, which is likely missing in this incarnation.
It's the very idea that they're going with the identity of Ivan Vanko that adds to my optimism. Ivan Vanko is one of the most overlooked comic characters, especially from the early days of Marvel. I would barely even remember him if it wasn't for the recent Iron Man: Enter the Mandarin miniseries reminding me that he was around for just a little while.
Vanko created the Crimson Dynamo armor to make himself the Russian answer to Iron Man. He had pride and a sense of style based on his robotic identity, which annoyed his Soviet superiors, but they sent him against Iron Man nonetheless. Iron Man dealt with Vanko in one of the first major "Tony Stark is a total dick moments".
During a fight, Iron Man played a fake recording he made of Vanko's superiors planning to have him killed the moment he would return to Russia, whether or not he had succeeded in defeating Iron Man. This fake recording horrified Vanko and he defected to America. He started working as a major scientist at Stark Industries.
Even though we discovered that Vanko's boss really was going to kill him off after all, that was an extremely fucked up thing for Stark to do.
Vanko remained loyal to Stark, but only lasted until the next year. A Russian spy Boris, alongside the comic book newcomer Black Widow, broke into Stark Industries and stole the Crimson Dynamo armor. Vanko sacrificed himself for Stark and destroyed this second Crimson Dynamo at the cost of his own life.
Since then, the Crimson Dynamo has become almost a running gag, as there are a near dozen men to have taken the mantle. But while I don't know them all too well, I'm sure few show the potential of Ivan Vanko, a man who was certainly cut down before he could make a bigger impact in Marvel history.
Not saying I want the guy brought back from the dead, but a flashback miniseries or even a What If issue in light of the movie would be ideal. If you think about it, if Ivan had survived, he probably would have taken the second-stringer role that made Jim Rhodes into War Machine.
If they adapt anything from Vanko's short history for the movie, it can only be positive. Just replace his Russian benefactors with Justin Hammer and we've got something.
Similar Posts: