March 9th, 2009 by
guest article
| Tags:
Batman
,
black panther
,
guest article
,
iron man
,
kal-aol
,
Marvel comics
,
marville
,
peter david
,
ted turner
Article by Fletcher "Syrg" Arnett.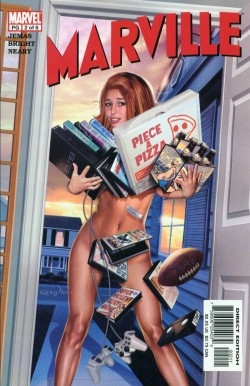 Note this classy cover by Greg Horn. We'll be covering those in the next update, don't you worry. But when we last left Marville…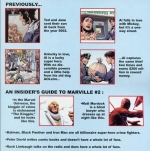 Ah yes. I also forgot to mention there is no love plot. There is no pining or anything. I don't know why the hell they added that to the blurb, probably because almost nothing from the first issue is going to carry over into this one and they needed to fill space. Also space-filler: the Kingpin blurb, but we'll get to that.
We pick up with Mickey and Al in the park relaxing, and the former wondering how the latter knows Stan Lee well enough to keep quoting that "great responsibility" line every chance he gets. The answer: in the future, Stan "The Man" Lee is taught in college in place of Shakespeare. Fortunately, before we can examine this further, a hobo walks up asking for money. Unfortunately, though, it leads into another one of those pages I have to share with you so you realize I'm not making it up: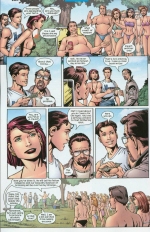 Yes, that is indeed a horrible mixture of fart humor, Rush Limbaugh, and Jemas bashing his competition much too prematurely. The gag goes on another page without being funny — and a direct rehash of the fart joke, note for note — and suddenly Al decides to go help poor people with his money, by climbing into a cab (driven by "that guy from Taxi", telling us he was typecast) and uttering the brilliant line, "Take us to poor people."
Handing out money, our hero decides to change his personality from "entirely bland" to "completely irritating" with a Wesley Crusher moment where he chides Mickey for telling him not to hand out all his cash. He has somehow calculated the entire amount he can hand out without ever losing anything based on the interest, all in the time it took to ride over to… wherever this is. The book is not forthcoming with details often, have you noticed? But that's okay, this gets halted in under a page when Batman comes in and beats the shit out of a guy.
Yeah, I said Batman. Oh, and Tony Stark shows up too.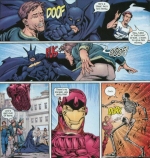 You might remember how in World War Hulk, near the end when we were at the Sentry fight, everyone just started having fun with the sound effects. Things like "Kraka-bathROOOOM" and "GRGPK!" and other silliness, because it's something so out there that who knows what it would sound like. I am pretty sure we now have an answer for what the polar opposite of those sounds are: "DOOF", "FUS", and "DORK".
As if this wasn't silly enough, Black Panther shows up a second later, not to stop the guy in the robot suit that just killed a guy, or Batman, who has beat someone's head clear into their torso, but to join in. And then there's this scene. I'm going to leave it on its own.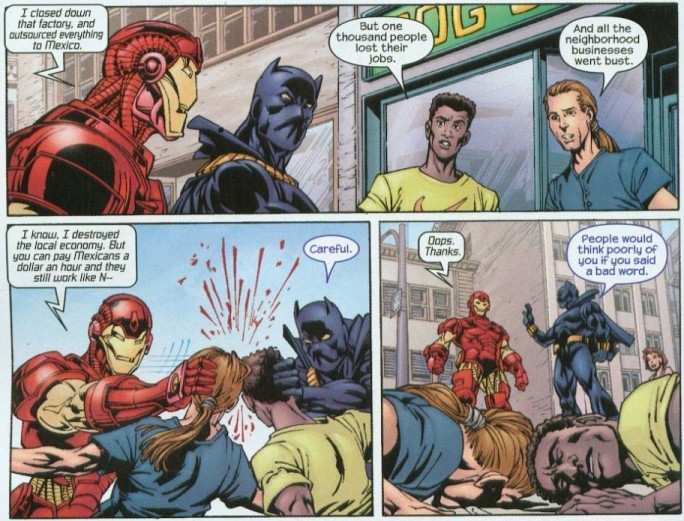 I'm speechless. This is the single thing in this entire series that can still render me such, even on this, my third re-read of the book. Not that we're going to run low on insanity from here on out. It's just that this is easily the nadir.
Speaking of insanity, the next page can speak for itself once again, in an entirely different fashion: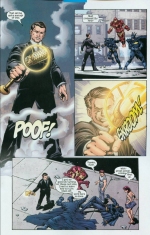 Next time you see a "Batman vs. Everyone" debate, I want you to cite this page as proof that Rush Limbaugh > Batman.
Anyway. Those three are never heard from again, cops show up to arrest the… you know, I don't know if anyone was guilty of anything. Sure one guy had a bat, but all they did before the heroes beat the hell out of them was go, "Yo gimme $100," to a guy handing out free money. Either way, one of the cops is Barney Miller (another "typecast" joke), and somehow Al is now dressed as a tourist and going undercover with a cop from Vice (if you are surprised that it is both a woman and someone dressed as a hooker, you might be this book's target audience!).
They're trying to see if people will sell them pot, you see, so they can get that person to give up the Kingpin's identity. Although they don't know it's the Kingpin they're after yet. No, that comes after Al and Matt Murdock, who is getting the dealer off the hook, do the "Who's on First?" routine and ask about "Who's the boss?" "The Kingpin." "Yeah, I want to know who" etc. and so on. Also learned during this: nobody in the future has any property anymore, thus no crime. It was all given to AOL for, you guessed it, "stock".
To speed through things, hooker-cop pulls a gun on Spidey and asks where the Kingpin is. He then takes them there instantly.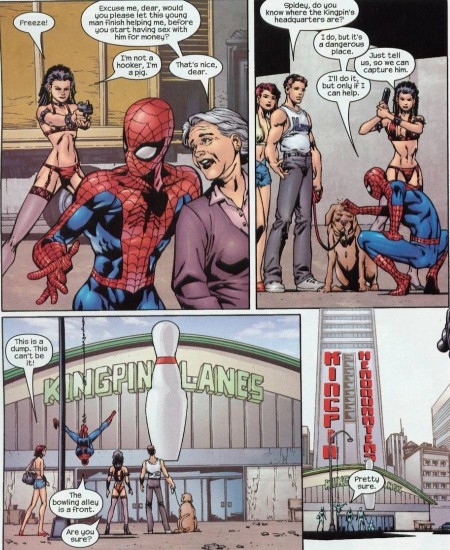 If I didn't know that the artist was lazy as sin, I'd think there was something to that tower appearing out of nowhere between those last two panels. It's not even a hard thing to do without giving away the joke at that angle! Draw a generic-looking skyscraper behind the bowling alley, reveal what it is next panel!
Anyway there are more cameos squeezed in for no reason (Frank Castle shoots wildly and nearly kills the cast, Vincent "Big Pussy" Pastore is the latest typecasting joke as the guy protecting the door), and then what might have been a decent speech is sort of ruined, alongside the entire moment, by having the Kingpin of Crime spin around and turn out to be Spike Lee.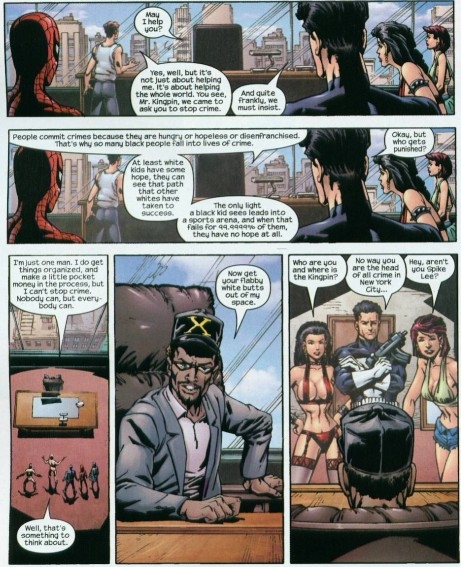 The scene just ends a panel later, and for the final time in this whole book, which still has 4 issues to go, mind you, we see Ted Turner and Jane Fonda. Unable to bring Al back to the no-longer-doomed future, they instead send him something that will hopefully get him home safe.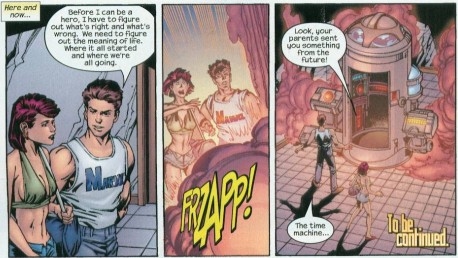 And with that, some ham-handed foreshadowing will leave us before the next issue, where Marville actually begins to leave the rails.