October 11th, 2007 by
Gavok
| Tags:
hulk
,
matt fraction
,
punisher
,
runaways
,
spoiler
,
world war hulk
Punisher: War Journal #12 came out this week. The whole Hate-Monger storyline went on a little too long, but since then, things have been looking up. The Bucky issue was a nice diversion and now we have this entertaining World War Hulk tie-in.
Here are three pictures of the issue for you. It's okay, these aren't much in terms of spoilers, unless you're anal about it. Each picture is set-up for what you just know is going to be some sweet, sweet payoff.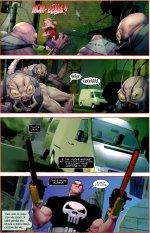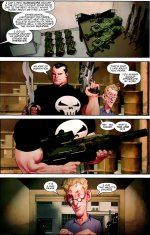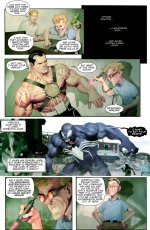 Stuart is better than Microchip ever was. Stuart is an artist.
That last page and everything that follows makes me believe that Matt Fraction knows who I am and wrote this issue specifically to make me happy. If you enjoy it too, good for you, but that was never the point. It's all about me. So there.
(Thanks, Mr. Fraction!)
In other news, Runaways is really losing me. Straying from the core plot mixed with delays makes me forget what the hell is going on.
Stay tuned tomorrow. I'm going to have a nice, full article up. I made it. For you. For Christmas.
Similar Posts: