August 17th, 2007 by
Gavok
| Tags:
animated
,
booster gold
,
Deleted Scenes
,
ex machina
,
geoff johns
,
iron man
,
leader
,
Marvel comics
,
movies
,
ultimates
,
unus
In a couple hours, I'm going to be leaving for the weekend for my brother's wedding. No computer access during that time, so the site is in the hands of the leader guy, the newbie and the guy who's too busy doing real writing work.
Some quick notes before I go:
– The Dr. Strange movie is the better of the four Marvel animated movies (Strange > Ultimates > Ultimates 2 > Iron Man). The animation is better, the ugly shading is fixed and some of it is genuinely good. Unfortunately, it's marred with goofy additions like having Strange, Mordo and the others fight by conjuring swords instead of straight sorcery. The ending is the absolute stupidest and laziest deus ex machina I have ever seen in any superhero movie, which is saying a lot. In conclusion, the movie is okayish.
– If you're going to get the Aqua Teen Hunger Force Colon Movie Film for Theaters on DVD, don't do it for the 80 minute deleted movie. It's just an early version of the movie where the animation is only two-fifths done and the deleted scenes (which are available with full animation elsewhere on the DVD) are inserted. Though to its credit, there is a nice unused ending that involves Dr. Weird screaming at Meatwad, "Well, keep it down! I'm trying to fuck a tangerine!" a second before the end credits.
– Booster Gold #1 is fantabulous. It really, really is. The comic is about a muscular idiot in tights, his annoying robot companion and a guy who knows way too much about history banding together to repair the past and keep time stable. Hm…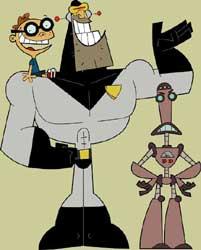 I always thought this show needed a second chance. Thanks, Geoff Johns!
Similar Posts: