January 12th, 2007 by
david brothers
| Tags:
amanda waller
,
animated
,
Batman
,
beast
,
bishop
,
black panther
,
civil war
,
claremont
,
colleen wing
,
DC comics
,
gambit
,
genius
,
hawk
,
hood
,
jason todd
,
jubilee
,
leader
,
luke cage
,
magneto
,
Marvel comics
,
misty knight
,
patriot
,
rap
,
robin
,
rogue
,
static
,
storm
,
superman
,
wolverine
,
women in comics
,
wonder woman
,
x-men
(edit: T'Shan was not BP's sister. Shuri is.)
To our readers from When Fangirls Attack!– welcome! Check out the post and don't be afraid to leave a comment, okay? Onward.
It's been a long time, I shouldn't have left you,
Without a strong rhyme to step to.
Think of how many weak shows you slept through,
Time's up! I'm sorry I kept you!
–Rakim
Man, this article is crazy late, isn't it? Just, uh, six months or so.
It's late for a number of reasons. I've been trying to ramp up my writing career, which means more time writing about games, less about comics. Did it work? Well, I'm no longer living paycheck to paycheck, but talk to me in another six months.
The number one reason why it's late, other than business and laziness, is that it is hard as crap to find good black female characters in recent comics. I mean, Monica Rambeau had a bit part in Black Panther and I'm not much for Nextwave's portrayal of her, so she doesn't really count. There was the great-granddaughter (grandniece?) of Jim Harper in Robinson's Batman: Face-the-Face, but, uh, she had maybe nine panels of dialogue total, and that's probably being generous. I'm not as familiar as I should be with Milestone's work (beyond Static), so I wouldn't feel comfortable putting any of those characters on this list. Bishop's daughter in X-Men: The End has three strikes against her. 1) She's Bishop's daughter. 2) She's in X-Men: The End. and 3) She's Bishop's daughter and is in X-Men: The End. Onyx is kind of cool, but I know exactly nothing about her and she got punked by Jason Todd so she's out. Pantha, according to Wikipedia, is black, but, again, I know nothing about her. Thunder, from Outsiders? No thanks, hoss.
So… this is going to be a little different. It's a top three because, frankly, there aren't enough good black female characters out there. I'd include Glory Grant, 'cause she's pretty awesome, but when's the last time you saw her in a comic that wasn't Civil War Frontline #10? (Nice guest spot, even if it was only a panel.) A better question– how many of you even remember who Glory Grant is? Monica Lynne is in the same situation. Charlotte Jones? Same deal.
I entertained the possibility of putting Monet St Croix on her, at least partially because I really enjoy her character. But, that'd make this a top 4 and these lists are traditionally either top three, top five, or top multiple of five. Four is right out.
So, a top three. But, I'm telling you, I better see some awesome black females over the next year or I'm going to do something reprehensible! I mean, black females in comics are like black head coaches in the NCAA!
zing!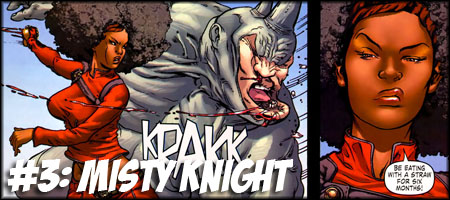 Misty Misty you so fine, you so fine you blow my mind hey Misty! Hey hey hey Misty!
(sorry)
I love blaxploitation films, despite their somewhat dubious origins and after-effects. I love imported kung-fu flicks from the '70s (and also modern stuff). Is it any wonder that I'm a big fan of the blaxploitation/kung-fu segment of Marvel comics? This is one area where Marvel has DC beat, hands down. Shang Chi, Colleen Wing, Luke Cage, Danny Rand, and Misty Knight. Richard Dragon, Lady Shiva, and Connor Hawke are cool, but don't even come close.
Misty is a hero in the Cleopatra Jones/Foxy Brown mold, though she's much more Cleopatra than Foxy. She's brash, sassy, and smart. She lost her arm in an attempt to defuse a bomb back when she was a cop. Now, she's got a crazy powerful bionic arm. I wonder if her and Bucky hang out on the weekends and share tips on bionic arm maintenance?
Anyway, Misty, at least in the stories I've read that featured her, has been consistently depicted as an awesome, take-no-crap, will-kick-you-in-the-face character. She is definitely a daughter of Pam Grier and Tamara Dobson. Smart off to her if you want, but you will definitely end up like Rhino up there.
I have a picture of my mom with a Misty Knight afro, but she reads this blog and would probably kill me if I put it up here.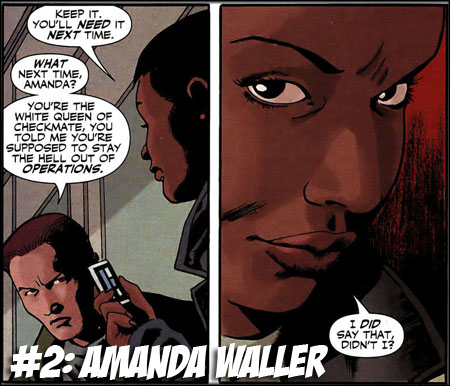 I was all ready to post the lyrics to the first verse of
Another Brick In The Wall Part 2
when I realized something. There is another song on that album that is much, much more apt.
Mother
.
Mother do you think they'll drop the bomb?
Mother do you think they'll like this song?
Mother do you think they'll try to break my balls?
Mother should I build the wall?
Mother should I run for president?
Mother should I trust the government?
Mother will they put me in the firing line?
Mother am I really dying?
This song fits Amanda Waller to a T for a number of reasons. First– she is proof that you should never, ever trust the government. She will wheel and deal and break you if she thinks it will benefit the country. She will definitely put you in the firing line, and if you have to ask if you're really dying, she probably put you on the Suicide Squad, I'm sorry, "Task Force X."
Waller is, and I don't know if this is intentional or not, the archetypal black mother. She is the queen of all she surveys, even if those surveyed do not know it yet, and won't hesitate to exercise her power. If you think you're putting one over on her, you've got another think coming. She's got the wool pulled so far over your eyes that you won't even realize she played you. She is generous with handing out rope for you to hang yourself and won't hesitate to guilt you into doing what she wants.
Now that I think about it, this is really kind of an unflattering analogy, isn't it? Crap.
But, it fits. Waller is scarily smart. She's one of the few characters in the DCU that is probably Batman's equal, at least as far as stubbornness and foreplanning goes. The DC Animated Universe, in Batman Beyond/JLU, even went so far as to have her create a new Batman from his genes in the future, because she realized that the world needs a Batman. An alliance between the two, which isn't likely because they really don't like each other, would be ugly. Within 24 hours, half the US military would've defected to their side and the other half would be scared senseless and possibly unconscious.
Waller is a patriot and probably the most powerful/influential female, if not character (excepting Superman), in the DCU. She knows where all the bodies are buried, probably has a file on every politician out there, and has connections to cover whatever deficiences she may currently suffer. She's smart enough to be able to put one over on Checkmate, DC's version of SHIELD. She also can't resist doing things if she feels that they are right or necessary, as evidenced by the (pretty good) Suicide Squad arc in Checkmate recently.
Amanda Waller is, to put a fine point on it, perfectly capable of becoming Big Brother, and she wouldn't feel at all guilty.
In the real world, the most powerful woman is Oprah Winfrey.
I want to live in the DCU, please.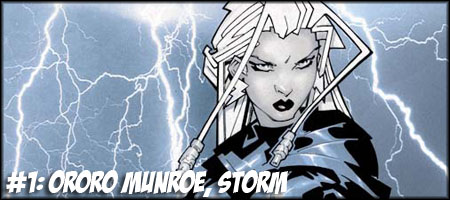 Raise your hand if you're suprised by this choice.
I've got a lot of issues with Storm. The blue eyes and straight, white hair are incredibly frustrating. I mean, incredibly frustrating. Scot Eaton and Klaus Janson are one of the few art teams who draw her as having ethnically black features. Don't get me started on Greg "Easy Target" Land or the permed out mohawk.
Sometimes, it seems like she's so divorced from what I tend to think of as "black culture" that she isn't thought of as "black" at all. I think Luke Cage puts it best in the "Black Panther: The Bride" trade when he's like:
Look, man, I ain't trying to speak ill of her, especially if she's "The One"… but she always seems stuck-up to me. And I don't even think she dates brothers. You know how Africans– except yourself, of course –can be towards African-Americans. Snooty. Arrogant.
So, let me put it like this– I guarantee you that I'm not the only one that found Halle Berry being cast as Storm as both fitting and awful for various reasons.
She's been written as being very snooty and cold, I think, and that has harmed the character. She's "above" everything, seems like, and that's a kind of ridiculous position for the orphaned, pickpocket daughter of an American photojournalist and Kenyan Princess to take. If anything, she should be much, much more open than she is.
But, beyond all of that, she's one of the most powerful characters in the Marvel U. Sure, people write her as just throwing lightning bolts and hurricanes, but controlling the weather? That's planetary-level power. They've just scratched the surface of what she can do.
As a character, she's been very interesting. She's pretty much fearless, save for the claustrophobia, and approaches fighting Callisto and Magneto with the same bravery. She won't back down unless she's wrong, and she isn't afraid to make hard decisions. I also like that Hudlin and Claremont had her return to Africa and deal with the slave trade and other issues there. She's socially conscious, though that seems like a relatively recent addition to her personality? I'm not sure, there.
And that brings us to the elephant in the room, I guess. Storm in Africa dovetails nicely into her marriage to BP. The marriage is fairly controversial, to say the least. Relevant (recent) links: Pop Culture Shock (1) and One Diverse Comic Book Nation (2). I'm sure that there are more conversations about this, but these are two that I've taken part in and are fresh in my mind.
I find the marriage to be a very, very interesting development, and I elaborate on why on Loren Javier's blog up there. I'm going to quote them here, because I think I did a pretty good job of explaining them. Also, cripes, it's 2am, you know?
[…]We really have yet to see an affectionate Storm. Truly affectionate, I mean, not just in a relationship. I like that Claremont established Storm as a power player, but he (and later writers) have portrayed her as cold, austere, more than a bit snooty (which is interesting considering her background), and, frankly, sexless. I'm not saying that Storm should be a sex bomb like Rogue or Wolverine, but her relationships have, at least to me, been very overwrought, angst-filled affairs. Even her hinted relationships have to have some kind of pathos to them. Storm and Bishop? But Bishop's a killer! Storm and Wolverine? Wolverine is a beast! And so on. I can't think of a Rogue/Gambit or Cyclops/Jean-style relationship involving Storm, where there is flirting and banter instead of "DO I LOVE YOU I DO NOT KNOW OH SHOOT SENTINELS BRB."

It's been my experience, and granted I'm speaking as a 23-year old here who has had extremely less than perfect relationships, that in a loving or affectionate relationship, there is both give and take. You prop your other up at the same time you get propped up. There's one liners, gentle jibes, friction, sacrifice, and serious talk. We're seeing this playfulness and range in Storm for what's really the first time, at least in recent memory. It's jarring, but I don't see it being quite so out of character. Certainly, no one complained back when Storm was being playful with Yukio, though we didn't have the internet back then. Since then, though, we're pretty much seen Fearless Leader Storm (with kung-fu grip and amazingly arched eyebrows), a female Cyclops with cooler powers and less sex.

I've been a Storm fan since I was a kid, and I think it's nice to see this side of her. It adds depth, and it is nice to see her in a loving relationship that isn't the typical X-Men dramabomb. I never liked that she was this ridiculous sexless goddess, especially when she was on a team that was going at it like rabbits. When two hairy blue guys, one with a tail and like three toes and the other with big gigantic feet and bigger words, are in happier relationships than you are, there's a problem.
There it is. A lot of people have claimed that the marriage came out of nowhere and has no basis in history (not true, by the way, and this can be proven with issue numbers) and that it minimizes Storm and turns her into a meek baby factory. I disagree, but that should be another post entirely.
I don't feel like I've done a very good job of descrbing why I like Storm so much. It isn't about the weather powers, it isn't about the marriage, it's about her. She's as close as the Marvel U gets to having a Wonder Woman. The top three Marvel women are probably Jean Gray, Sue Storm, and Storm, and I'm willing to bet that Storm is better known that Sue. She's important and interesting.
I dabble in fiction, though less often nowadays, so I tend to think in potential stories. I want to know more about Storm as a pickpocket. I never thought I'd say this about an Eric Jerome Dickey book, but Storm was a good read. The Ororo: Before the Storm mini, with Carlo Barberi on art, was a sharp read, too. Storm has one of the most interesting origin stories out there. She's got crazy potential. Talk about her living as a thief, living hand-to-mouth. Talk about her playing goddess in Africa, pre-X-Men. There is so much you can do with her, and 99% of it sounds interesting. Her claustrophobia is well-defined, but what about her motherly feelings toward Kitty "Super Genius Ninja Girl" Pryde? Where did that come from?
I've always thought of Storm as being a tactician on a Scott Summers level, though in a different way. Cyclops is a rigid, Batman-style planner. He can think on his feet, yeah, but he's at his absolute best when he's planning. Storm's life as a thief and goddess should've shown her one thing: flexibility is better. It's like that one Bruce Lee quote.
If You put water into a bottle it becomes the bottle. You put it in a teapot it becomes the teapot. Now, water can flow or it can crash. Be like water, my friend.
Storm is, when you put her up against a rock and a hard place, the person that's going to flow out from between the two and crash right between your eyes like the fist of an angry God. What about that? How does that relate to her pickpocket life? Plus, Storm should be a scrapper, not afraid to get down and dirty.
Judging by what I've written here, I tend to think of her as "Storm" rather than "Ororo Munroe." Hm. There is probably something there, isn't there?
Storm led an X-team back when I started reading X-Men, so, like a lot of those characters from back then, she's got a special place in my heart. I talk about Gambit, Wolverine, and Jubilee a lot, but Storm is right up there with them.
---
I said I'd talk about this, too, so let's do it– I want to see more black females in comics. Girls, women, it matters not, I just want to see more, and not as cameos. Bring Glory Grant back. Bring Charlotte Jones back. Hudlin has said that Shuri is going to get the spotlight pretty soon over in Black Panther, so bring it on.
I just want more. Neck-twisting and eye-rolling is all well and good, but hit us with thinkers, too. Natasha Irons over in 52 is really, really dumb. She is supposed to be a quick-witted inventor, like her uncle, but her story arc in 52 hinges on her being too stupid and prideful to listen to wisdom. That's interesting and all, but can we get a non-dumb new black girl character? Someone who isn't dumb?
Same for black women. Storm is all well and good, and I love Waller and Misty, but they all three kind of represent three different stereotypical facets of black womanhood. The culturally disconnected woman, the manipulative woman, and the oversexualized woman. I love all three, but we need the new hotness. (Not to suggest that either of these three are old and busted, but I love that Men in Black line.)
Give me more. Heroes, villains, bystanders. Women my younger cousins can look up to. Heroines that are just as capable as their male brethren. Give them inventive powers or gimmicks. Luke Cage is at the right age, at least in Marvel time, for his mother to have been a Panther. Let's see a story about that! I bet she hates the fact that he turned into a hoodlum.
What I'm saying is, we need more. It wasn't until I sat down to write this list that I realized how many black women in comics suck right now. There are a lot of crap black men, too. Believe me, I had to cut away a lot of dross for Pride of a Panther, but this is ridiculous. A Top Three? Are you serious?
So, help a Brothers out. More black women, please. It'll enrich your universe and make these lists easier to do.
Thanks for reading this far. In exchange, I'll hit you with some trivia. This post, and the previous entry Pride of a Panther (linked up at the top), take their titles from two things related to Mos Def. "Pride of a Panther" was a poem by Tupac Shakur that Mos Def performed on The Rose That Grew From Concrete record. You can find the lyrics to it here. "She Got That Good Hair" is from an introduction to the Black Star song Brown Skin Lady. I just checked Wikipedia on a whim, and it turns out that the sample is from the film Chameleon Street. I've loved that song for years, but only now found out where the sample was from. The film isn't available on DVD, sadly.
Similar Posts: