December 14th, 2006 by
david brothers
| Tags:
Batman
,
ign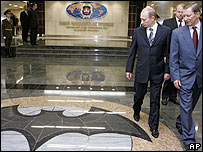 (This was pointed out by my longtime buddy Mark Poa)
There is something interesting going on in Russia! This is a shot of Vladimir Putin touring a new defense intelligence building in Moscow. Notice anything familiar? Holy Red Son Batman, is that symbol really what I think it is? Did the Russians really grow their own Batman and put him in charge of DI? Note how they are all looking down at the emblem.
They are giving the Bat his due honor.
Similar Posts: