June 9th, 2014 Posted by Gavok
And here we are again. It's This Week in Panels, where I am M. Bison, Matlock is Sagat, Gaijin Dan is Vega and Space Jawa is Balrog. We've got a shitload of panels this week, mostly with me and Matlock double-dipping. Sadly, I'm the only one reading New Warriors, which is adorable as hell. Especially this issue where Hummingbird starts falling for Speedball. Speedball, who looks like a normal, well-adjusted human being compared to her.
On the other hand, Moon Knight. Oh my God, Moon Knight. I mean, if you haven't started reading it yet, you might as well just wait for the trade since the current creative team is only lasting a whopping six issues before splitting up. So far the series has been completely kickass and I can't recommend it enough.
Now let's get the show on the road.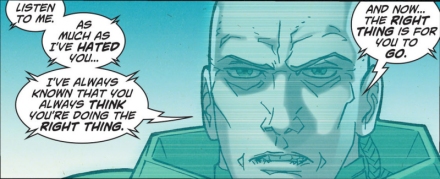 Action Comics #32
Greg Pak and Scott Kolins

All You Need Is Kill #17
Hiroshi Sakurazaka, Ryosuke Takeuchi, Yoshitoshi ABe and Takeshi Obata

Aquaman and the Others #3
Dan Jurgens and Lan Medina