March 17th, 2014 by
david brothers
|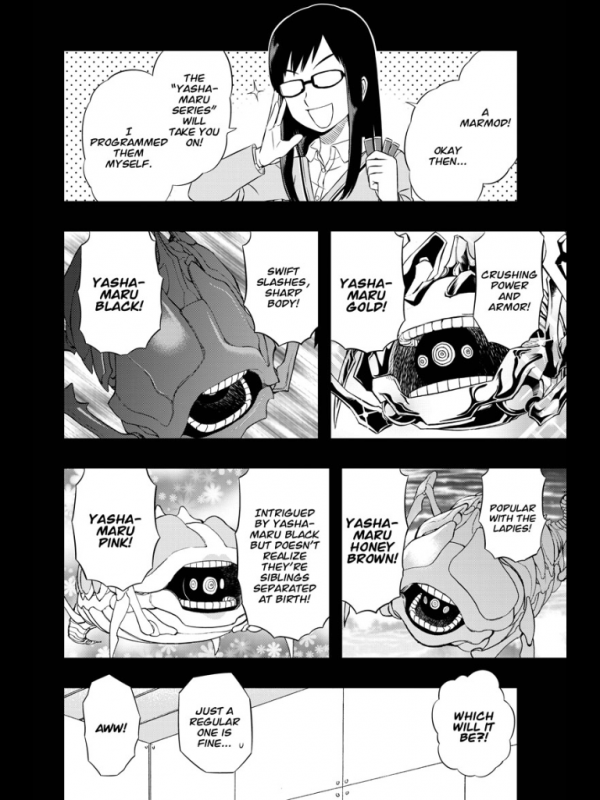 Created by Daisuke Ashihara, translated by Lillian Olsen, edited by Hope Donovan.
World Trigger
, 2014.
Daisuke Ashihara's World Trigger is one of my favorite strips in Weekly Shonen Jump. It's about teens fighting aliens from a neighboring dimension, and while I thought it was going to be a weirdo analogy for illegal immigration (the organization is BORDER, the aliens are Neighbors), it is actually a great teen team comic. It's cool like Orson Scott Card's Ender's Game was cool, but with a boys' manga swagger—swords made of lasers, customizable weapons that fit your temperament, teams of people with diverse interests and personalitys, coolguys saying cool things right before or while things explode, and heroes thinking of their friendships while effortlessly carving up aliens. There's a sense of danger, but it's lessened by the fact that the characters are using fake host bodies made of energy, so if you need to—for example—cut off your own leg to kill a monster, then you can do that, and it's cool instead of horrific. When they ramp up the carnage, it's like a video game character booping out instead of wall-to-wall gore and viscera.
It's not Screaming Shonen like Seraph of the End or Attack on Titan, where uncontrollable and annoying levels of rage power the main characters. It's…Steady Shonen? It has a lot in common with sports manga, where that lone wolf nonsense only goes so far. World Trigger feels very safe, both in style and in plot, but it has a lot of good stuff within that safeness. It feels good, and that's because the character work is very strong and the jokes are good.
A good example is this page from a recent chapter, where a nerdy girl who belongs to BORDER wears her fandom on her sleeve. Sometimes you don't need a laser sword to slash a monster…
Similar Posts: