August 11th, 2013 by
Gavok
| Tags:
panels
Yo, hey! ThWiP time. Light week this time around, what with it being me, Gaijin Dan, Space Jawa and Jody. First time in forever there's been no overlap in panel choices, so that's a thing.
I have a review up of the newest Axe Cop cartoon at Den of Geek. Tomorrow it'll have my review of the Archie Comics Sonic/Mega Man crossover, so give that a look if you remember.
This week I read Burn the Orphanage from Image, which I highly suggest. It's essentially any given Final Fight/Streets of Rage brawler game written in comic book form, starring the well-rounded hero, the big, strong guy and the street-smart young woman. No turkeys found in drums in this issue, sad to say.
Okay, let's do this like Brutus.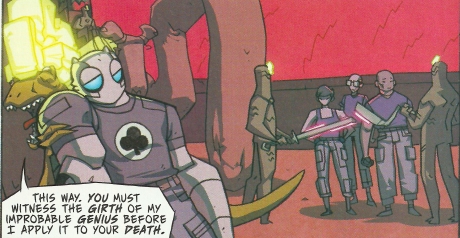 Atomic Robo: The Savage Sword of Dr. Dinosaur #2
Brian Clevinger and Scott Wegener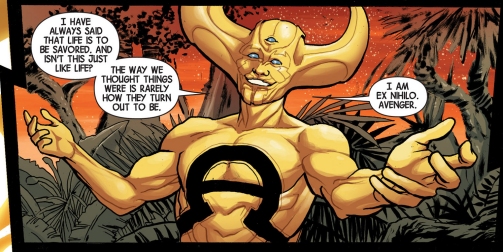 Avengers #17
Jonathan Hickman, Nick Spencer, Stefano Caselli, Marco Rudy and Marco Checchetto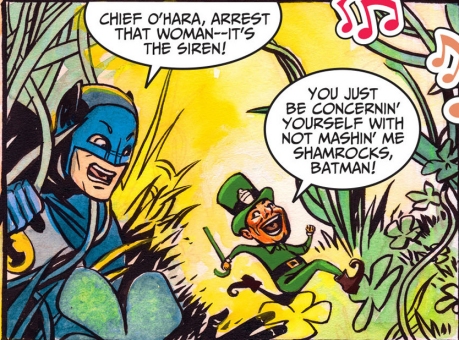 Batman '66 #6
Jeff Parker and Jonathan Case
Batwing #23
Jimmy Palmiotti, Justin Gray and Eduardo Pansica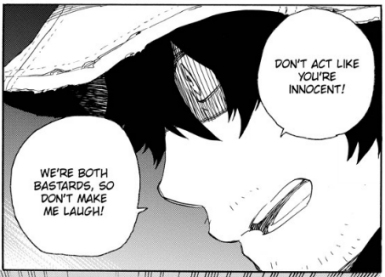 Blue Exorcist #48
Kazue Kato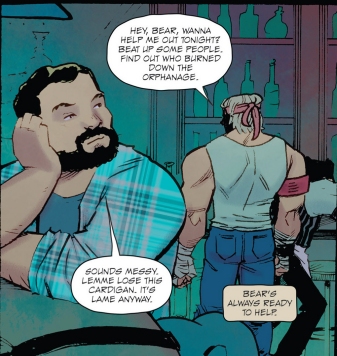 Burn the Orphanage: Born to Lose #1
Sina Grace and Daniel Freedman

Deadpool Kills Deadpool #2
Cullen Bunn and Salva Espin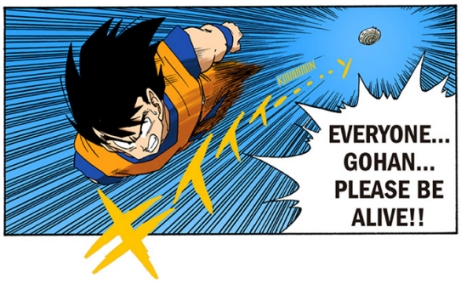 Dragon Ball Z #26
Akira Toriyama
Hunger #2
Joshua Hale Fialkov and Leonard Kirk
Injustice: Gods Among Us #30
Tom Taylor and Bruno Redondo
Jaco the Galactic Patrolman #4
Akira Toriyama
Mega Man #28
Ian Flynn and Ryan Jampole
Naruto #641
Masashi Kishimoto
Nisekoi #85
Naoshi Komi
One Piece #716
Eiichiro Oda
One-Punch Man #23
ONE and Yusuke Murata
Superior Carnage #2
Kevin Shinick and Stephen Segovia
Swamp Thing #23
Charles Soule, Kano and David Lapham
Toriko #244
Mitsutoshi Shimabukuro
Transformers: Robots in Disguise #20
John Barber and Andrew Griffith
World Trigger #25
Daisuke Ashihara
I'm really digging Superior Carnage. It actually has very little to do with Carnage despite him being the title character. It's really about the Wizard, following up on his constant failures in the pages of FF. His brain is falling to pieces, he's dying and all he wants is to pull off one major, fiendish plot to make his clone son proud of him.
Injustice is interesting this week in the sense that it's Tom Taylor basically saying, "Look, I can write a good Superman comic. I really can. It's just that this is what I'm stuck with."
Sometime in the next day or so, I'll have a post up about something infinitely stupid and entertaining that's been keeping me distracted lately. Until then, here's that awesome Smooth McGroove cat… with his awesome cat.
Similar Posts: