August 23rd, 2011 by
david brothers
| Tags:
frank miller
,
grant morrison
I was reading some Alan Moore Marvelman for some reason today. I found one in the back there and I couldn't believe. I pick it up and there are fucking two rapes in it and I suddenly think how many times has somebody been raped in an Alan Moore story? And I couldn't find a single one where someone wasn't raped except for Tom Strong, which I believe was a pastiche. We know Alan Moore isn't a misogynist but fuck, he's obsessed with rape. I managed to do thirty years in comics without any rape!
–Grant Morrison, Rolling Stone 2011
From Grant Morrison, Richard Case, Stan Woch, Daniel Vozzo, and John Workman's (very good) Doom Patrol 56, part of the lead-up to a big betrayal of the team: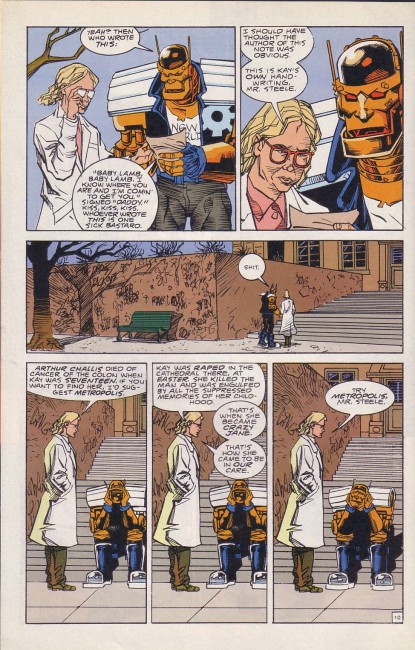 Alternate options: the extended child gangrape in The Invisibles, Lord Fanny's origin story in the "Sheman" arc of The Invisibles, and probably a few other things that I'm forgetting. I don't remember whether or not that the monstrous moonchild from that series was the product of consensual sex, but I sorta doubt it.
My point being: get real. Stop believing your own hype. It's cool you hate your wizard dad Alan Moore or whatever Oedipal thing you got going on, and he's almost definitely written more rape scenes than you have, but you haven't made it thirty years in comics without any rape, Chris Ware isn't a nihilist, superheroes are not here to save us all, and no, Superman is not the greatest idea of the combined human species. It's the idea of Siegel and Shuster. These soundbytes are absurd.
More Morrison that's been bugging me enough to not even want to give Action Comics a chance:
You look at the people who created those characters, and they're all dead. But the characters will still be around in 50 years probably – at least the best of them will. So I try not to concern myself with that. These are deals made in times before I was even born. I can say from experience that young creative people tend to sell rights to things because they want to get noticed. They want to sell their work and to be commercial. Then when they grow up and get a bit smarter, they suddenly realize it maybe wasn't so good and that the adults have it real nice. [Laughs] But still, it's kind of the world. I wouldn't want to comment on that because it was something I wasn't around for. I can't tell why they decided to do what they did. Obviously Bob Kane came in at the same age and got a very different deal and profited hugely from Batman's success. So who knows? They were boys of the same age, but maybe some of them were more keen to sell the rights than others. It all just takes a different business head.
–Grant Morrison, Comic Book Resources, 2011
This was the exact moment I went from "Aw yeah, Grant Morrison! (as long as the artists are good)" to "Wait, really?" in terms of how I see this guy. He's still one of the best writers in comics, but cripes, shouldn't the best of them also stand up for the ones who got screwed over? Isn't that what prestige and riches are for? I mean, yeah, do all of the drugs, have sex with all of the women, and I dunno, buy a castle in Scotland when you're 25 after having made more money off Arkham Asylum than Bill Finger probably ever saw, but once you reach that elder statesman position, once you reach a spot where people look at you with respect and listen to the things you say because you're viewed as an intelligent and worthwhile creator… shouldn't you start saying intelligent and worthwhile things? "Well, you know, kids like to get noticed!" is garbage.
You know what Frank Miller did when he got a platform? He repped, and he repped hard. For Jack Kirby, for Bill Finger, for Steve Ditko, and for other creators who deserved to get their art back or to own their creations. For those who got screwed in the name of profit and cheap labor. Sin City letters pages are littered with shots fired at Marvel over how they treated Jack Kirby. The Big Fat Kill (#5, I think) was where I found out that Marvel screwed Kirby. He built a platform and then he used it for good. Is he perfect? Nah. Bill Finger's name isn't on DKSA, though it might have been shouted at as a street name or something. But he tried. He got an acknowledgement to Finger and Jerry Robinson into DKR. He didn't hide behind mealy-mouthed corporate speak to justify two guys getting screwed so that he could write Action Comics with a clean conscience. Two guys who jumpstarted the genre that he loves so much, at that.
It took Abhay to point out that quote to me, and he ethered Morrison over it. King Mob went from counter-culture terrorist to corporate world-changer. Why did Morrison skip straight from counter-culture icon to stooge?
Creator's rights count. They count more than whatever stupid looking superhero is your favorite. Without the people behind the comics, we wouldn't have the comics. This sort of callous, blinkered disrespect should be inexcusable.
But sure, keep telling us that Superman is who we should all aspire to be, instead of Jack Kirby or Steve Ditko or Curt Swan or Todd McFarlane or Jim Lee or Frank Miller or (yes, even now) Stan Lee or Adam Warren or any of these cats who have made the works we love. I don't want to fly. I want to be able to point at something and say, "Yes, I made this with my own two hands and I'm proud of it."
Similar Posts: