March 26th, 2011 by
Esther Inglis-Arkell
|
If you've been listening to the podcast, you've heard me and David discussing Daken more than a few times.  Both of us have been both amused and bemused by his byzantine schemes that always seem to work out, but never seem to make sense.  In the latest issue his plans have come to a sort of fruition.  But I'm not sure I like them.  And I'm pretty sure that's the way it's supposed to be with evil characters.
What David and I found most hilarious all the way through the Daken series was the endless line-up of victims.  From the first issue, in which he murdered a guy for a nice looking suit, to the issue in which he charmed the Fantastic Four in order to steal some kind of mystery device from Reed, to this last one, in which he assured everyone that he was on their side before betraying the lot – he's tricked an endless array of characters.  He's done so while being the 'hero' of the book.  That's not too unusual.  The villain being the protagonist of a story is a trope that's been around forever.  And yet, those stories aren't about how evil the villain is.  No matter how much wrongdoing is wrongdone, the readers, or watchers, or listeners, are supposed to be won over to the villain's side.  There needs to be sympathy.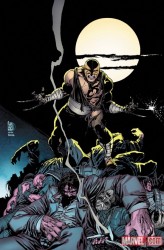 Usually that sympathy is gained the same way stereotypical 'anti-heroes' get sympathy.  Tough guys – and jerks – like Guy Gardner or Wolverine posture and fight and are obnoxious, but when a cute kid, or a gal in trouble, or a bus full of nuns, and they're on board.  The villains might be a little more mercenary in their good deeds, they might only be in it because by helping out they stand to gain something, but they're still on the side of the angels.  They're still doing good. 
The underlying message tends not to be that sometimes they will do good, but that they'll make an exception.  And if they'll make an exception, won't they do it for you, good reader?  A lot of villain-books, and movies, and tv shows, trade on this line of thinking.  They're not overt about it, but the stories tend to line the villains up against unpopular causes, ideas, or even everyday annoyances.  A villain takes out someone who talks in the movies – oh *we* would never do such a horrible, senseless thing, but since it's fiction, aren't we on the villain's side?  A little?  And if we're on the villain's side, then isn't the villain on ours?
I'm not really against fashion designers, but they haven't been making good headlines lately, so I don't mind if a fictional one gets knifed up.  And although I'm aware that the Fantastic Four are heroes, I'm not exactly attached to them.  But Tyger Tyger, this last person to trust Daken, I liked.  I liked that she shot him in the heart the moment he ignored her warning that if he stayed she was going to shoot him in the heart.  I liked that she was a villain, but she was just trying to do her job.  I just generally liked her, so I felt a little put-off, betrayed if you will, when it turned out that Daken just stole her empire out from under her.  Sure he's a bad guy, but – did he really need to do that?
And this is the bottom line of any real villain book.  The audience is meant to have sympathy for the evil character.  They are meant to like them, and confuse the fact that they just happen to be on the same side in one particular context with the fact that they usually wouldn't be on the same side.   Maybe they secretly are good.  Or maybe they're bad, but they can't possibly find a way for that inherent badness to inconvenience *you*.  And this is exactly how the other characters in a villains' book are meant to feel.  In the end, though, evil characters in fiction and in life aren't immoral when they happen to go up against an unpopular character.  They aren't immoral except when it comes to certain people who they actually like.  That's not the way immorality or inherent evil work.  They're just bad, and if you forget that, you're going to get a rude awakening.
Similar Posts: