December 4th, 2010 by
david brothers
| Tags:
eiichiro oda
,
one piece
One Piece! Manga Movable Feast! I could do an essay, but I think this will let me hit more of what I enjoy about the series so much. In short, though, it's the best adventure comic, consistently good, and even when it's less good, it's still better than a whole lot of comics. That's not a manga thing, either–it's good comics, full stop. Here's a series of observations why it's so good, running from early in the series to late: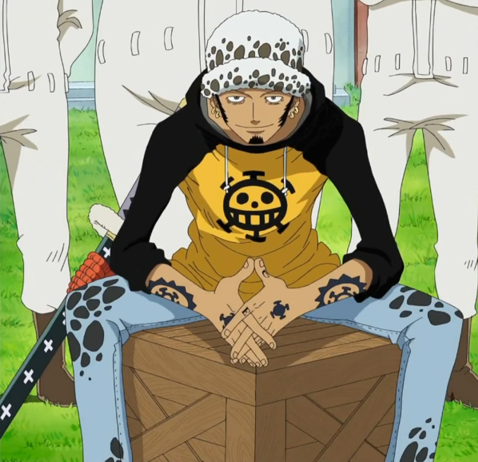 -Eiichiro Oda's One Piece feels like the child of Dragon Ball and classic Looney Tunes/Tom & Jerry shorts. It being a post-Dragon Ball work is kind of obvious like Veronica Mars being post-Buffy is obvious–Luffy is definitely in the Goku mold, though exponentially dumber, and the escalating stakes over the course of the series should be familiar to anyone who's even accidentally seen an episode of Dragon Ball Z–but the humor isn't as much of a direct descendent. It's a little more sophisticated. Not by much, Sanji's whole gimmick is proof positive of that, but maybe like two notches on the "dumb joke" dial.
-The Looney Tunes/Tom & Jerry stuff is harder to pin down. I hesitate to call it an influence the way I can with DB, but there's definitely a connection to be made. One Piece has the usual manga physical humor, like Nami handing out dummy smacks to every guy in the cast despite being the second weakest member of the crew, but it's delivered alongside gags based around subverted expectations and hardcore slapstick. That's stuff that I definitely associate with Looney Tunes and Tom & Jerry. Luffy's pliable body lends itself very well to that kind of stuff, which is probably why I made that connection in the first place. Maybe I'm off-base, but I haven't been able to get the comparison out of my head.
-This clip is pretty much exactly what I mean. The humor isn't quite the same as what you'd see in DB, but it wouldn't be out of place in something like Duck Amuck.
[clip lost to the whims of hulu]
-The fights are deeper than "Who's stronger, him or me?" Luffy is strong, but he isn't the strongest pirate in the series. He's got determination, and that tends to make the difference, but he gets stomped out fairly regularly. What makes the difference in the fights, other than surprise new special techniques, are teh gimmicks. Luffy's made of rubber, and that means he has certain advantages and disadvantages to play with. You can see this in an early episode where, rather than letting him drown, Luffy's friends pull his head above the water, stretching his neck. Later, when fighting Eneru, a guy who has steamrolled everyone ever with his electrical powers, Luffy shows up. Eneru blasts him and whoops, look at that, electricity doesn't work on Luffy because he's made of rubber. That sort of thinking works for me, and it was so blindingly obvious that you don't even see it coming.
-Nami has an interesting position in the cast. Up until Robin joins, Nami is the only person with even an ounce of common sense in her head. This means she spends a lot of time pissed off and trying to keep the boys in line. It'd be easy for her to come off as a killjoy, but instead, she's absurdly sympathetic. The crew of the Going Merry are, in a word, insane, and she is the lone spot of sanity in the group. I've seen a lot of anime with pretty unsympathetic female leads, but something about Nami is just awesome.
-Nami's Clima Tact, a weapon that lets her control the weather, is very cool, too. It doesn't make a lick of sense if you look at it too hard, but in terms of execution on the page and visually, it's great. It's not just a magic wand, it plays directly to her strengths as a normal human, and it's effective.
-Sanji is Gambit from the X-Men crossed with Pepe LePew, from the French to the loverboy reputation. Oda's hardline "Romance plots? Pfffffthahahahahaha yeah right buddy" keeps him from becoming completely obnoxious. His earnest dedication to Nami and Robin is funny, from creating special dishes just for them (which the crew immediately eats) to withholding the good food from the non-lady members of the crew.
-Sanji brings me to the next point–the fashion. Oda has a fantastically awful sense of design. A lot of characters look like they were designed by throwing darts at a board, but then, inexplicably, their designs somehow manage to hang together enough to actually be cool Don Quixote Doflamingo is a tornado of feathers, capri pants, sunglasses, and a waggling tongue, but he works. Rob Lucci is a guy in a suit with a pigeon on his shoulder that wears a fur coat.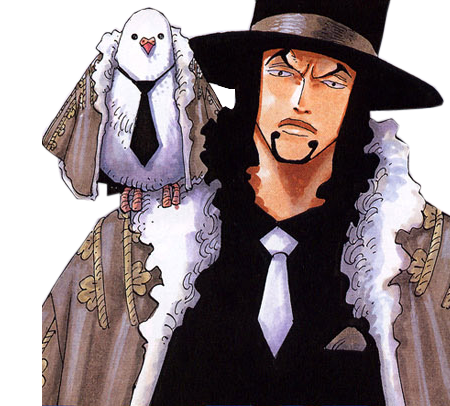 -Rob Lucci is the greatest.
-Oda's sense of design manifests itself in various ways. Other than stupidly awesome looking characters, he switches up the clothing of the main cast regularly. Nami, in addition to being greedy, loves shopping. Sometimes that just means shopping and sometimes it means actually buying new clothes. Nami, Sanji, and Robin changes clothes the most, I'd say, with Zolo and Luffy a few steps behind. It makes each arc feel fresh, and also gives us a better glimpse into the lives of the characters. Some outfits are less successful than others, but hey, everyone has bad clothes days.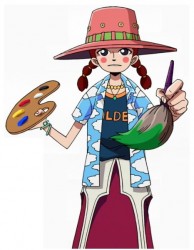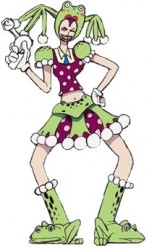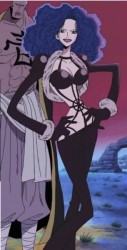 -The animals in the series are just as weird as everything else. The South Bird is a giant parrot-thing that can only face south. Laboon is a huge whale with a guy who sometimes hangs out in its belly. There are giant, bear-sized rabbits who live in a winter wonderland. There are both merfolk and fish people. The monsters that litter the ocean are basically just regular animals adjusted for deep sea life, like a cow with fins, and scaled up 1000%. There are alligators crossed with bananas. There's a sword named Funkfreed that ate the Elephant-Elephant Fruit. Chopper is a reindeer who ate the Human-Human Fruit and is now a… what, a were-reindeer? He squeaks when he walks. Get it?
-I like Bon Clay because of this:

[this one's gone too]
-I also like Bon Clay because his design is so off the wall. The onion-waist, thick eye shadow, crown, ballet slippers, and everything else are the sartorial equivalent of a word jumble that accidentally spells out "awesome."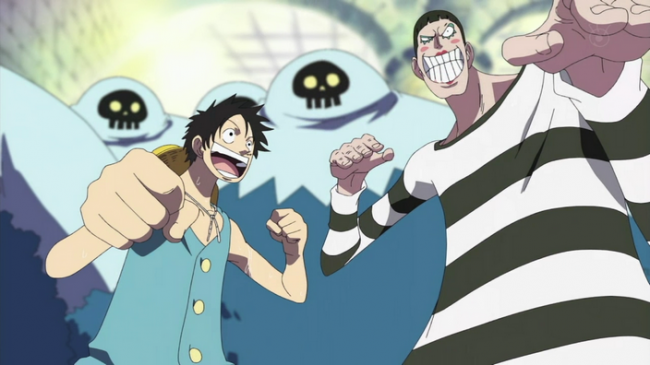 -Bon Clay is actually emblematic of the main theme of One Piece, which is that friendship conquers all. He begins as a friend. He accidentally ends up on the Strawhat's ship, they hang out, have some fun, and then he leaves. Later, it's revealed that he works for Baroque Works and answers to Crocodile, the villain of the arc. He battles Sanji, gives him props after he loses the fight, and then, still later, helps the Strawhats escape from the Marines. When he shows up later, there's no animosity and Luffy greets him like an old friend. Bon Clay responds in kind. Helping the Strawhats escape served as a single brief act of redemption, but really, Bon Clay didn't really need it. He's a good guy because he likes Luffy and his crew. Friends look out for each other, so he looks out for them.
-Friendship is one of those things that's pounded into your head over the course of the city, sometimes subtly, sometimes overtly. Nico Robin's tear-filled assertion that she wants to live during "Water 7" came about due to the fact that Luffy finally convinced her that she had friends.
-Buggy the Clown attempts to pervert the idea of friendship by using Luffy for his own gain, and it backfires wildly. The workers on Water 7 pretended to be friends with Paulie, another worker. Betrayal is treated as their true crime, even on top of brutalizing everyone they met. They broke the trust, and that simply isn't cool. In Buggy's case, selfishness is shown to be something to be avoided, otherwise you're looking at a Spectre-style fate.
-Oda's cast is huge. There are eight main characters, a sizable group for even an X-Men comic, but Oda manages to make it seem like every character gets a moment to shine. Sometimes he does this by taking Luffy entirely off the stage and letting someone else sit in the limelight. Usually, though, he uses that classic tactic of splitting the crew into smaller teams.
-The large size of the cast has the added effect of making the smaller teams interesting, too. Nami, Usopp, and Chopper make a good team because they're all fairly easily frightened. At the same time, Nami, Sanji, and Robin make a great team because Sanji is a sucker. But then, if you put Sanji on a team with Zolo and Luffy, you're looking at the three monsters of the crew, and they'll bicker and fight and destroy all comers. Zolo and Chopper make an interesting duo, since Chopper is so young and earnest and Zolo is easily mislead. There's a flexibility there that Oda is more than open to playing with, and it works to make the cast feel pretty intimate and diverse.
-Oda's art, sense of design aside, doesn't look like much of anything else. His characters are stretched out and warped to the point where even basic anime fanservice isn't quite as fanservice-y as it should be. For some characters, the legs are too long, the arms too skinny, and the waists wasp thin. Other characters are built like Johnny Bravo–all upper body and stick legs. High foreheads (we used to call those fiveheads), long necks, and weird noses abound.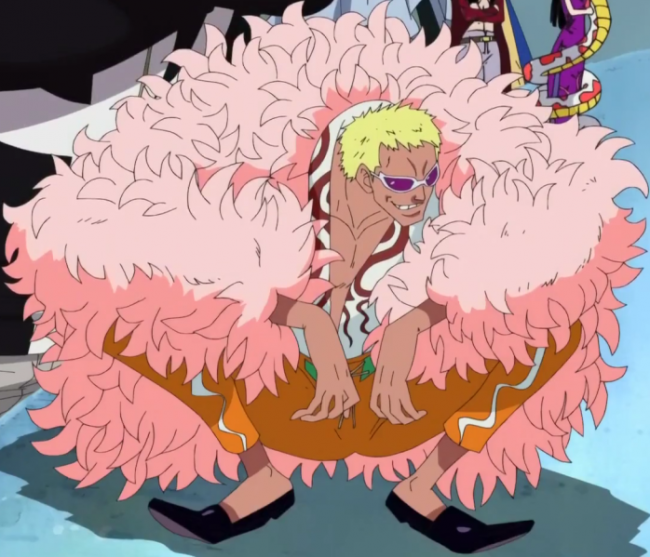 -It looks weird, but it works. Oda is great at cartooning, and starting off with completely unrealistic proportions actually makes the rest of the action easier to believe. Zolo's Three Swords Style is stupid, a dumb joke for kids, but you take it seriously as you buy into the art and story. The art style certainly helped lower my suspension of disbelief, and made it much, much easier to get down with how weird the designs become later on.
-Oda's approach to special attacks is pretty neat, too. Every character has a simple to understand starting point. One guy uses three swords, another can stretch, one kicks, another is good with the weather, yet another can grow body parts anywhere she can see. But then, the attacks they use is where things get interesting. Luffy uses his rubbery nature to increase his blood flow or to inflate his own limbs. Nico Robin can mix her limbs together, resulting in a series of hands with eyes in the center, or even wings. Sanji kicks, but when he gets mad enough, his kicks catch fire, because something something rage something love. If Chopper takes too many of his Rumble Balls, a performance enhancing drug, he flips out and loses control.
-Really, Franky is the only person the team who does normal things for his character type. He's a cyborg that can punch hard, shoot projectiles, and so on. But then, when he has to do something simple like fashion a makeshift bridge, Franky does it between panels and does it so well that he has time to create really nice railings, and he still isn't happy with how it turned out.
-Brook's jokes are proof that the best jokes are bad ones.
-Usopp vs Perona is one of the best fights in the series.
-"Rob Lucci," depending on where you from and what kind of slang you use, means "Take money." Greatest Name Of All Time.
-Kalifa's "That's sexual harassment" made me laugh every time.
-Is it just me, or do Luffy and Lupin the 3rd laugh in the exact same way? That kind of wide mouth, eyes shut sort of thing? I'd be interested in seeing an exploration of how OP relates to other things from Japanese pop culture, but I don't have the depth of knowledge necessary to do it justice.
Similar Posts: