July 16th, 2010 by
david brothers
| Tags:
4321
,
eiichiro oda
,
one piece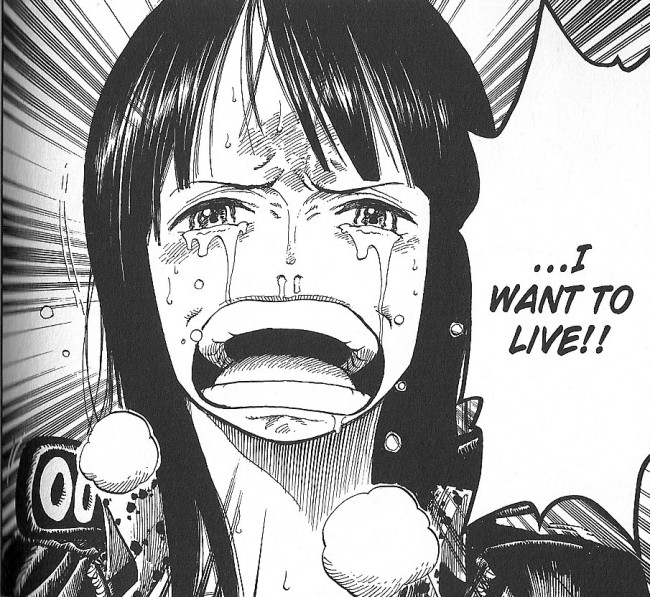 Emotional trauma makes for good backstory, doesn't it?
The cast of Eiichiro Oda's One Piece
certainly seems to be proof positive. All nine crew members have some kind of significant traumatic moment in their life that set them on their current path. The severity of the moment varies. Sometimes it's a friend sacrificing a limb (two crew members), sometimes it's the death of a family member (two), sometimes it's having your entire hometown wiped off the face of the map (one), or sometimes just the death of a good friend or six (three).
Tragic pasts quickly become old hat and boring if you read comics for any length of time. For some reason, though, it just works in One Piece. You can't get enough. They're spread out far enough, and executed well enough, to be interesting, instead of trite. They're also a signifier that a character has finally become a true member of the crew, rather than just a guest star. So, how has a series with no less than eight tragic pasts (if you want to quibble over Luffy's origin) not turned into cheap soap opera?
Rather than leading with the tragic past, like you'd see in your average superhero comic, Oda keeps it in his pocket for later. It puts me in mind of the process you go through when making new friends. The first few weeks are the probationary period, where you just kinda hang out and have fun and don't get too deep into things. After a while, though, your guard is lowered. You're hanging out, you're used to each other, and you share a little more than you normally would. After that, you begin sharing embarrassing things, and eventually, things that scare or bother you. By that point, you're on together forever status. You're trusting someone with your innermost thoughts, the sort of thing you keep walled up deep inside your head.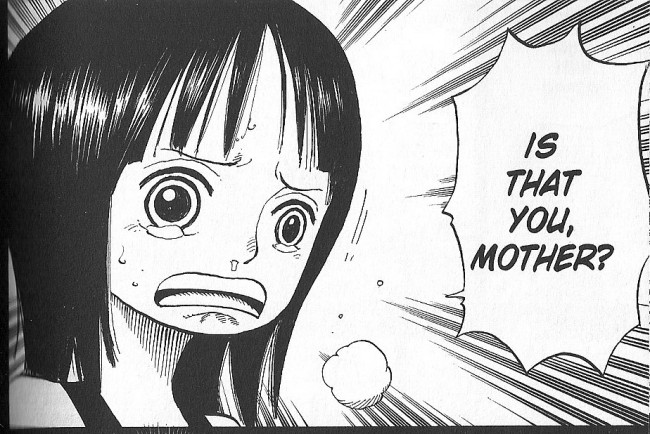 In real life, you get to know someone's laugh before you get to know their tears. One Piece follows a similar arc. Characters are introduced, we get a good grasp on their personality, and then later, when it becomes relevant, bam, we get to see that little bit of ice that sits deep in their heart. Sometimes it's just relevant and not too tear-jerking, like Sanji's tale of the time a dude nearly starved to death to save his life. Sometimes it's really, really sad, the sort of thing you avoid reading on a bus because then you look like a crazy person. Sometimes, it's a complete and utter emotional apocalypse.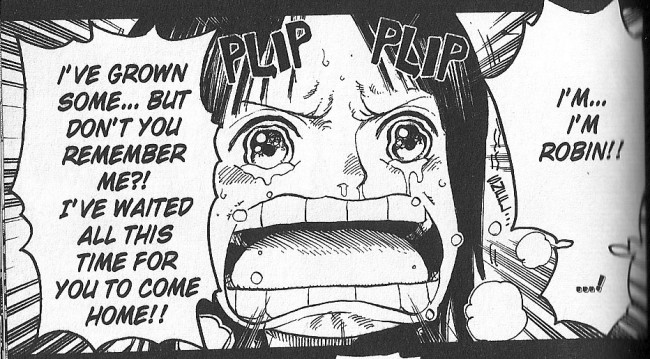 The flashbacks to the past are always relevant, too. They aren't just thrown into the mix just for cheap heat. When we find out exactly why Nico Robin has been on the run, it's because her past has finally caught up to her. When we find out why Nami has been a thief for the past few years, it's because she can't bear that burden alone any longer. It's always something that either sheds greater light on the story at hand or something that moves the plot itself along.
This technique has worked out wonderfully for Oda and One Piece. Characters are defined by their dreams first, whether that's becoming king of the pirates or finding the sea where all the fish in the world congregate. When the tragic history comes in, it adds further depth, rather than creating their entire reason for going on adventures. It's extra context for a character you already enjoy, helping that character to be just that much more well-rounded.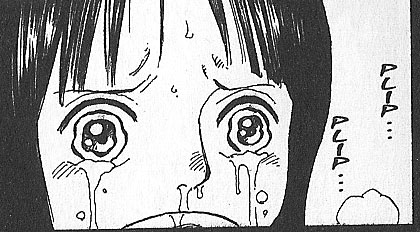 It's fair to say that One Piece is a happy manga. It's about friendship and adventure and beating up bad guys. This doesn't stop it from having a certain amount of depth of character, though. None of the characters, barring idiot Luffy, are just happy. Several of them needed a breakthrough before they became happy or learned to trust people. While you'll come across emotional landmines every once and a while, the overall mood of One Piece is a very well rounded one. Oda can flip from happy to sad and back again without breaking the book.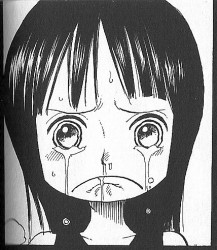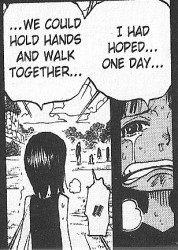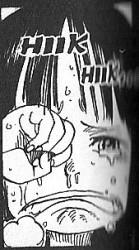 Oda is over 50 volumes deep and creeping up on 600 chapters in a series that is extraordinarily character-driven for a manga of its genre. The action is good, and the jokes are pretty funny, but the real meat and potatoes of the book is the way the characters act and interact. Oda keeps ringing the Sad Backstory Bell, but for some reason, it gets better and better every time. It never becomes trite or boring or pat. By delaying the big emotional breakdown, by pushing the tragic past off until he absolutely has to bring it up, he manages to make the impact that much more powerful. This is killer writing, and I hadn't expected to see something so grown-up, albeit wildly exaggerated on occasion, in a kids' manga.











At its worst, One Piece is just pretty good. At its best, it'll leave you a stupid blubbery mess in public.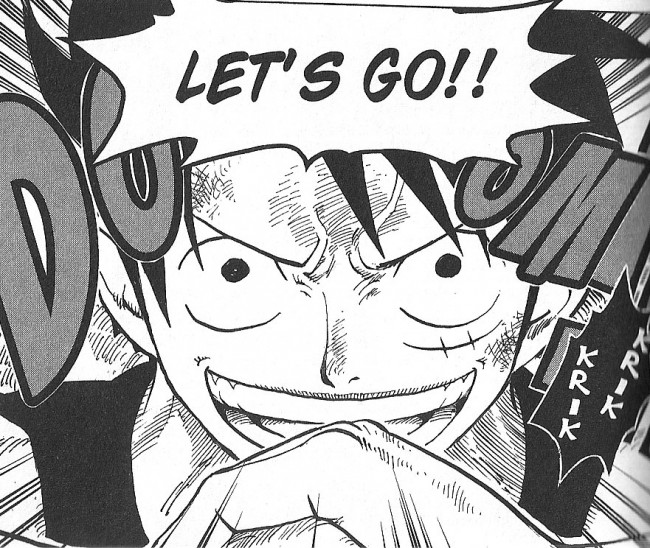 Similar Posts: