March 30th, 2010 by
Gavok
| Tags:
agents of atlas
,
hercules
,
venus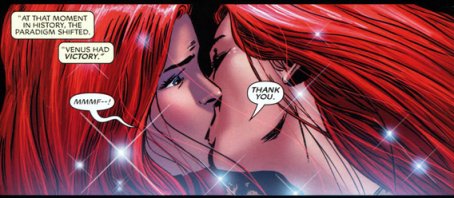 Why is this example of chickkissing stuck under one of the sad lines from "Yesterday"? It doesn't make sense! After all, this panel from Incredible Hercules #141 has everything. Action, adventure, someone being a jerk, and it's all in a title that is epic, overwhelming silliness. Also, as I said before, chickkissing.
Why, because it's Marvel, of course!
When I told Gavok about Venus, Aphrodite's freaky siren copycat who had mind-control love powers that she used on everyone, I did not entirely believe myself. Now I see that it's true. Too bad he's such a psychotic jerk (by that I mean Gavok. Gavok is a jerk).
DC, it's about time you had some crazy, love-power-having bisexual characters blatantly made for rampant and gratuitous fanboy service. Karen and Helena, separately and together, are half-way there already. And they're good guys! Get on that! I have faith in you!
Similar Posts: