December 11th, 2009 by
david brothers
| Tags:
carmine di giandomenico
,
daredevil
,
Marvel comics
,
spider-man
,
spider-man noir
,
zeb wells
Raise your hand if you wanted to read a story about Battlin' Jack Murdock, bad father, washed up boxer, and dude with no powers. His son, Matt, grew up to have powers, but Jack? Nah. Pointless, right? Gimme the guy with the radar vision, not some pug ugly boxer.
I thought the same thing, and then I read Carmine Di Giandomenico and Zeb Wells's Daredevil: Battlin' Jack Murdock, a Marvel Knights series about Daredevil's pops. I enjoy Wells in general, and Di Giandomenico isn't half as popular as he should be, so I checked it out on a whim. In exchange for that whim, I got a great story that fits neatly into the Daredevil mythos, adding a lot of flavor to Jack Murdock's last fight and last night on Earth. It's much better than it should have been, considering its subject, and way better than probably anyone ever expected.
Pre-Battlin' Jack, Jack was supposed to lose the fight, but he instead sees his son in the crowd, realizes that throwing the fight would be the ultimate sign of weakness, and knocks Creel out. The Fixer, who fixed the fight, kills Jack in retaliation, leading to Matt Murdock masking up and going out for vengeance.
Battlin' Jack fills in some blanks. We see Jack's side of things, from the moment when Matt's mother abandoned him on Jack's doorstep to Matt being blinded. We get to know someone who had previously been an archetype, Papa Drunk Boxer. His likes, his issues, his failings, and his goals.
The framing device is pretty swift. The book's composed of four chapters, each of which begins with one of the first four rounds of Battlin' Jack in his last fight against Carl Creel, bka Absorbing Man. We hear his thoughts during the fight and then it fades to white. On the next page, the past fades in and we get more back story. So, the flashback has a flashback inside of it. Make sense? It's very organic in the book, and gives it a sense of… inevitability. We already know how this story ends, the question is what's going to be different and what layers Wells and Di Giandomenico are going to add onto it.
Di Giandomenico apparently cut his teeth overseas on boxing comics. I've been giving some thought to digging one up and importing it, just because I like his art so much. The boxing scenes are just as good as anything you'd see in Hajime no Ippo. There's a great sense of motion, and Di Giandomenico understands how bodies wrap and entangle when you throw a punch. It's a little bloody, but hey- it's boxing. Get punched in the face and see how much you bleed.
Di Giandomenico does a great job of giving each character their own feel, too. Jack is craggy and wear, head bowed, shoulders worn down from having the weight of the heavens on his back so long. Matt's thin and wiry, but his head's held high and he's hopeful. Josie, of Josie's Bar fame, is drawn with clean lines, borderline ingenue until she turns that on its head. The villains look genuinely bad, with Slade being particularly notable for being kind of a skinny Snidely Whiplash.
Good fight scenes are rare in comics. Too often it comes down to one guy punching another guy through a wall, then the other guy punching the first guy through a different wall, then some jumping, some quipping, and then it's over and someone's costume is ripped. Or mostly gone, if it was two girls fighting. Di Giandomenico gets flow and motion and rhythm, which makes his art wonderful to me.
Basically, the art's great. Here's a five page sequence to prove it.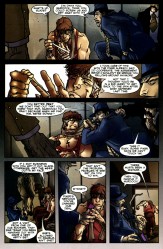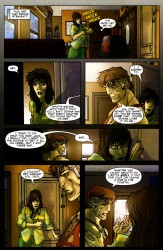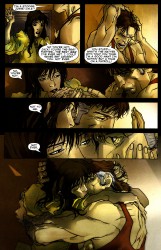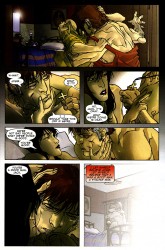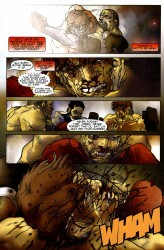 This quickly became one of my favorite Daredevil stories, and I talk about the ending in the 22nd Fourcast!. Esther agrees that it was tremendous on the show. For fun, read Battlin Jack and go directly into Frank Miller and John Romita Jr's Man Without Fear.
If you're looking for more Di Giandomenico, he did Spider-Man Noir last year, which was probably the best Spider-Man story that year. Amazon's got the normal-sized Premiere HC
and a smaller softcover graphic novel
. The smaller book is around the same size as Viz's Signature books, like 20th Century Boys or Pluto. Maybe a little bigger.
But yeah, Battlin' Jack Murdock was a good'un. And it's dumb, but I kinda liked seeing Josie as more than "Hard-nosed chick from the bar with the window Daredevil always throws dudes through."
Similar Posts: