June 22nd, 2009 by
david brothers
| Tags:
chriscross
,
DC comics
,
francis manapul
,
gambit
,
howard porter
,
Marvel comics
,
matt wayne
,
michael johnson
,
mike green
,
podcasts
,
supergirl
,
superman/batman
We've got a surprisingly DC-centric Fourcast! this time around. Highlights:
-We've got theme music! It's 6th Sense's 4 A.M. instrumental. It's licensed under a Attribution-NonCommercial License. 6th Sense / CC BY-NC 3.0. I dig his work, so it was a treat to find "It's a 6th Sense Beat Yo!!" on the Free Music Archive. 6th Sense is a great producer. I play about 30-some seconds after the intro and before we get into it, and then the full track at the end of the cast as an outro. Hope you dig it!
-We get right into a discussion of Brave and the Bold #24, courtesy of DC Comics, Matt Wayne, and Howard Porter. We both enjoyed it, though I'm not sure that's clear on my part, and we both had a few misgivings about Porter's art.
-A brief digression into the relationship between Static and Blue Beetle. Here's the image in question, from Heroes #4, written by Matt Wayne, drawn by Chriscross:





It's a good series, I hope DC reprints it asap.
-Michael Johnson, Mike Green, and Francis Manapul's Superman/Batman #61? That's a fun comic right there. The Mash-up story has been really dumb, but very fun, and between Penguello and Brainycat, has some awesome designs.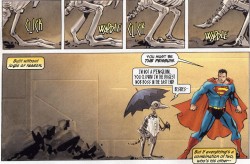 -We get into our Continuity-Off at the end. Esther explains Supergirl's past boy/girl/horsefriends, while I break down Gambit's tortured past. Or is that torturous? I can't tell sometimes.
We'll be back in a week with the beginning of a DC vs Marvel knock-down, drag-out, fight to the death.
Similar Posts: