June 8th, 2009 by
david brothers
| Tags:
batman and robin
,
clone saga
,
frank quitely
,
Gail Simone
,
grant morrison
,
nicola scott
,
podcasts
,
Secret Six
,
spider-man
,
Video Games
I managed to pull myself away from Final Fantasy VII long enough on Saturday to record another Fourcast! with Esther. Of course, the looming specter of technical issues ended up eating about twenty minutes of what we recorded, if not more, but we pulled it out in the end. You can tell that there were issues because my headset suddenly changes sounds with five minutes to go. Whoo!
Here's the breakdown:
-We open with a brief chat about the unnamed Secret Six, courtesy of Gail Simone and Nicola Scott, and beefcake. Did I call beefcake gross? No, but I did call Bane's chest gross. Look at it.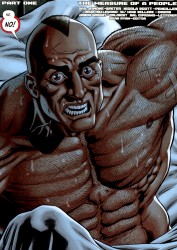 -Look at that chest.
-Next up is Grant Morrison & Frank Quitely's Batman and Robin, where we praise the book, namecheck frequent commenter ACK (holla!), and critique Quitely's art.
-Thomas Wayne can beat up your dad.
-Dumb comics, like Spider-Man: The Short Halloween, are fun comics!
-No, wait, dumb comics are bad comics as we discover in a new segment that is as-yet unnamed. Esther explains the history of Dinah Drake, later known as Dinah Lance, while I go into a brief overview of the Clone Saga.
-Neither of us escapes unscathed.
-At the end of the show is a surprise for you, listener! And also one for you, Esther!
Kapow! We'll see you in… seven days?! What new development is this?!
(boilerplate stuff: subscribe to the podcast-specific RSS feed, or grab us on iTunes. feel free to drop a review on us!)
Similar Posts: