April 3rd, 2009 by
Gavok
| Tags:
wolverine
This is something stupid I came up with months back that some people still seem to get a kick out of, so I figured I'd share it here. A while back, somebody posted this cover image at the Something Awful forum of one of Arthur "ZOMBIES!" Suydam's covers for Wolverine.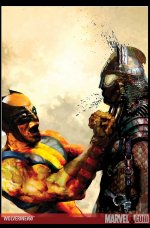 The image is old news, but it's still fun to laugh at now and again. I mean, look at his face! That smile! His lack of teeth! The way he's just so jazzed about stabbing that guy with his claws!
I figured out a way to enhance that cover. I want you to click the above image into a new tab or window so you get the full-sized version. Did that? Good.
Now I want you to press play on the following YouTube clip from Strange Wilderness and keep it on while staring at the above Wolverine image.
Congratulations! I just wasted your time!
Similar Posts: