October 28th, 2008 by
david brothers
| Tags:
avengers
,
DC comics
,
flash
,
flash fact
,
Green Arrow
,
hawkeye
,
Marvel comics
,
secret invasion
,
youngblood
I was thinking about a few things this weekend, and I realized that I have a superhero Type.
I'm partial to speedsters. I like all the Flashes, though Wally is the best, and I'm cool with Quicksilver. I even like Doc Rocket over in Youngblood and Velocity in Cyberforce.
There's just something about someone whose power is to run fast that appeals to me. I like running, though I don't do it often enough, but I don't think it's a "I wish I could do that!" sort of thing. I think it's more that speedsters tend to have cool visual appearances. Of course, pretty much all of them have lightning bolts or red in their design somewheres, but the running always looks graet. Some get afterimages, some get blurs, and the best appear in single panel more than once and carry on conversations that way. The best of the best have smoking shoes.
I was going to say that my other Type was archery-based characters, but that isn't true at all. I actively dislike Green Arrow, Red Arrow is the dumbest, and Speedy is annoying and terrible. Connor Hawke is interesting, though kind of a cipher. No, the Type I like are marksmen.
Hawkeye, Shaft (from Youngblood), Deadshot, Bullseye, and I'm sure there are others. They're awesome. Anything in their hands is a deadly weapon, and trick shots are the order of the day. I like seeing the creativity you have to use when writing these guys. It isn't enough to go "Oh, boxing glove arrow!" nowadays. Everyone's seen that. What's next?
I wasn't a Hawkeye fan until recently. Fabian Nicieza wrote a pretty good (and short-lived) series a few years back, and Bendis started using him in his Avengers titles. Somewhere along the line, though, I must've become a fan, because this scene from SI #7 got a rise out of me: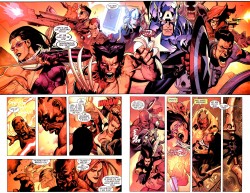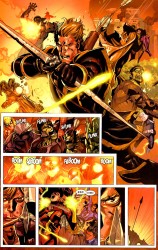 What's your superhero type? Acrobatic wisecrackers? Brooding vigilantes?
Similar Posts: