October 27th, 2008 by
david brothers
|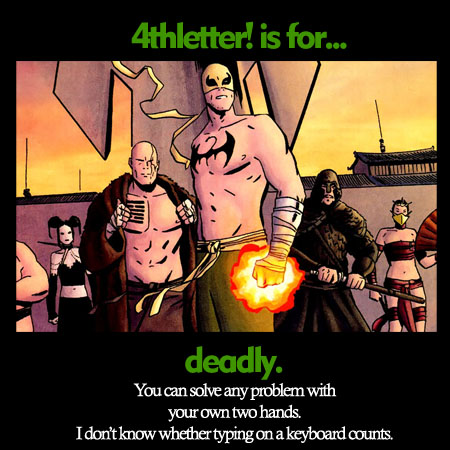 4thletter! is:
David
,
Gavin
, and
Esther
. 4l was David, Gavin, and
Hoatzin
, and David, Gavin, and
Thomas
before that.
Gavin is a Marvel. He likes weird tie-in comics, Venom, and wrestling. Esther is a DC, and likes the various Batgirls, Batman, and sometimes books that do not have Batman in them, but that's just because he's in hiding before he picks the perfect time to make his appearance. David likes a mix of both, though he was raised a Marvel. He also talks about black people all the time.
We are 4l and we are awesome.
You can get us on RSS (with a separate feed for our comments) or via livejournal syndication. We have an archives page, which has no context whatsoever beyond dates, post titles, and comments. If that's too much for you, Gavin stated doing a table of contents that he updates every few months with notable posts.
We take guest pieces, too. Drop an email to 4thletter@gmail to get it started.
The links table is horribly out of date. I will one day update it.
Similar Posts: