September 6th, 2008 by
Gavok
| Tags:
anti-venom
,
eddie brock
,
Marvel comics
,
nova
,
spider-man
,
venom
,
zeb wells
It's not easy being a Venom fan. Or, to be more specific, it's not easy being a fan of Eddie Brock. I'm more or less saddled in with him for life because in the end, he's the guy who got me into comics and is instrumental to this site's existence all together. That'll be a story for another time. Maybe I'll finally get around to that series of articles about his history next week. I'm getting nowhere with the next Deadshot's Tophat installment anyway.
Now, I've read through the 5 years of Venom being the Lethal Protector (fun fact: reading almost every Venom appearance from the 90's is so torturous that the Republicans now believe I'm qualified to run for office). It wasn't a good series, but like all failed comics, it's at least interesting when you look at what went wrong. What went wrong is Venom's flaw as a concept. Esther made a post about ailed characters who can never fix what's wrong with them (note: who the hell is Esther?). Rogue can't touch, Babs can't walk, Peter Parker can't be happy, and so on and so forth. At least those guys have strong characteristics and rich histories. Venom isn't allowed to have that.
Most of Venom's 90 run worked like this: a writer would use him for a blatant crossover story and occasionally introduce a new dynamic to the character. He'd give Venom some direction and a little bit of promise. After that storyline, said writer would leave and be replaced with someone else. That guy would toss all of that development out of the window for the sake of writing his own wicked crossover story and it all starts over again.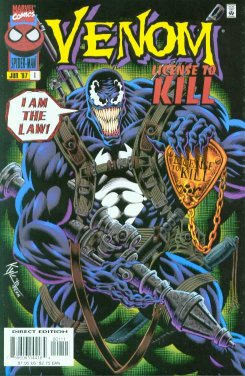 Then Larry Hama took over for the rest of the run, which is interesting for the fact that the final few arcs were based on Venom fighting for amnesty by working for a corrupt government group that's implanted him with a bomb if he gets out of line. Doesn't that sound familiar?
Not like they'll ever follow up on that connection. You see, Venom is a malleable character against his own will. Nobody cares enough to do anything meaningful with him. No matter how many girlfriends he's given or how many moments of clarity he gets, every single writer after will disregard it all because Venom's their pet dollar sign with fangs and a hate-on for Spider-Man. No more, sometimes less.
There's almost some kind of sad tragedy to it. Some kind of Groundhog Day curse, but without the hilarity of Chris Elliot.
When it got to the point where Mark Millar tried to have Eddie killed off, I didn't protest it. The guy was a husk to storytelling by that point. But then something odd happened. Writers brought Eddie Brock back and wrote him well! That two-parter in Sensational Spider-Man last year was great stuff. Even the current use of him in Amazing doesn't offend me and coming from a Brand New Day story, that says something.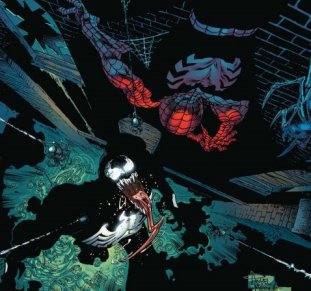 I was excited when I found out about Zeb Wells writing Venom: Dark Origin. The guy was getting props for his Amazing arc and I enjoyed Battling Jack Murdock. From an interview, I noticed two things that made me optimistic. First, he didn't like the whole retcon that Eddie had a special adrenaline-spewing cancer that attracted the symbiote, so he was going to ignore it. Good. Second, I saw from the preview that Eddie was inspired to become a reporter due to Watergate. Whoa! That's some obscure-ass callback right there! Wells had done his homework!
Seriously, that Watergate thing was mentioned once during Venom: Lethal Protector, which was recently reprinted in Spider-Man Family. It was the same issue of Lethal Protector that gave Eddie Brock's full backstory and reason for craziness, as written by character creator David Michelinie. Until then, the only part of the story we knew was that Brock wrote an article about a confessed super-criminal, it got printed, Spider-Man caught the real criminal and disproved the story, Brock got fired and went nuts. Even I will admit that it was a weak motivation.
Spider-Man went to see Eddie's millionaire father Carl Brock to ask some questions about Eddie, but Carl refused to ever talk about his disowned son. Once Carl was gone, a maid came to Spidey and told him about Eddie's upbringing. It goes a little something like this:
Carl was a rich man with a beautiful wife. Despite all their riches, all his wife ever wanted was to have a baby. They had Eddie and Carl's wife died in childbirth. Carl resented his son because of it, treating him coldly no matter what he did. Eddie grew up desiring his father's acceptance and affection, pushing himself to be the best he could be. He got straight A's. He won countless sports trophies. No matter; his father didn't care. The only ones truly raising him were the help.
Eddie became a big time reporter. He married a hot lawyer wife. His father STILL didn't care about him. There you had this guy who on the surface was an overachiever, yet in his mind he was nothing but an underachiever. He kept that hope until the Sin-Eater scandal happened. Eddie lost his job. His wife left him.

Any hope Eddie had to get his father's love was long gone and his life mission was destroyed. He snapped and needed someone to lash out at, so who better than Spider-Man? Well, Sin-Eater for one, but Eddie is the villain here. He has to make some asshole decisions.
I always liked that telling of the story and wished it got more play. They never did use Eddie's father again, though he'd mention him sparingly. I was psyched for Wells' take on it. After all, that whole obscure Watergate aspect of Eddie's origin was only mentioned in that same flashback. Surely he had read it and was going to go places with it.
Only, having read the first two issues of Dark Origin, I'm not so sure. Part of me thinks that he just kind of read Venom's Wiki page and then his Spider-Fan profile. That would explain the inclusion of Eddie's sister in the first issue. Eric Larsen namedropped her in an issue of Nova years ago as an excuse for Venom to go after Richard Ryder. Other than that, she's never been brought up.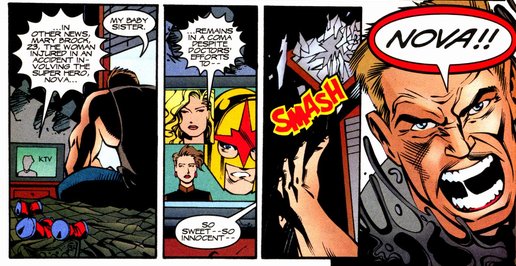 I could go into a rant about how Eddie can't have a little sister when his birth killed their mother, but that's splitting hairs. Larsen just wanted nothing more than exploit Venom's moneymaking status, so I can't jump on him for not reading every little issue. Wells, on the other hand, is writing a miniseries about Venom's origin, so having him read the comic that explains it would be a good start.
Yet I'm not sure what he did. He altered most of the story and the miniseries hurts for it.
For starters, we can blame artist Angel Medina for not looking up what Eddie's dad looks like.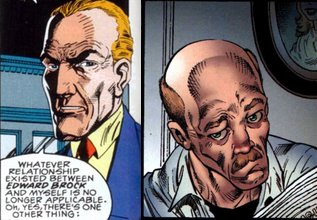 In Dark Origin, the Brocks are not rich, but live in the suburbs. Eddie's father does blame him for his mother's death and doesn't show any affection, as should be. Then we find that Eddie is a wimpy high school kid who's constantly pushed around by the bigger jocks. Uh… really? I know it's the regular thing to make future criminals and psychopaths the victim of bullying and all in these kinds of stories, but Eddie? Eddie Brock? The same guy who dumb people thought should have been played by wrestler Brock Lesner in the movie? I don't buy it.
Eddie becomes inspired to become a journalist and scams himself onto his college's newspaper. Boy, does he scam a lot in this story, but I'll get to that in a second. It's there that he meets his future wife Ann Weying, who he also proceeds to scam into loving him. Ann has been in plenty of comics over the years, but Angel Medina doesn't have time to do such things as "research". Let's compare.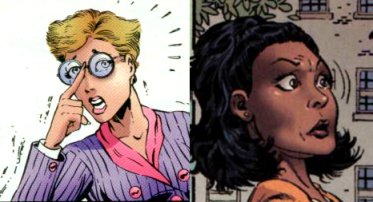 Eddie becomes an intern at the Daily Globe and again scams his way into getting that exclusive with guy claiming to be the Sin-Eater. Though successful, he's pressured by the law to release information on who the Sin-Eater is. It isn't the police who get him to sing, but his father, who tells Eddie that he's ashamed of him for not coming forward. Of course, it all goes wrong and Eddie is fired, ending the second issue.
The whole intern thing kind of bothers me. Eddie's always been depicted as being somewhere in his 30's. Now he's Parker's age. Why? For the sake of making him like Topher Grace? I'm pretty sure that nobody actually enjoyed Topher Grace Venom. He's one of the biggest complaints about with that movie. Most of those complaints came from Sam Raimi, but still.
I suppose that is what they're going for, though. Retcon Eddie Brock in a way that makes him more like the weaselly version of the character from the movie. That leads me to the big thing that truly makes me dislike this miniseries.
You see, Marvel has done its fair share of miniseries starring villains. The thing they have going for them is that each villain is, over the course of the story, depicted as being likeable in some way. For some like Bullseye and Sabretooth, it's nothing more than being a cool badass and maybe going after a less likeable target. Others like Deadpool and Loki are given moments where they at least try to redeem themselves.
Eddie Brock has none of this. He's completely unlikable and impossible to relate to. All he does is lie and scam people for the sake of personal glory and then sulk over his daddy issues. Why is that? From the beginning of his comic character tenure, Eddie was shown to believe himself to be a good guy. He didn't even go after non-Spidey superheroes unless he was instigated or thought they were evil. Even in recent years, long after his hero run was ended, he still talks about innocent lives and donated millions of dollars to charities.
But making him a symbiote's host with no morals or redeeming values? They tried that before. They called him Carnage. You might remember him from the 90's with his crappy crossover epic and totally sweet red SNES cartridge. You might also remember that Bendis had the Sentry tear him in half and toss him into space a while back and Marvel has shown no intent on undoing it. There's a reason for that, you know.
It's ironic, I suppose. I chose to stay away from Brand New Day but I kept hearing about how Wells' story arc was the best part. He then goes and writes Venom: Dark Origin and destroys the potential. Meanwhile, I got coerced into reading the New Ways to Die storyline for the sake of Venom vs. Anti-Venom and I'm enjoying the hell out of it despite preconceived notions. Reading the latest issue, where Anti-Venom and Spider-Man reluctantly team up, made me feel nostalgic. It's a good feeling.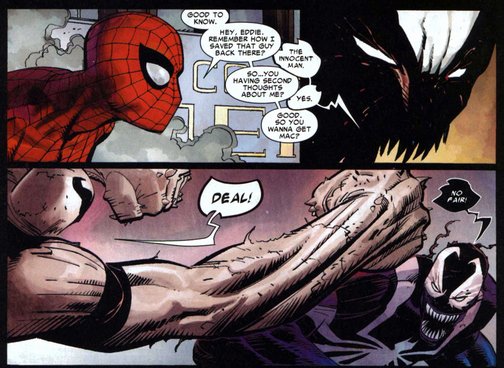 At least in Amazing Spider-Man we don't have to deal with the horror that is Angel Medina's "Eddie smile".
Similar Posts: