March 10th, 2008 by
david brothers
| Tags:
amanda waller
,
Colored Commentary
,
DC comics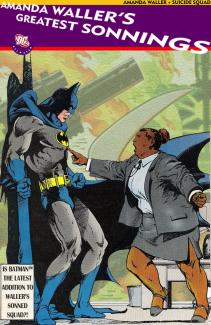 monthly, from dc comics.
Sonning: to disrespect, disgrace, treat with distaste or disgust, or disregard someone who stands in your way.
Amanda Waller doesn't dis her foes– she dismisses them. Half the DCU is on her Sonned Squad and the other half is busy filling out applications.
This is Pedro's fault again.
Mar 10 10:24:50 man, amanda waller has a scrapbook dedicated to batman sonned moments
10:25:33 david: Amanda Waller has one quote up on the wall behind her desk
10:25:43 david: "I been sonning niggas so long, I think I got a grandson" — Big Pun
10:25:57 pedro: dude,
10:26:02 pedro: dc could release a trade
10:26:13 pedro: Amanda Waller's biggest sonnings
10:26:21 pedro: oh shit is gavok or hoatzin on?
10:26:26 david: nope pedro
10:26:31 pedro: ugh
10:26:34 pedro: i need a cover of that
10:28:05 david: pedro, i can do that cover
10:28:10 david: maybe
10:28:16 pedro: do it
10:28:18 pedro: please
10:28:18 david: which issue had her chewing out Batman?
10:28:29 pedro: i want to post a series of articles
10:28:35 pedro: just of trades dc could release
Credit where credit is due!
Similar Posts: