November 17th, 2007 by
david brothers
| Tags:
avengers
,
Batman
,
bruce wayne
,
house of m
,
hulk
,
iron man
,
mary jane watson
,
punisher
,
skaar
,
superman
,
tony stark
,
vulcan
,
wolverine
How many comic characters have come up with recently revealed/brought back into play children?
Wolverine has Daken and X-23, kinda. Agent 13 is preggo with Cap's baby. Namor had that son show up in his mini. Superman has Chris Kent. Batman has Damian. Hulk has Skaar or whatever. Corsair had Vulcan, though that's kind of stretching the timeline a little. Punisher's got a tyke.
That's eight in, what, just under two years?
Anyway, Christos Gage is one of my new favorite writers. His Union Jack was the bomb, his House of M Avengers was mostly recap/revamp for Cage fans, but good, and so on. He's got a couple books dropping soon. Iron Man Annual #1 and T-bolts: Breaking Points. Both are one-offs.
Tony Stark as James Bond + Bruce Wayne is a brilliant move, seriously. Why hasn't anyone done this before? It's totally Tony Stark. Danny Rand is Kung Fu Billionaire, Tony Stark should be Mecha James Bond. I want to pick up both books now. Gage generally does good.
But yeah, there's something else in those previews that I noticed. Check out this image and think back a few months to the Mary Jane statue thing.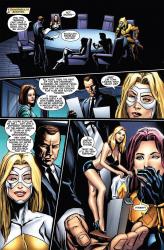 I laughed.
My question is– is this a knee-slapper with a knowing wink or a face-slapper with a mean glare? It's kind of obviously presented as something that isn't altogether kosher or positive… my money is on wink.
Similar Posts: