September 15th, 2009 Posted by Gavok
The status quo for Venom had been changed, perhaps forever. The Venom symbiote had moved away from Eddie Brock, leaving a cancer-filled husk of a human being. While Mac Gargan found success as the new Venom, Eddie would be nearly forgotten about, suffering in a hospital bed. Eddie Brock himself was never a match for Spider-Man from the start. What hope would he have as an antagonist when he's weakened by a disease?
Around that time, directly after Civil War, Marvel was making a big deal out of Spider-Man's new look. Or old look. Whatever. The third Spider-Man movie – which featured the black costume – was on its way to theaters and Marvel chose to capitalize it in a way that really didn't work. Spider-Man would start wearing a black costume again. The whole thing was a list of letdowns.
Was it the Venom symbiote? No. It was just a spandex costume he wore because he wanted to kill the Kingpin. Wearing black means he's totally hardcore now.
So he's going to kill the Kingpin? Ha! Come on, this is Spider-Man. The only people he's killed are Gwen Stacy and Wolverine's spy girlfriend, both unintentional. Spider-Man's too much of a pussy to even kill Darkseid with a god-killing gun if he had the chance.
Okay, but the black costume will have some kind of storyline blow-off, right? No, not really. He wears it for an arc or so of his different comics, confusing people who will pick up and read World War Hulk for years to come. Then he simply stops wearing it. Like, at the beginning of One More Day, where it would make sense for him to still have it on, he's back to his regular tights. Everyone was too distracted by the, "Jesus Christ! Really?!" aspect of that story to give a damn.
But what does that have to do with Eddie Brock outside of cosmetics? The reason Spider-Man was so cheesed off at the Kingpin in the first place was because a hitman accidentally shot Aunt May when going for Peter. Now she's in the hospital in critical condition.
Aunt May in a hospital bed? Huh. I guess that's one thing cancer-ridden Eddie Brock could take in a fight.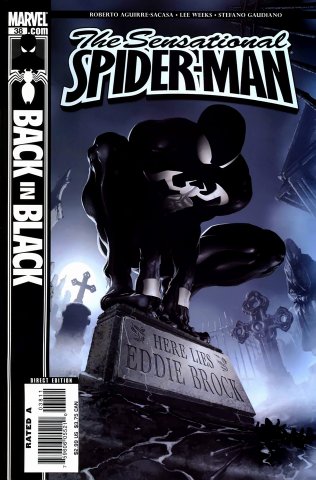 It's a nice reference to the famous Kraven's Last Hunt cover of black costume Spider-Man rising from beneath the earth in front of his own tombstone.
The Last Temptation of Eddie Brock takes place in Sensational Spider-Man #38-39. It's written by Roberto Aguirre-Sacasa and drawn by Lee Weeks.