September 28th, 2007 by
Gavok
| Tags:
manga
At work, we've been receiving some comic anomalies lately. For one, there is the Ronald Reagan graphic novel biography, which I admittedly bought for my friend's birthday since he's a Reagan nut. Then there is the Kiss 4K comic, based on an average rock band doing stuff in the future. Neither of these two get more double-takes than this baby.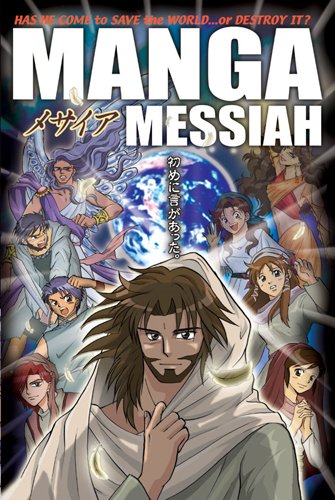 That's right. A Jesus Christ manga. Look at that. Look at the tagline! Sweet protagonist!
If you've been following this site long enough, you know me well enough to think that I would buy this for the sake of review. The truth is, I did put a lot of thought into it. Then my friends put forth an intervention against my bad comic buying ways and insisted I not purchase it. I gave in, though I did flip through it for a bit. Something is really off about seeing Pontius Pilate with one of those manga-style angry blood veins on his forehead. Judas is portrayed here as a red-haired bishonen. It's wacky.
So yes, I did agree that I wouldn't buy it, but that makes me feel bad. I hate wasting things, so here is a list of all the jokes I would have made for the Manga Messiah review that never was. Enjoy.
"Whenever Jesus powers up, his beard becomes blond."
"The whole thing about Jesus being white came from Superboy Prime's continuity punches."
"The best part is when Jesus boards his trusty Mosestron mech to fight Lucifer's demon of the week."
"** For more details, read Jesus/Job Team-Up, on stands now! – Ed."
"The Romans did not arrest and crucify Christ because he claimed to be the son of God. Instead, they arrested and crucified Christ because he was the son of God and refused to register his powers with the government."
"It seems pretty uncreative and gratuitous for them to do an issue about Jesus and the Apostles at the hot springs."
"Bizarro Jesus showed that he can swim through the ground, which I believe is more impressive."
"I'd like to take this moment to point out that Wyatt Wingfoot is totally boring."
"Ah, the short-lived Jesus Armor. Not one of his better moments. Nice foil cover, though."
"Let he who is without sin cast the first sweatdrop."
"I'm not keen on my bible knowledge, but I don't think there was a tentacle monster in the manger."
"Fun little fact: Jesus can turn water into pure speed force!"
"Little does Jesus realize that the mysterious Entity X is really his long lost father God, HO!"
"Wanderer hasn't written an article here in like forever."
"I have to really question the tact of having Jesus constantly yell out, 'I DID NOT SLEEP WITH THE JUGGERNAUT!'"
"So these normal guys with whips beat up and humiliate the most powerful being in the world with little problem. What, did Garth Ennis write this?"
"If you look closely at the third panel of the Last Supper scene, you can see Uatu the Watcher frowning in the background."
"His divinity level is over 9000!"
"The Peter that denounced Jesus was just a Skrull imposter. Saw that coming a mile away."
"And on that day, Jesus rose from the depths of HFIL and ascended into Heaven."
"After that pointless Noah appearance, Adam and Eve showed up for no reason whatsoever. Man, sometimes I just hate Jeph Loeb comics."
"Also included is What If Jesus Christ Had Become Sorcerer Supreme. Great issue."
"Years after Jesus' death, Dan Didio introduced a minority replacement. The new Jesus was a handicapped Native American with a lactose intolerance. His series lasted for only four issues. Don't get me started on Christ 2099."
"For the life of me, I just can't understand why they would cover the Sermon on the Mound during the Nuff Said issue."
Thank you and have a good night!
Similar Posts: