May 25th, 2007 by
guest article
| Tags:
andre the giant
,
guest article
,
hulk hogan
,
manga
,
Wrestlecomics
,
wrestling
Gavok note: We have a special guest appearance by SDShamshel, who reviews the bad wrestling comic I won't read for the simple fact that I can't read it. Enjoy.
—
Japanese comics have always had a strong relationship with the world of professional wrestling. In its heyday, Kinnikuman was read by every young boy, and both Tiger Mask and Juushin Liger started off as manga characters before their personas were adopted for real-world squared circles. However, as great and exciting as those wrestlers may be, this article is about something greater.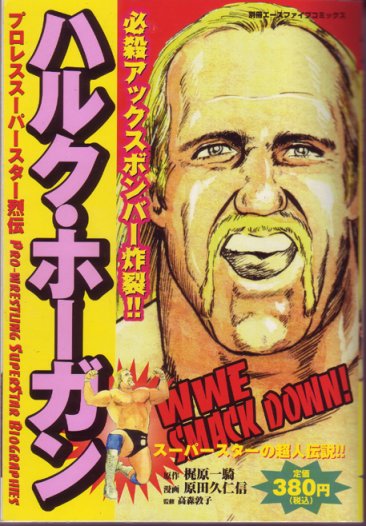 Yes, that's right. It's Hulk Hogan THE MANGA. Published by "Special Volume Ace Five Comics," Pro Wrestler Superstar Biographies: Hulk Hogan tracks Hogan's life from the beginning of his career to his time in Vince McMahon, Sr.'s World Wide Wrestling Federation. The comic utilizes an interesting version of kayfabe (the wrestling term for "the fourth wall"), with events in Hogan's life both inside and outside of the ring depicted with the utmost seriousness one expects from biographical comics about pro wrestlers.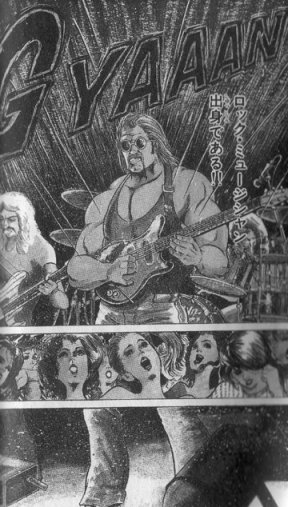 As the comic begins, we find Hulk Hogan as the lead guitarist for a band. He flashes back to a time where as he was watching a match, a man approached him and suggested that Hogan become a wrestler. A mustache-less Hogan decided against it, and even tried to instead become a professional boxer. However, after the concert, as he's watching a televised match between Muhammad Ali and Antonio Inoki, Hogan's life changes forever.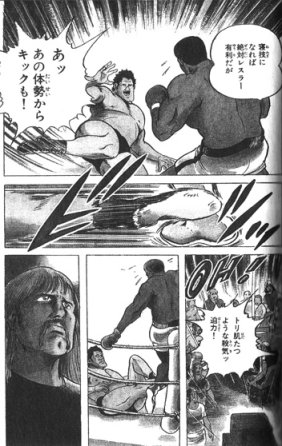 Hogan (who is never referred to as Terry, Bollea, or any combination of the two) begins training, wins his first wrestling match, and decides to give up the glamorous life of a rock musician to pursue the career that would make him an American (and Japanese) legend.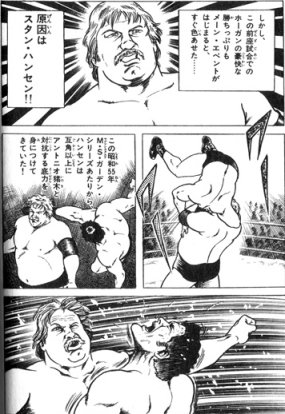 From that point on in the story, Hogan enjoys much success defeating opponent after opponent using his superior strength, size, and occasionally even technique, but eventually finds himself face to face with other legendary wrestlers, such as Stan Hansen (whose Western Lariat is apparently the basis for Hogan's Axe Bomber) and even Antonio Inoki himself (who Hogan knocks out cold using said Axe Bomber).
It's interesting to note that Antonio Inoki is occasionally directly quoted for his words on the Hulkster. In a sense, this manga acts as both a biography for Hogan and a partial autobiography for Inoki.
Here he is discovering the Japanese term for "Number 1" and thus gaining his most popular nickname in Japan. To quote Hogan right here on the page in actual Engrish, "I AM ICHIBAN!"
Hogan eventually finds himself in the WWWF facing some incredibly tough opponents, including the scheming Bobby "The Brain" Heenan and even Andre the Giant in an un-televised match where he manages to defeat the enormous Frenchman with a vicious, bloody Axe Bomber.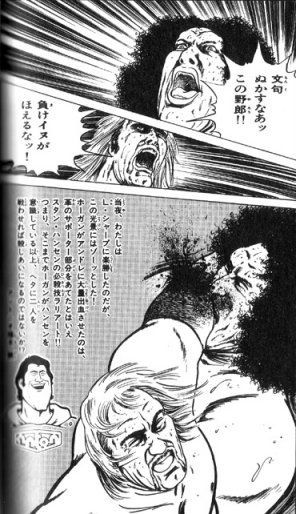 The rest of the comic is in this vein, depicting the violence in the ring to be as realistic and violent as any fight, no doubt due to the general view of wrestling among fans in Japan. I have to say that the artwork is a lot better than I expected out of a biography of Hulk Hogan, as it manages to keep him looking distinct, while showing that the world of wrestling a few decades back was exciting and unpredictable. At least, it does a very good job of convincing me that such is the case.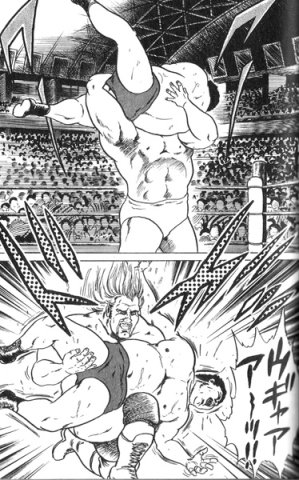 Unfortunately, as this manga is geared towards Japanese readers, Hogan mainly uses the Axe Bomber to finish off his opponents. Fortunately, the author was nice enough to give us just one Leg Drop.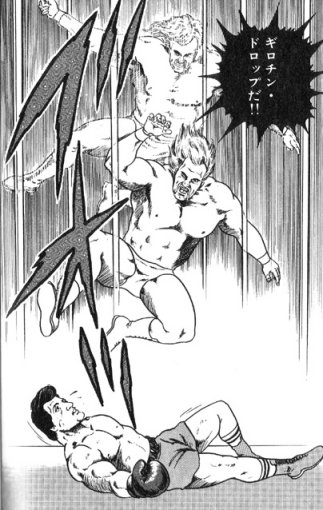 Good night, Mr. Stallone.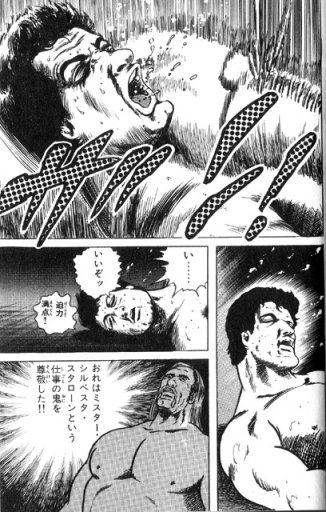 Similar Posts: