March 11th, 2012 by
Gavok
| Tags:
panels
Hello, neighbor. Welcome to ThWiP.
Pretty good week with Venom finishing off its awesome Circle of Four storyline and the conclusion to Heroes for Hire's stealth cancellation miniseries follow-up Villains for Hire. Animal Man gave us one of the best superhero moments in a long time (despite the contents of the panel this week, Buddy is the best superhero dad). And Huntress finishes off her miniseries with so little drama and feel for danger that I'm wondering if Levitz inputted the God Mode code when writing it. Here's the six issues summed up: bad things were happening and Huntress stopped them without any problems whatsoever. The end.
This week I'm helped out by Was Taters and Space Jawa, so that's something.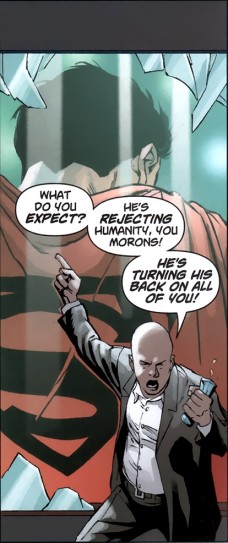 Action Comics #7
Grant Morrison, Rags Morales, Sholly Fisch and Brad Walker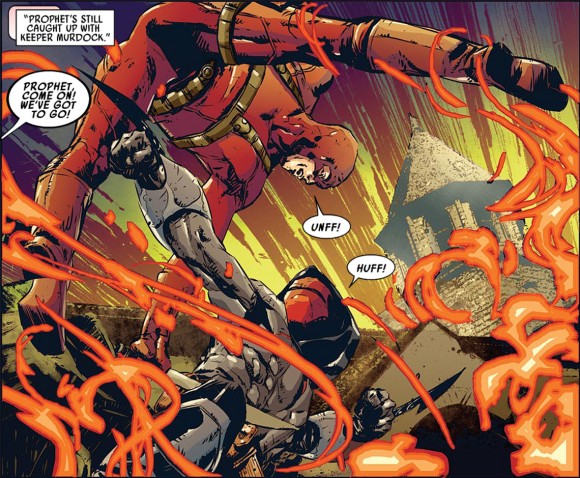 Age of Apocalypse #1
David Lapham and Roberto de la Torre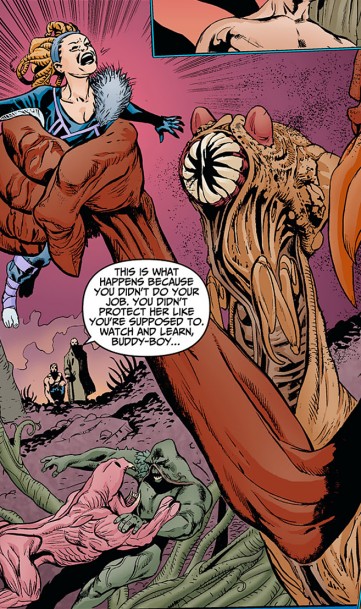 Animal Man #7
Jeff Lemire, Steve Pugh and Travel Foreman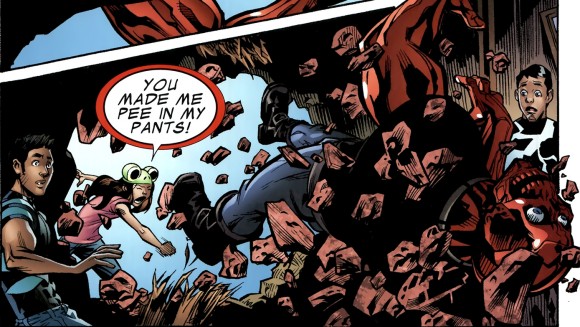 Avengers Academy #27
Christos Gage and Karl Moline

Avengers Prelude: Fury's Big Week #1
Christopher Yost, Eric Pearson, Luke Ross and Daniel HDR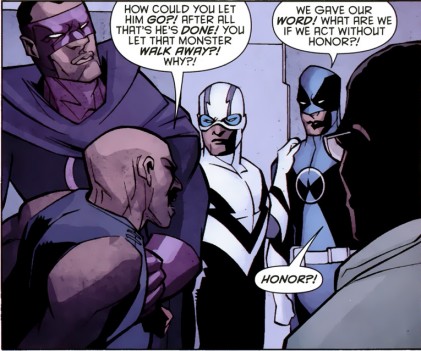 Batwing #7
Judd Winick and Dustin Nguyen

Defenders #4
Matt Fraction and Michael Lark
Green Arrow #7
Ann Nocenti and Harvey Tolibao
Hell Yeah #1
Joe Keatinge, Andre Szymanowicz and Jason Lewis
Hulk #49
Jeff Parker and Elena Casagrande
Huntress #6
Paul Levitz and Marcus To
Infestation 2: Teenage Mutant Ninja Turtles #1
Tristan Jones and Mark Torres
Irredeemable #35
Mark Waid and Diego Barreto
iZombie #23
Chris Roberson and Michael Allred
Justice League International #7
Dan Jurgens and Aaron Lopresti
O.M.A.C. #7
Dan DiDio and Keith Giffen
Star Wars: Crimson Empire III: Empire Lost #5
Mike Richardson, Randy Stradley and Paul Gulacy
Static Shock #7
Marc Bernardin and Scott McDaniel
Stormwatch #7
Paul Jenkins and Ignacio Calero
Supurbia #1
Grace Randolph, Russell Daughterman and Gabriel Cassata
Swamp Thing #7
Scott Snyder and Yanick Paquette
Ultimate Spider-Man #8
Brian Michael Bendis and Sara Pichelli
Venom #14
Rick Remender and Tony Moore
Villains for Hire #4
Dan Abnett, Andy Lanning and Renato Arlem
Winter Soldier #3
Ed Brubaker and Butch Guice
In personal news, my improv classes at the Upright Citizens Brigade Training Center have been going swimmingly. I'm having the time of my life and I can't recommend it enough after two classes. If anyone in the NYC area is interested, I'm going to be doing a graduation performance on Sunday, April 22nd at the UCBeast theater.
My instructor is the redhead in this clip. Pretty cool dude.
My plans are to go through all the classes and see where that takes me.
Similar Posts: